Eagle McMahon withdrew during the round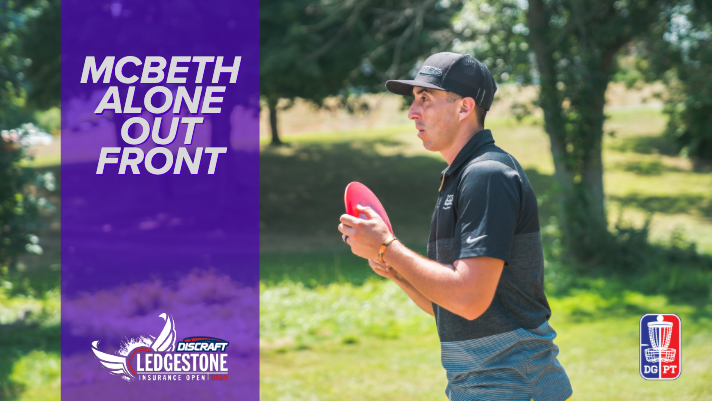 Lightning delayed the completion of round one at the Ledgestone Insurance Open for a good portion of the field but the eventual MPO leader had his round over and done with well before the delay and had been waiting in the clubhouse. Paul McBeth shot an 11-under par 52 early in the day, tying the 2016 champion's best round at Ledgestone since throwing a 14-under three years ago.
McBeth didn't miss inside the circle, added a 50-foot birdie on hole 6, and leads the division in every major driving statistic. He was 100% on fairway hits and only missed Circle 2 in regulation on one hole during the 1094-rated round.
Four off the lead is Alex Russell in second place at 7-under par 56. Russell got off to a slow start, shooting 1-under over his first nine before he catching fire after the turn. He went 6-under on the back, and was 100% from inside C1X during the round.
Reid Frescura made his debut on the big stage at Ledgestone last year with his skip shots across Lake Eureka on hole 17. He'll be back on film for round two, as he is in sole possession of third place at 6-under par 57. Like the rest of the leaders, he was 100% from C1X.
There is a bit of a logjam outside of the top three. For some perspective on the difficulty of the course and the impact that the weather had on players, get a load of this: 1-under par is good for a spot in the top 25 after 18 holes. Ricky Wysocki, Emerson Keith, Drew Gibson, and Andrew Marwede are all tied for fourth at 5-under par.
No, your UDisc isn't glitching, Eagle McMahon did not finish his round, he withdrew after hole 15 with a shoulder injury. Before withdrawing, McMahon had been trading birdies and bogeys and was at even par through 14, but took a double bogey on 15 which included a left-handed approach, presumably due in part to his injury.
We should congratulate Colton Montgomery on his ace on the water tower hole 12.
How's this for a hot start,  Eric Downing eagled hole 1 with a 216-foot throw-in, but went +13 the rest of the round. Cest la vie.