A look into the current state of FPO and issues the players continue to face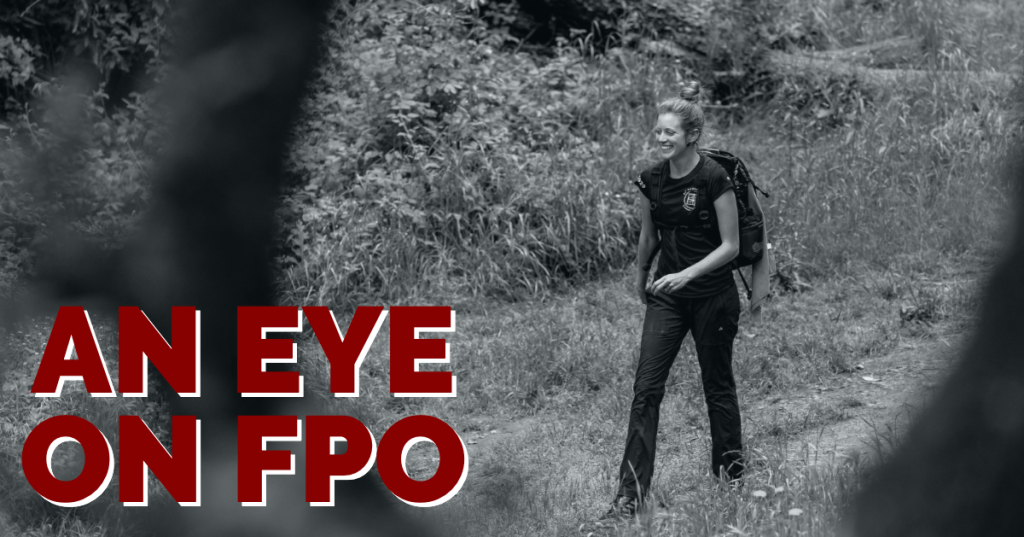 The conventional wisdom says that a rising tide lifts all boats, a nice twist on trickle-down economics that relies on the same underpinning logic. As the biggest earners in a community or economy do better, the ones further down the ladder will do better as well.
Without getting too far into the weeds of the relative merits and issues around this sort of philosophy, let's ask the question: has the rising popularity of disc golf, specifically on the men's side, lifted the boat of the women's side of the game?
On the surface, it would certainly seem so. 
---
During the 2018 PDGA Board of Directors elections, the candidates almost unanimously stated that increasing the number of women involved in the game was a top priority. Media companies, most notably Terry Miller and his two YouTube channels, TheDiscGolfGuy, and his joint venture with Jonny Van Duerzen, SmashboxxTV, have produced and released more live and edited FPO coverage over the past two years than perhaps all previous years combined.
All the major brands and manufacturers support their touring FPO players with tour fundraising discs. In fact, MVP's first signature series disc went to Elaine King. That is not to say that this has not been a painless process. Valarie Jenkins left Innova in part because of the company's reluctance/delay/whatever you want to call it in supporting her touring efforts. King made a similar statement after leaving Discraft.
On the surface, there has never been a better time to be a woman in disc golf, at least at the professional level, and there is some evidence to suggest that. Looking at three of the highest profile and well-attended events each season, we've seen substantial growth of the Open Women's field over the past five years.
FPO Event Attendance: 2013 vs. 2018
| | 2013 | 2018 |
| --- | --- | --- |
| Pro Worlds | 25 | 49 |
| US Women's Disc Golf Championshop | 26 | 40 |
| Glass Blown Open | 4 | 36 |
Fact: women's participation in the game continues to grow.
The 2012 PDGA year-end demographic report shows that there were 1,330 women registered as members of the PDGA. The 2017 year-end demographics report shows 3,148 women registered with the PDGA. That is a 42% increase over five years, which tracks nicely with the increase in registration at the USWDGC and Pro Worlds. GBO is a *bit* of an outlier, but other PDGA National Tour events have seen similar growth.
So, we can safely say that there are more women playing in general, and more women playing at the pro level at elite events.
We also know that numbers only tell a portion of the story, so let's find out what it's like on the ground.
"I find myself wondering sometimes what happened to some of the FPO players I have seen on the road in years past. "
Ellen Widboom began playing tournaments seriously in 2015, and hit the road full-time last year, crisscrossing the nation while attending 37 events. She's played more than 20 events this season and has 14 wins, from C-tiers near her home base in Florida to A-tiers in Michigan.
We talked to Widboom, who gave us her perspective of the current state of affairs.
Ultiworld Disc Golf: This is your second year on tour full-time, but you've been competing regularly for many years now. What changed, whether in your own life or in how the tour runs, that made going on tour a feasible option for you?
Ellen Widboom: So, 2018 was an experimental disc golf year for me. I had actually planned and saved for two years prior to quitting my job in order to embark on a solo tour starting in January 2018. During the offseason I actually had four part-time jobs in order to prepare for the upcoming 2019 tour. However, I am actually not following the whole tour this year, as it is nearly financially impossible for me to travel back and forth across the country as a solo traveler. While the drive and dream is still alive, and I feel like my skills are being constantly honed and fine-tuned, as an FPO player, if you are not near the top consistently making ends meet is a struggle.
I still work a part-time job while on the road and am constantly looking for viable ways to fund my journey. But this year I am switching it up and staying in one region for a few months in order to save, practice, and play some courses and tournaments not yet in my repertoire.
UWDG: What sorts of changes in the field of players have you noticed over the past couple of years?
EW: I find myself wondering sometimes what happened to some of the FPO players I have seen on the road in years past. Life happens, careers, changes of pace…and some women find a different journey. I am not sure if that is a result of not being able to do tour life full-time. Now, that being said, there are even more women playing in events than I've seen in years past and tournaments are filling up! I know several that are doing mini-tours and testing the waters. Props to them.
There are also quite a number of younger players coming on to the scene. They aren't necessarily able to do the full circuit, but they are making their presence known.
UWDG: What do you think needs to be done, either at the tour or local level, to encourage more women to get involved in the game?
EW: Respect. For all players. And all divisions. Period. We are all paying to participate in a PROFESSIONAL event, and we expect the same performance from the venue and staff. A professional experience. No matter what time of day it is, what division it is, etc.  Let's see some changes in tee times! Switch it up a bit and don't have us tee off, more times than not, first thing in the morning. Perhaps more restroom facilities on the courses. There are a few reasons why we need our privacy, but also not just us. Everybody poops. And when you have to do it in the woods during a round, you really wish there were four walls to surround you.
Then there is the FPO purse concern. Having more money added to the FPO field would be nice but let's face it, we need more women playing for that to happen. So come on ladies! Let's go play some disc golf!
UWDG: Which tour event puts on the best tournament experience for the FPO field, and why?
EW: The Utah Open comes to mind. They did a really nice job with the ladies tent; there were plenty of restrooms and the scene there is very encouraging for women players. But I encourage every FPO player to make each tournament experience uniquely yours. Find the good, the amazing, and the fun side of the game and make those memories that will keep you smiling for years to come!
UWDG: Last year Dustin Keegan posted on Facebook that during the Masters Cup the staff was breaking down the course while the FPO field was still playing. Is that something you've noticed at other events? Is it something that has gotten better over the past couple years?
EW: I am not aware of what happened at the SFO in those regards, but I have noticed other instances. Attempting to get to the course early to practice before our 8 a.m. tee time and the gate to a private course not being open at least an hour prior. Practice baskets not out in time for our warm-up sessions, but in place for the MPO field as we are finishing our round. Porta-potties not out on the course in time for our early rounds, but installed later that day or even the next day, well after our round. Spotters not on the course because it is too early, but there are ample in time for the later tee times.
These are all instances that happened recently. It honestly does not feel like it is getting better, especially when you are told to your face that things will happen, and do not. We have an obligation as disc golfers to report any activity like this and keep hoping for change.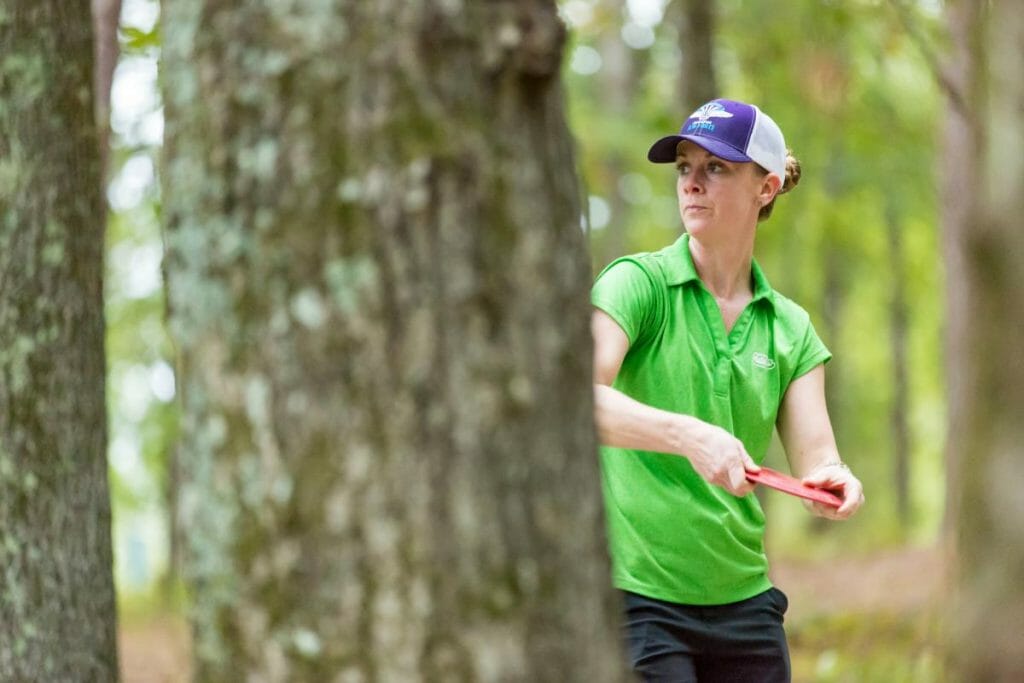 Widboom's comments certainly raise some eyebrows, and call attention to issues which the casual, or even more invested fan may not have considered or thought about. Widboom's observations also suggest that the rising tide is not lifting all boats equally, and that the FPO experience is more an afterthought than the main event. At the top level events, TDs, the PDGA, and Disc Golf Pro Tour should be able to make sure the course is open, practice baskets are available, spotters are on the course, and that there are ample facilities.
Current world champion Paige Bjerkaas mentioned that the Beaver State Fling was a bit disappointing this year, and that she, "sent in tournament feedback and hope things progress as it continues to be one of the premier events for our sport." Was it competing tee times with MPO that wore on Bjerkaas, or something else that left her feeling as if the division was an afterthought?
Sarah Hokom has also been vocal about the differences in conditions for FPO field. After winning the women's only La Nina Open in early June, Hokom said, "My focus is more about attending women's events than prepping for [major events]. They are so much different than mixed events. Women aren't just a sideshow, we are the main attraction. I met so many amazing women and I think that really impacts the future of women's disc golf. There will be an all women's tour in the near future, so I like to scout events like this to see if they could be a possible addition."
Hokom also won the 2019 Texas Women's Disc Golf Championship, and regularly plays four or more women's only events each season in addition to the major mixed field touring schedule.
A women's tour, as Hokom mentioned, could help alleviate several issues — proper course design, adequate staffing, increased attention — especially on both she and Widboom mentioned. Money. So far in the 2019 season, FPO winners average a take-home prize a little better than half of what the MPO winner has.
However, it's not just purses, amenities, and players in the field that should be considered when we talk about how the female players in the game are treated at large. The media, and how fans, men and women alike, is a part of the equation.
Let's take stock and remember some of what we've seen this past week alone: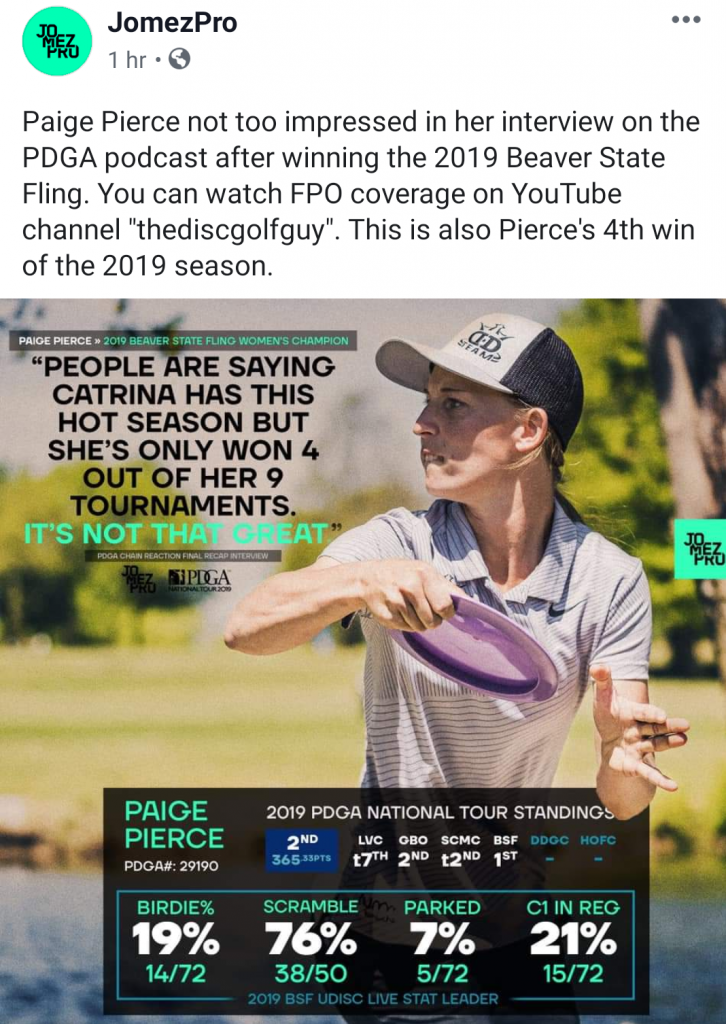 Paul got an eno hammock with the USDGC crest in his USDGC players pack and I got chapstick and a coupon for free beer at USWDGC and I think about this a LOT

— нannaн (@hannahemcbeth) June 18, 2019
There could be a post about a woman shooting an 18 down & people would still comment "??"

— нannaн (@hannahemcbeth) June 8, 2019
This is not to say that the premier players in the Open division have been without their share of media drama, social and traditional, but rarely, if ever, have we seen something like this. And it's no isolated incident. A cursory glance at popular disc golf account comment sections and meme pages will show that the overwhelming sentiment skews toward male-dominated discourse and the 95/5 gender ratio disparity the sport otherwise seems to be drifting away from.
If we as a community are serious about seeing that the rising tide does, in fact, lift all boats we have to improve the way our media treats women, how fans treat the players, and applaud women like Paige Pierce, Catrina Allen, Hannah McBeth, Ellen Widboom, Val Jenkins, and others when they pull back the curtain and let us know what is going on behind the scenes.
The growth of the game means more than the number of courses in the ground, the number of views on YouTube, the disc sales, and likes-and-subscribes. To grow the sport into a truly global game which can be accessed and enjoyed by all, we, as a community, need to take a hard and honest look at how we treat the women who are already playing the game at the highest level and resolve to do better.