Catrina Allen has finished first or second at every 2019 National Tour event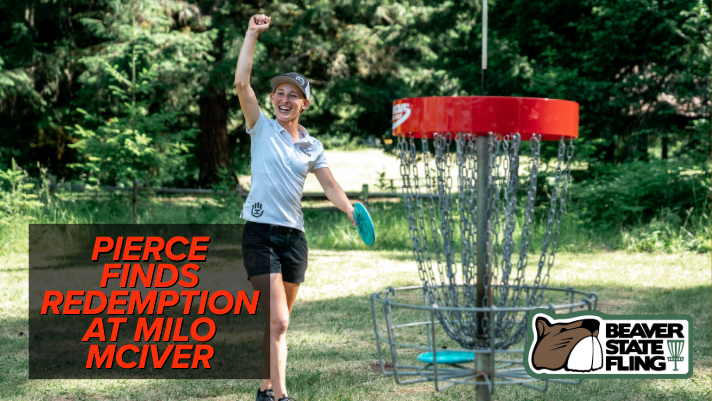 "Today was just off. I was off my targets a little bit," Paige Pierce said after the final round of the Beaver State Fling.
Those may not sound like words from someone who won their first PDGA National Tour event of the season, and first in over 12 months, but Pierce knew she was playing with house money on Sunday, and that most of the work had been done.
"I was lucky that I had three great rounds to start and built up a little buffer and just walked away with the win," Pierce said.
Pierce won the BSF by three strokes, finishing at 1-over par 245 total after posting a final round 5-over par 66. She averaged 977-rated golf over four rounds and led the field in parked, Circle 1 in regulation, and scramble rate. Most importantly for Pierce, however, was being able to move past the short missed putt on hole 18 last year that would have won her the tournament. She would go on to lose in a playoff to Catrina Allen.
"It's amazing, you know, on the last hole having to shake the nerves and thoughts of last year," Pierce admitted. "All the negative thoughts that go on in your head."
Even with the win in hand, it was still a relief walking away from hole 18.
"I was sitting behind the same putt that I lost the tournament on last year — same distance, same side of the green, same everything," Pierce said. "It was awesome to just hit that putt and kind of redeem myself."
It's unfair to say that Pierce was only battling herself during round four. Jennifer Allen was coming off a hot round in round three, and Catrina Allen has proved that in 2019 nothing is outside her abilities, even an eight stroke deficit with only 18 holes to play.
Catrina Allen was able to make things interesting, immediately gaining two strokes on Pierce with a birdie on hole 1. Despite the early move and shooting an even par 61, the lead was too much to overcome. Allen settled for second place, finishing at 4-over par 248 total. She's finished either first or second at all four NTs in 2019.
Jennifer Allen went 100% from Circle 1X on the final day, but wasn't getting off the tee as cleanly as she had in the rounds prior. She fell one spot to third, taking her second NT podium of the year.
The biggest movers of the final round were Lisa Fajkus and Hailey King, jumping several positions into the top 10. The eighth place finish ties Fajkus's best NT of the year, and the tie for ninth is King's best of her career at an NT.