Paju missed long attempt to force playoff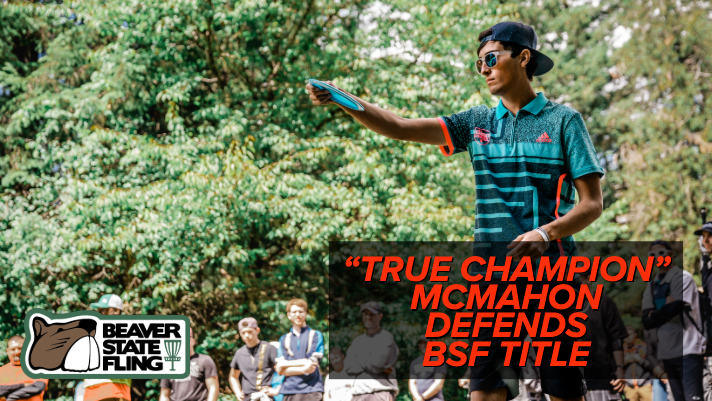 "What's that saying?" Eagle McMahon asked the assembled media after finishing up the final round of the Beaver State Fling.
"You're not a true champion until you defend your title? That makes me so proud to say that."
McMahon fought off a surging Seppo Paju over the final 18 holes on the East course at Milo McIver, overcoming a lackluster fourth round 5-under par 56 to earn his second BSF title in as many years. McMahon finished his weekend at 35-under par 209.
"Hats off to Seppo," McMahon said, still savoring the victory. "He's an incredible competitor. The shots he made to give himself even a chance. It's unreal. Finland is going to be at the top a lot in the future."
Paju finished a single stroke back of McMahon at 34-under par 210. Like McMahon, Paju was a frontrunner most of the weekend and played super clean golf, only going over par on two holes — a bogey on hole 8 in round one and a double bogey 6 on hole 1 round three.
Going into the final round, McMahon held a three stroke lead over Paju, and the two traded birdies through the turn before McMahon made the first error, showing an opening on hole 12.
On 12, McMahon found OB and settled for a bogey 4 while Paju parked the parking lot island for a birdie 2. The two stroke swing cut McMahon's lead to a single stroke. At the time, it looked like Paju would be able to take advantage, having birdied four holes in a row. The Finn was en fuego.
"I was trying to lay up," McMahon said of his unfortunate turn on hole 12. "I am very frustrated with my disc there. I threw my most overstable midrange and I thought it would dive into the ground maybe 30 feet in front of the island. It just kept going and almost got to the basket. That really was a terrible moment."
McMahon responded well, though, with birdies on holes 13 and 14 to Paju pars. This re-established McMahon's lead, and Paju only birdied once more on hole 15. It wasn't enough to close things out, however, as a 60-foot par save from Paju beget a bogey from McMahon on hole 17 and kept the margin at one stroke going into the final hole.
"Eagle laid up on 18 and I had to make that about 35-footer," Paju recalled after the round. "In my head I was really like, this is going in. I was one hundred percent sure it's going in. I just had a bad release angle on it and it dove into the ground."
Overall, Paju played what is probably his best tournament of the season. His putting, usually an area of relative weakness, was excellent all four rounds. Paju hit 91% of his Circle 1X putts, 42% from C2, and was top 10 in four of the big six UDisc Live statistical categories.
"Matty-O was a big reason why I played this good. He was giving me good vibes, good advice," Paju said of having Matt Orum as his caddy, giving his Prodigy teammate some credit for the performance. Orum did not make it into the event off the waitlist so had to sit the NT out.
Keeping how well Paju played in mind, McMahon's win might be even more impressive. McMahon did not play his best golf. He hit 86% of his C1X putts, and didn't scramble particularly well when he needed to. Thanks to his game off the tee, McMahon was at least able to keep the scoring chances coming, finishing second in C1 in regulation and third in C2 in regulation, and thus able to string together runs of birdies on holes other players weren't able to attack.
McMahon was also able to push the mental trauma from the Portland Open away.
"I can't believe that what happened at Portland Open happened, and it felt like it was going to happen again," McMahon said, remembering the missed putt at Blue Lake that pushed him to an eventual playoff loss. "For it to go the other way was just the biggest weight taken off my back ever. When I tapped my putt in after Seppo missed I legitimately felt emotional."
The win is McMahon's first NT victory of 2019. He has two second place finishes at the Las Vegas Challenge and the Glass Blown Open.
Ricky Wysocki and James Conrad continued their jumps up the ranks, both shooting a 7-under par 54 to take home third place with a 29-under par 215 total, and fourth at 28-under par 216 total, respectively. This is Conrad's best finish at a National Tour this season.
Jordan Castro also had his best weekend of the year. The Minnesotan finished in a tie for fifth with Simon Lizotte and Dynamic Discs teammate, A.J. Risley at 27-under par 217 total. Castro's previous best finish at an NT was his 14th place showing at the 2018 GBO. It is also Risley's highest NT finish.