Wysocki, Conrad make moves up leaderboard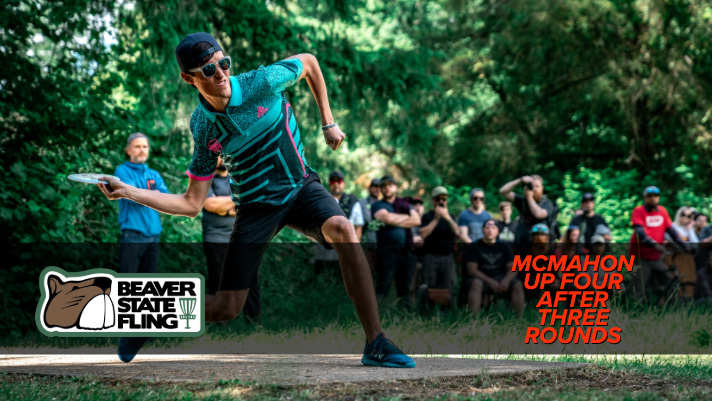 Had it not been for hole 1 then we may be singing a different tune right now.
Instead, after three rounds, Eagle McMahon has taken ownership of and expanded the lead at the Beaver State Fling. McMahon dropped a 1061-rated 10-under par 51 and has thrown his discs 153 times during the tournament, four times fewer than second place Seppo Paju. McMahon is 30-under par total, while Paju sits at 26-under par.
McMahon was bogey-free on the second day of action and was able to scramble out of trouble the few times he found himself off the fairway. His 82% putting rate — two-putts on holes 2 and 12 — inside Circle 1X is a bit lower than what we are accustomed to seeing from McMahon but it's hard to argue with a four stroke lead going into the final round. He is third and second in the division for the tournament in reaching C1 and C2 in regulation, respectively.
Still in the hunt for their first PDGA National Tour wins are Paju and A.J. Risley. Paju was tied with McMahon coming into Saturday, but immediately lost three strokes on hole 1 as he double-bogeyed the 630-foot par 4 by finding OB and needing two attempts from inside C1X. He'd play clean the rest of the round, but still not find enough chances to score. Paju only hit a third of C1s in regulation. Risley had a similar round. No above par scores were added to his total, but the birdies just weren't falling. Risley remains in third place at 23-under par 160 total, a position he's held since the first round. He is first in the tournament in parked percentage, and is top 10 in six of the eight major UDisc Live statistical categories.
Ricky Wysocki is lurking in fourth along with Jordan Castro at 22-under par 161 total. James Conrad matched Calvin Heimburg's round one hot score of 12-under par 49, which included a bogey, to jump 20 spots into sixth place at 21-under par 162 total. He had two 50-footers for birdie during the round.