Race for second and third place still tight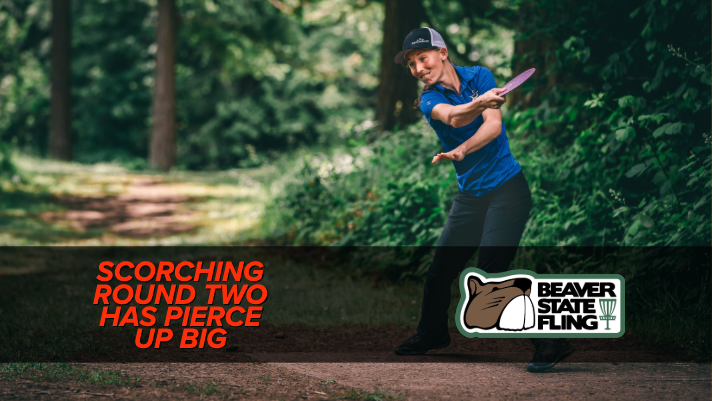 As the horn sounded to signify the start of day one at the Beaver State Fling, the Open Women's field was strewn around the Riverbend East course at Milo McIver. As is tradition, the shotgun starts for the opening two rounds on Friday combined with the spotty cell service in the park means it takes a while until a full picture of how things are shaking out comes into focus.
At the end of the 36 holes, it became very clear that Paige Pierce was doing her best to win back-to-back tournaments in Oregon.
In the morning, Pierce did a lot of work on the par 4s that make up the middle section of East, finishing 5-under par between holes 7-12. She recorded the only birdie on the 400-foot hole 12, putting her drive on the parking lot island. Milo bit back on her next stretch though, with Pierce recording two-putts on three consecutive holes during a 5-over par five hole run. She righted the ship with a birdie on hole 18 and a lot of quality scrambles to finish the first 18 holes in the lead with a 995-rated 1-under par 60, the only score under par.
On the West side in the afternoon, Pierce left a path of scorched earth through the state park. Her first and lone bogey didn't come until hole 12, and by that point Pierce had already grabbed a couple of birdies, and added two more before finishing a 1010-rated 4-under par 57, to bring her 36 hole total to 5-under par 117, an eight stroke advantage over second place Vanessa Van Dyken.
Besides leading the field in both Circle 1 in regulation, 31%, and C2 in regulation, 42%, Pierce is also pacing the pack in the all-important scramble rate at 81%.
Round one for Van Dyken, Catrina Allen, and Zoe Andyke played out in similar fashion to Pierce's, but without as many birdies. With the exception of Van Dyken, their second rounds were not as kind. Allen carded a 3-over par 64 to move down into a tie for third at 4-over par 126, and Andyke dropped three spots into seventh after a 7-over par put her at 9-over par 131 total. Van Dyken remained in second by shooting a 2-over par 63. She is at 3-over par 125 total.
Jennifer Allen made a jump in round two, shooting the only other under par score to Pierce's. Her 2-under par 59 has her in the tie for third with Catrina. Jennifer had one of only two birdies on the 689-foot par 4 hole 9.
On day one, the East course played 6.88 strokes over par, and the West course was 5.37 strokes over. The East average stayed relatively flat year-over-year, while the West course was two stokes lower in 2019.