Heimburg perfect from C1X over 36 holes, still falls from lead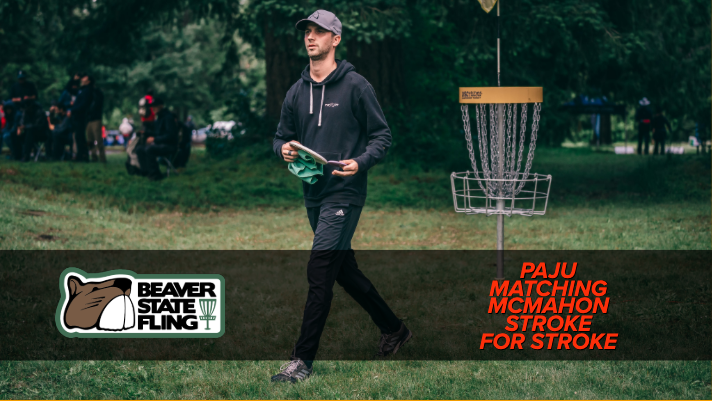 After two rounds and one day at Milo McIver State Park, Seppo Paju and Eagle McMahon are tied for the lead at 20-under par 102 at the Beaver State Fling. A.J. Risley is in second at 17-under par 105, and Calvin Heimburg in third place, a single stroke behind Risely at 16-under par 106. Paju and Risley are chasing their first PDGA National Tour wins. 
Heimburg took the lead early with the morning round, shooting a 1082-rated 12-under par 49 on the West course, tying Paul McBeth's 2016 third round for lowest score on the layout since 2013. Heimburg putted at 100% inside the circle, and was one of eight eagles of the day on hole 6, the easiest hole of round one. Heimburg threw his in with a heroic flourish, bagging the 3 with a 90-footer. Don't remind Eagle McMahon of what could have been. The defending champion took a double-bogey 7 his first crack at hole 6.
McMahon struck back in round two, though. The Young Bird and Paju shared hot round honors, both shooting a 1060-rated 11-under par 50 on East. McMahon traded his double-bogey from round one for an eagle on hole 9, and Paju kept things simple with a clean card which included five straight birdies on holes 3 through 7.
After day one, Paju is second in the field in fairway hits, 82%, Circle 1 in regulation, 56%, and C2 in regulation, 81%. He's also been outperforming his usual standards in C1X putting, connecting at a 91% rate. McMahon is 14th or better in every major UDisc Live category with the exception of scramble percentage.
Heimburg slipped to fourth after the second round, posting a 4-under par 57. He did not card a bogey, notching every scramble opportunity, and did not miss a C1X putt. It came down to his work off the tee, as he only made C1IR at a 17% clip.
Where Risley was consistent round-over-round, maintaining his lead card position for at least another 18 holes. Thomas Gilbert, who was one off the lead after one round, posted a 997-rated 2-under par 59 to fall to ninth place.
Over the past several BSFs, no player has come from more than five strokes behind after the first round to make a podium. Despite climbing seven spots into the top 10 heading into the third round, Ricky Wysocki, Simon Lizotte, and Nate Perkins do not have history on their sides.