Who are we missing? Who is in your top three?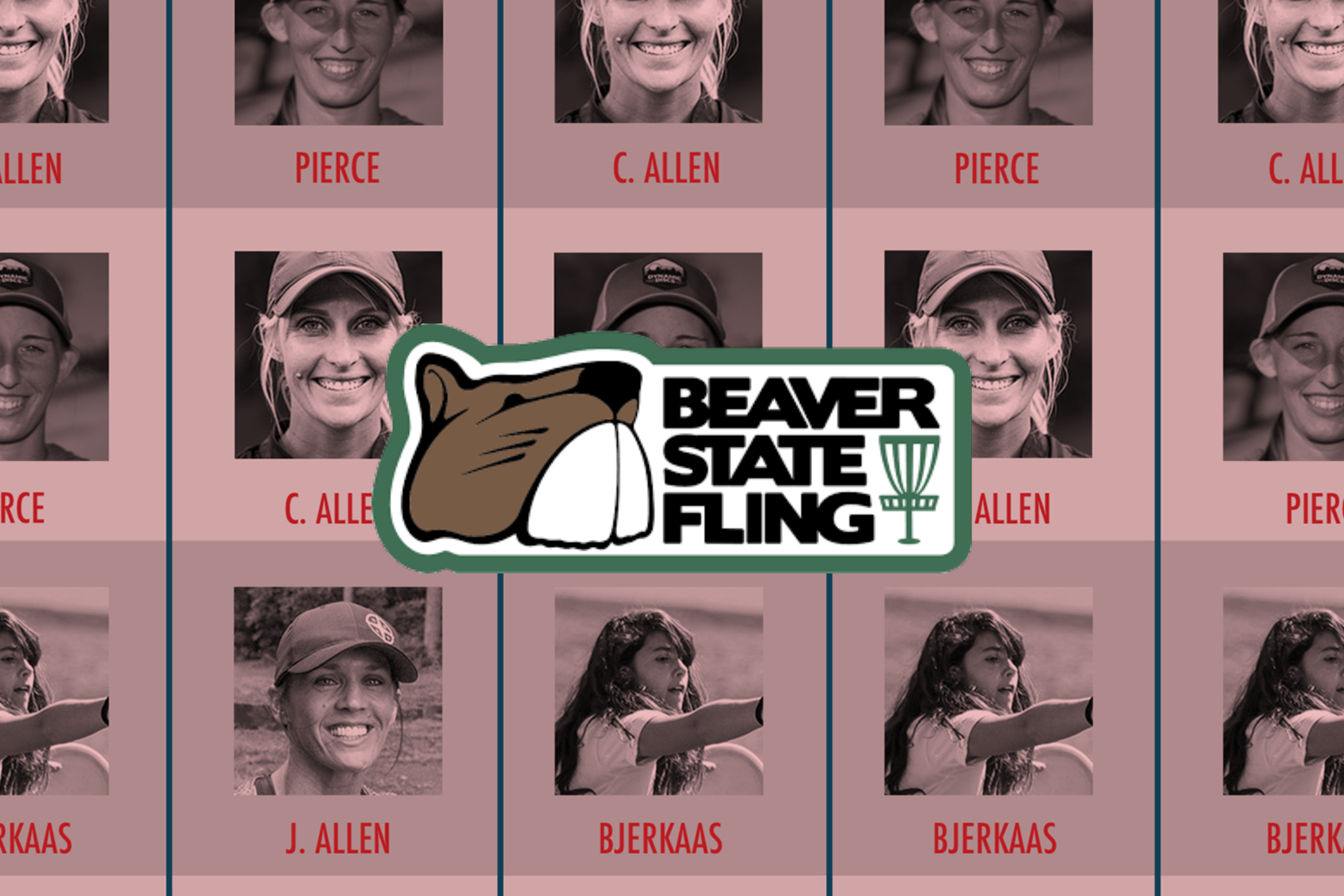 Milo McIver State Park and the Riverbend Disc Golf Course rank as one of the best venues currently on tour and the Beaver State Fling features big shots, bigger trees, and tiny parking lot islands. Last year, Eagle McMahon and Catrina Allen emerged victorious after a hard-fought weekend. Scoring separation is hard to come by, so this year's winner will need to bag a bunch o' birdies and keep a cool head when things get hairy. A fitting end to the West Coast Swing, we've picked our picks and so should you!
Dark Horse Criteria: This week we're excluding the top 10 in FPO and the top 15 in MPO from the Power Rankings. Additionally, any players falling outside the top 10/15 who are rated 950 or higher in FPO and 1030 or higher in MPO can't bat DH. Sorry, Josh Anthon, Scott Withers, Michael Johansen, and Andrew Fish — y'all too good.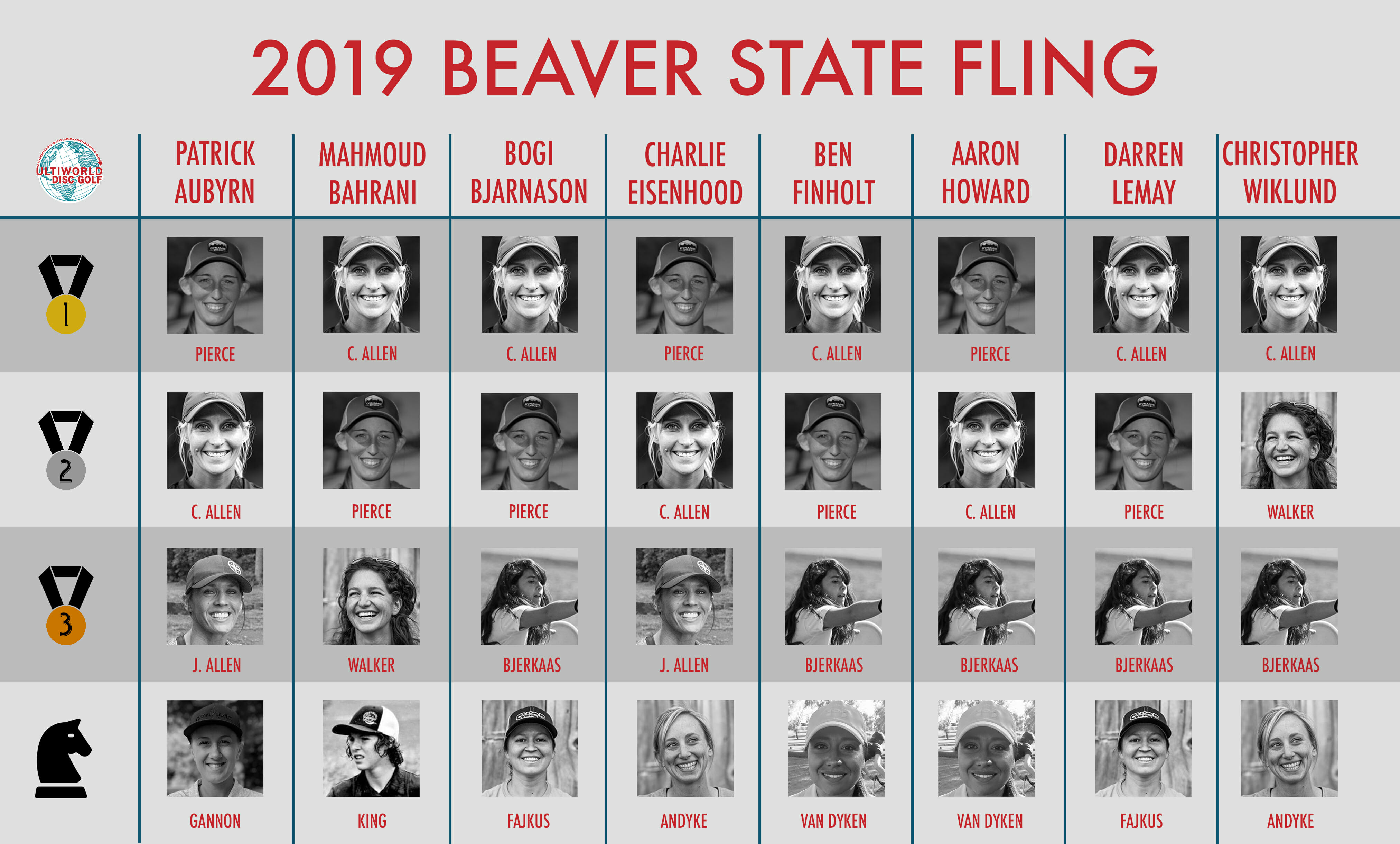 Rationale
The win at the Portland Open was enough to sway several voters back in Paige Pierce's favor for the BSF. Demons from last year in Estacada have seemingly been vanquished and the two-time winner will try to go 2-for-2 in PDX tournaments in 2019. While Pierce may have gotten three first place votes, Catrina Allen continues to dominate picks, taking five nods from UWDG contributors. Allen won in a playoff over Pierce last season, and has said how much she loves playing at Milo McIver, as she, probably more than any other FPO player, has every necessary shot in her bag, including the best roller in the division.
Madison Walker is the only player not already mentioned to receive a second place vote. She has finished in the top five at her previous three events, two DGPTs and an NT, and made the podium at the San Francisco Open. Walker isn't known for her distance, and luckily the Riverbend courses are not long by current standards, and she'll have plenty of unique lines to carve and scramble out of. Paige Bjerkaas has made a podium at the BSF before, and five ballots had her doing so again. Coming off a win last month at the Norman Pro Am, Jennifer Allen also got two third place votes. She has only ever played the event once, placing fifth in 2015.
Five players made it into dark horse consideration, and two of those women, Zoe Andyke and Vanessa Van Dyken, have finished fourth or better at the event in the past.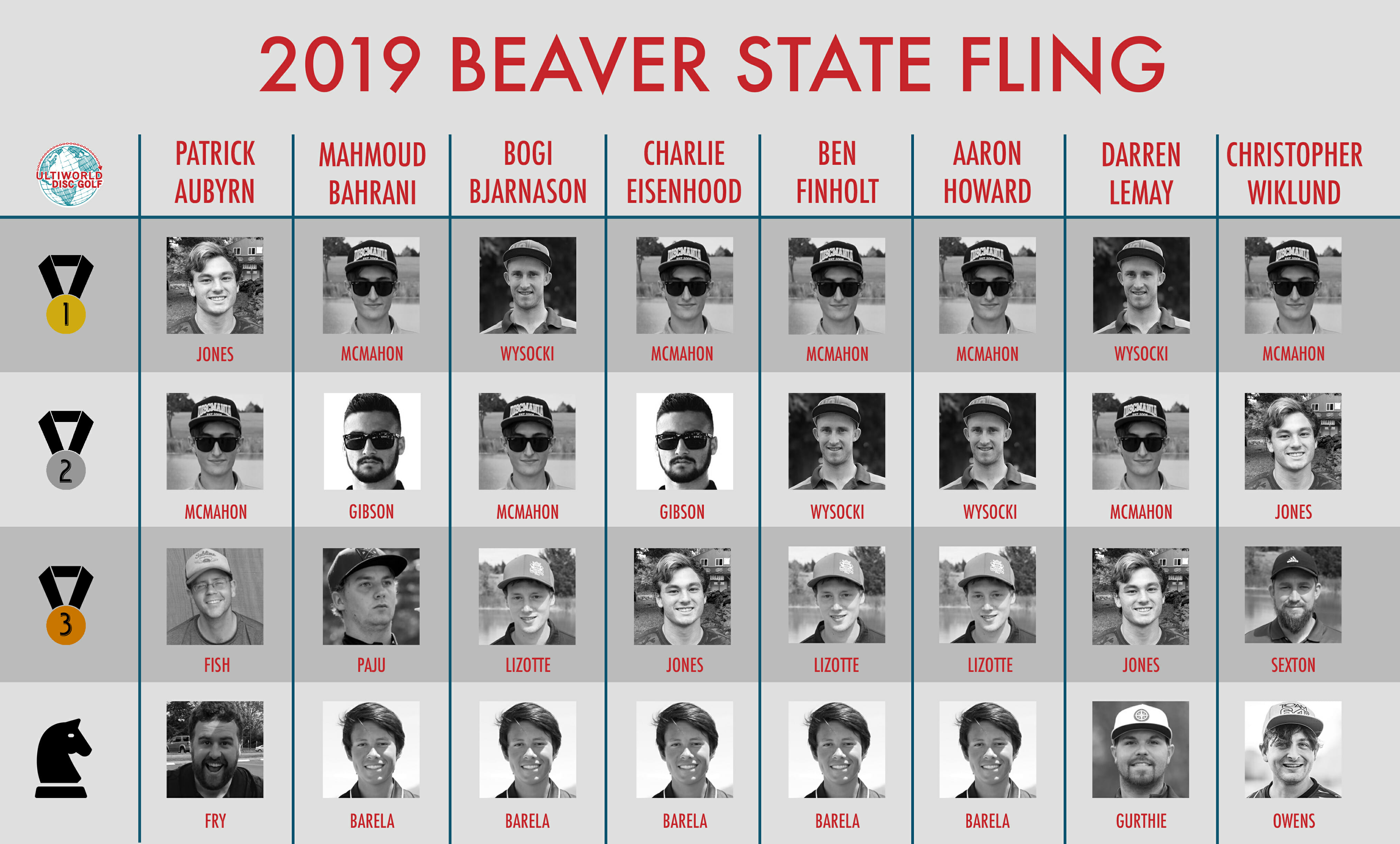 Rationale
Over the course of four rounds in 2018, Eagle McMahon recorded two bogeys. Both came during the second round. His 3% bogey rate was the best in the field. He didn't lead the field in any other category but played clean and consistent. Recently it seems like he's pushing for the W more than he did last year and has clearly struggled to find emotional equilibrium on the course. After the heartbreaker in Portland, he's looking to reclaim the 2018 swagger. What better time than now?
McMahon spoiled Ricky Wysocki's bid for a three-peat last year. The two-time champion needs to channel his clinical performance in San Fransisco and log a consistent four rounds if he wants to reclaim the title. Ditto Kevin Jones on the consistency front! KJ USA hasn't found the podium at an NT or DGPT stop year this year. He's shown flashes of brilliance, like his 15-under par 51 during the second round of the Portland Open, but will need to scramble better and hit more C1X putts to claim the elusive signature win.
Was Drew Gibson's victory a flash in the pan or a sign of things to come? Historically, he plays well at Milo, so we expect a solid finish from the Portland Open champ. Simon Lizotte is the most popular of the third place vote-getters and it feels like his time is coming soon, doesn't it? Milo sets up well for this duo.
The BSF has been an NT 13 of the past 16 years. Of course, hometown favorite Nate Sexton won the tournament in 2014 when it was a B-tier. This is the NT we want to see him win, right? Rounding out the podium picks: Andrew Fish! His most recent tournament, Two Days in May at the Blockhouse in Spotsylvania, VA, was a tale of two courses. Hopefully, he's forgotten his sub-1000 play on the Darkside DGC because he averaged 1046.5-rated golf on the Sunny Side DGC, the more Milo-esque of the pair.