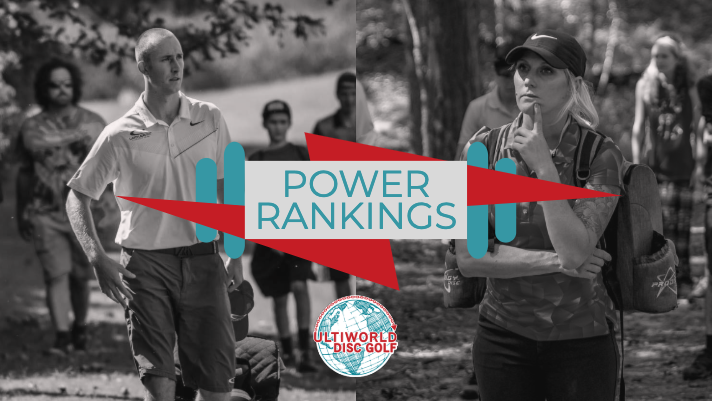 We're wrapping up the west coast swing this weekend with the Beaver State Fling. Need some help with your podium picks? Look no further. Time for v. 5 of the 2019 Power Rankings. First some quick hits:
Winner winner turkey dinner. Catrina Allen is no. 1 three times running. Despite finishing second at the Portland Open, she's likely feeling good vibes headed into the BSF. Having 11 days to prepare and hit the gym suits her gameplan. Also, she's the defending champ! If you recall, her W at Milo in 2018 marked her first tour victory last year and was the second of four wins toward an undefeated June.
Number 2 Paige Pierce looks to spoil the party and go 2-for-2 in Oregon. Last year she had the tournament in-hand but missed a short putt for the win on hole 18, which led to a fateful playoff with Allen. The stage is set for a battle.
A shakeup atop MPO with Ricky Wysocki grabbing the top seed for the first time this year. He got the best of Paul McBeth in their last two head-to-head match-ups, and the latter slid to third in our rankings after finishing off the podium at the Masters Cup and skipping the Portland Open.
Meanwhile, Eagle McMahon's second place finish in Portland cemented his two-spot three-peat. Like Allen, he hopes to defend his BSF title, and like Pierce, he looks to avenge a missed putt and a playoff loss.
Paige Bjerkaas moved up two positions and rounds out the top three in FPO. Her play has been solid all season but she's still looking to back up that come-from-behind victory in Vegas with another signature win.
Falling from the third seed down to seventh, Jessica Weese was the last person not named Allen or Pierce to win the BSF back in 2014. She's had a bumpy go of it lately, missing the top five at the SFO (6), Masters Cup (16), and Portland Open (6). A win this weekend would certainly help to right the ship.
Despite preferring wooded courses, Madison Walker has been killing it on the longer, more open tracks of late, finishing 3-5-5 to start the west coast swing. She jumped seven spots to no. 4. The other big mover in the top 10 was Kristin Tattar. All she does is win. She's 5/5 to start the year, nabbing victories at all three EuroTour stops and beating out Eveliina Salonen (PR 8) and Henna Blomroos (PR 12) at the Prodigy Disc Pro Tour in Helsinki.
It's been a good couple of weeks for players with G surnames. Garrett Gurthie and Drew Gibson caught lightning in a bottle and snagged their first big wins on tour. The question remains, can they back it up? Gurthie has the same number of podium finishes (two) as he does finishes outside the top 25 at NT and DGPT events, sandwiching the Masters Cup win with an 18th place finish at SFO and a 13th place finish in Portland. Gibson battled some early season injuries and only has one top 10 finish at an NT or DGPT stop this season (he certainly made it count!). Milo sets up well for their games and both finished in the top five last year, so look for them to build on their winning ways.
Want to see how the voting shook out? See the complete objective and subjective voter tallies for MPO and FPO.