"I stepped up to every shot like I'm the best at this shot. That was the first time I'd ever played with that attitude."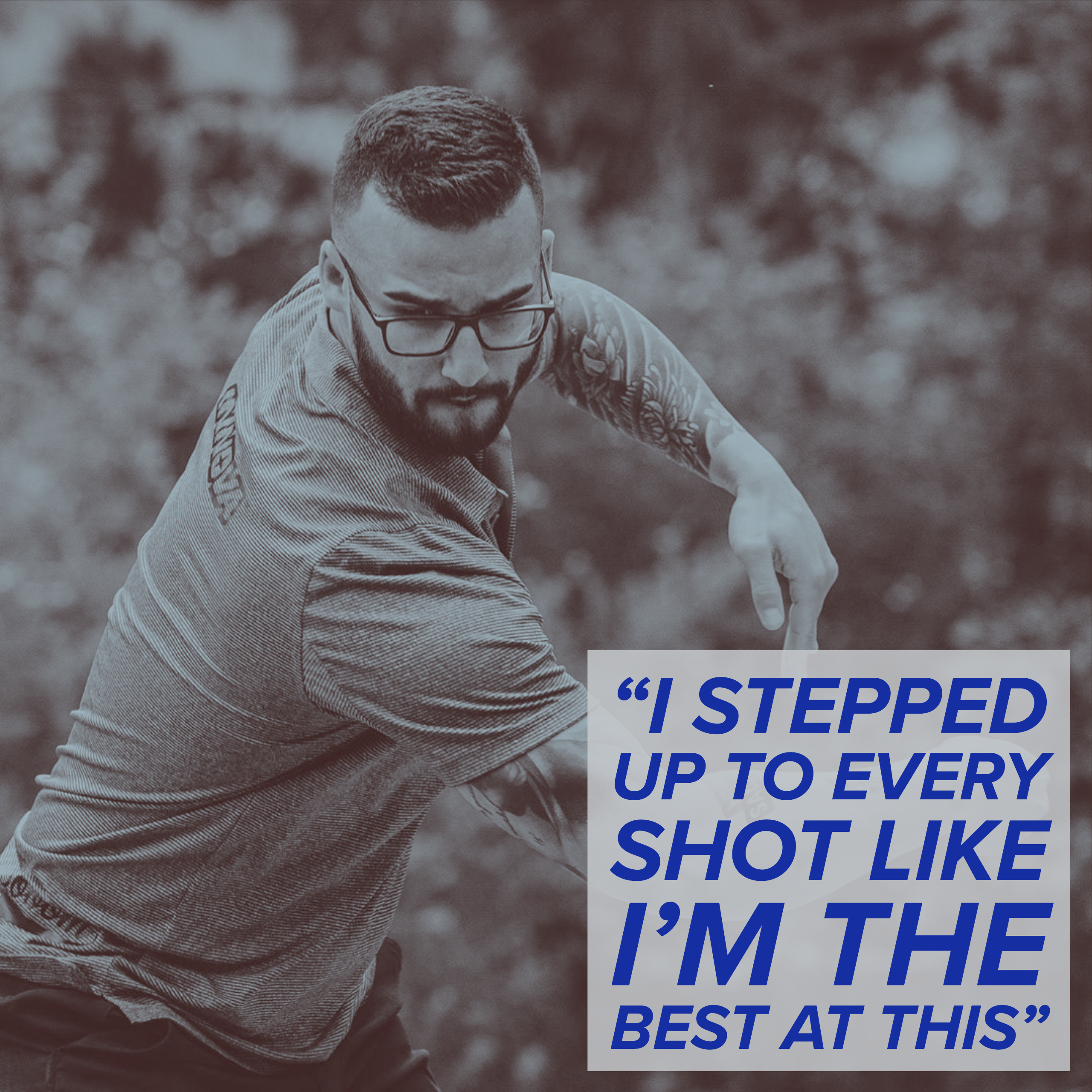 As far as polarizing figures in disc golf go, Drew Gibson has to be near the top.
The Californian has never been one to hold his emotions or opinions in check, but his win at the Portland Open showed a more metered Gibson than we've seen in the past.
Ultiworld Staff Writer Chris Wiklund caught up with Gibson to see what was different at Blue Lake, how his season has felt, and what he's looking forward to.
---
Ultiworld Disc Golf: You weren't really on anyone's radar as a challenger at the Portland Open, especially coming off an injury. How were you feeling going into it, are you back to 100% physically? It was around this time last year you caught fire.
Drew Gibson: Feeling good. I was practicing a lot the week before, I practiced every single day. Putted a couple of hours a day. So I had a feeling I was going to do pretty well.
UWDG: Do you think Blue Lake set up for your game? Was it a combination of the course and just feeling good, or what?
DG: Well, it definitely a mixture of both. A course can fit your game as well as you want, but if you're not like mentally there you're not going to play well. It's definitely a mixture of the course fitting my style and mentally being ready to play well.
UWDG: With your injury and your recovery, does it feel like you're playing with house money? Does that give you some mental breathing space or is it just another tournament?
DG: It's just another tournament. Me being hurt was a while ago. I'm past that now. So, I try not to even think about that as an excuse or affecting me or anything. I mean, if it starts aching or hurting then yeah, but until that happens I don't want to think about it at all.
UWDG: You looked like you were grabbing your red "Jumpman" Destroyer a lot, including on the playoff hole. Was that the workhorse out there?
DG: Yeah. It's just like a super beat up Destroyer. I know if I throw it flat and hard it's going to go pretty flat and straight. It's a disc that in those pressure situations I can trust in order to fly those lines. I might not trust another disc to do that.
UWDG: I've also noticed you've fooled around with a couple different putting stances over the past year or so. It also looks like you kind of move your arm up and then pause a little bit and then finish the stroke. Is that a new putting style that you've been working on or just what feels comfortable and productive?
DG: It's funny. People say that I stop at the bottom. I never really ever noticed I do that. It's just something that my body does, I guess. I don't think, go up and stop, like that. I wouldn't say it's something I implemented. It just kind of become a thing.
UWDG: I'd also say watching you that you're a confident guy, and also a passionate guy. You're going to let your emotions show. In general, you're pretty emotionally exuberant. You miss that put on 16 and just kind of shrugged it off. Is your mental game something you've been working on? Controlling those emotions?
DG: Well, I guess I just knew it wasn't over until it's over. Those next two holes aren't that easy. I knew if I just get those next two holes at least — I mean missing that putt, the fact that I won the tournament makes me missing that putt laughable — if I lose by one, it makes it devastating. So I just thought, well you getting upset isn't going to make you win the tournament. Just keep on making it. The next hole I had a 30-footer and put it in the heart. I was like, 'Oh wow, that's good.' I didn't get upset. I just missed the putt and moved on.
UWDG: You were four or five strokes back of the lead going into the final round. Was there any sort of change in approach to the course you took that allowed you to make that jump into first?
DG: No, I didn't do anything different. I just played well. There was no mental difference. I showed up and just played, and Eagle and I, and Seppo, we're all battling. It felt like we were all in the same groove, we were just vibing and playing. I didn't try to be more aggressive on any hole or do any different shot. I played the game plan and the game plan came together that day.
UWDG: This is your first Disc Golf Pro Tour or National tour win. What does that mean to you overall?
DG: I mean, it's awesome. I knew the day would come. I knew there'd be a time where I'd win tournaments and hopefully it happens more often than every four years. I would have never guessed if, it was more of a matter of when. I think I even told you that last year. Now that I've done it and the way I did it — in the playoff, making a 20 something footer, the way the whole week went down, coming from the second card– I think that that was one of the hardest ways to win. That's the hardest position to win from. To be able to do that is pretty awesome.
UWDG: Did you try to dissect the course in any way?
DG: Basically threw hyzers to spike hyzers as much as possible. I tried to play the course to set myself up to throw hard hyzers which is my most comfortable shot. That's what I like. I went around the course trying to play to those spots where I can throw hyzer to the green or hyzer as a drive. The most amount of times I could throw a comfortable hyzer I tried to.
UWDG: We haven't seen you on a ton of coverage this year. Are you getting more confident in your sidearm? Is that something you want to incorporate more into your game?
DG: I just use it when I need it. Before I was more reluctant to use it unless it was the only shot. Now if the shot is a sidearm I throw a sidearm. I still lean to the backhand way more. But before I was more like Cale [Leiviska], how Cale forces the backhand. I've gotten to the point where my sidearm is pretty good and it is usable. I will choose backhand over sidearm if it's questionable at all.
UWDG: Focus switch over to Milo McIver, what's the mood?
DG: I feel good. That's where last year I almost won and played well. I think I have a chance to win every tournament I show up to. Whether I play well or have my head screwed on straight is a different story. I don't think there's very many tournaments where I show up and I don't feel like I have a chance to win. So I think Beaver State Fling really suits my game and after playing how I did this week, I would feel confident that I'll probably have another good finish there.
UWDG: Having your head screwed on straight — how would you define that? Being in control of your emotional state? Making smart decisions with shot selection?
DG: All of that stuff. This week it was confidence. I just told myself, 'I threw it the best, I putted it the best.' Whether the stats say that or not. I just believed that the whole week. Usually, I'm like, I suck at putting or this or that. I stepped up to every shot like, I'm the best at this shot. No one's gonna tell me otherwise. And until the tournament's over, I'm going to believe that. That was the first time I'd ever played with that attitude. I don't care who it is, who else it is — no one else has that shot. I'm the only one. I'm literally the best at it. I'm the only one who's going to throw it.
UWDG: That's a hell of an attitude. I love it.
DG: That's why that putt on 16 didn't really bother me that much. I was like, okay, well I'm the best at these next holes. That attitude is why I won the tournament. If I would've gotten discouraged and body slammed my disc like Eagle did, I probably wouldn't have went birdie-birdie.
2019 Portland Open – Final Round Part 2- Drew Gibson hole 16 putt
UWDG: If you had to look back, what do you think you could've done better and what would you like to improve on moving forward?
DG: Easy answer is always my putt, but this week I left myself too far on my upshots that should have been parked. Normally that's my game. Good drives, good upshots, and then if I make it, I make it. If not, oops. But this week, for whatever reason, my putter upshot, which is normally my best shot, I just left short. On 16, even the last shot when I missed it from eight feet or whatever, I shouldn't have even been that far away. I should've been right under the basket.
UWDG: Do you think those are mental or just crappy shots?
DG: I think it was just bad shots happening. I played pretty well all week, I threw pretty well. I understand I am going to make mistakes. So I don't think there's any excuse. I don't really think there was anything to blame. Bad shots are going to happen. It just so happened that my bad shots were on those types of shots. I wouldn't break it down to mentally lapsing on my putter upshots. My one bad shot every eight was that one. It kind of happened that way.
UWDG: This is your fifth year or so on tour. You're one of the younger guys by the calendar, but in terms of experience, you're probably one of the veteran touring guys. How is this year different than past seasons?
DG: This is my worst start to a season ever, prior to this win. I hadn't played good at all. Then I was out for eight weeks because of my leg. It just wasn't a very good start at all. Going from my worst season ever to a year, if I'm going to finish strong, that will be my career year.
UWDG: We talked about it a little bit last year when you got on a bit of a heater around this time, you had said that the discs were just feeling more comfortable for you. You still feeling that way?
DG: I can look at a hole I've never played before and know exactly what disc to throw, exactly what angle, exactly how hard. That's also how it's been for me on par 4 when all of the sudden I have a different upshot than I had in practice. It's pretty easy for me to come up with the solution since I know what I need to do and how I need to throw it.
UWDG: Looking forward to the rest of the season, are there any tournaments or legs of the tour that you're particularly looking forward to?
DG: Worlds at Ledgestone. That course fits — OB, long holes. I feel like that course is one of the courses where if I go out there and play my game, I should be able to do pretty well. Maple Hill is another one, so I like both of those. I'd love to get a win at either of those places this year.