Allen can't comeback, comfortably takes second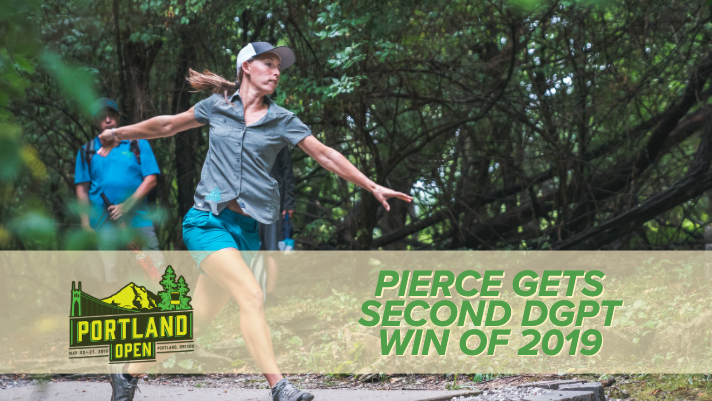 A nine hole stretch in the middle of the Portland Open final round may be some of the most consequential golf Paige Pierce has played in a long time.
Sure, her two wins of the season were products of legendary comebacks, including a walk-off victory at the Jonesboro Open for a Disc Golf Pro Tour title. But at Blue Lake Park, just outside of Portland, Pierce was playing with something else. A lead. And she had to perform at her best to protect it.
"I haven't been to Blue Lake since 2014 Worlds," Pierce said. "It was just as tough as I remember."
Coming into the round with a two stroke advantage over Catrina Allen, Pierce momentarily built her lead up to three before two-putting on hole 6. A quick recovery via a Circle 2 putt for birdie on the next hole staved off Allen from making up more ground, but a bogey on hole 8 found Allen within one with a lot left to contend with.
Allen has been the best player in the division in 2019, and with that added pressure on Pierce, the four-time world champion responded. A parked upshot birdie on hole 10 preceded an 80-foot throw-in par save on hole 10. Allen was inside the circle off her drive, still with a chance to tie for the lead, but two-putted after Pierce's make. Pierce answered her own big putt with another on hole 11, a C2 connection for birdie, to jump back in front by two.
When she eagled the par 4 hole 13, Pierce appeared to have closed out the tournament. Allen, however, was still attacking. She regained the stroke on the next hole, and down only two, was putting the screws to Pierce on hole 15. As Allen was chipping her way up the fairway of the 780-foot par 4, Pierce found OB on her approach.
With Allen inside C1 for a par putt, Pierce was starting down a 70-footer to save par herself. In the moment she needed it most, Pierce forced a dead straight jump putt toward the pin and found center chains.
"The putt on hole 15 was definitely the most important shot of the day," Pierce said. "I knew where Catrina was, and I went for the aggressive shot and went OB. I had to hit that putt to save par and keep the pressure on."
Even though Allen would work her way back within one stroke before the final hole, Pierce won the Portland Open with that outside C2 hit.
Pierce would win with a 10-under par 188 total after throwing a 999-rated 5-under par 61 final round. She led the division in Circle 2 in regulation at 61%, and scrambling at 71%, a category she often underperforms in. She was second in Circle 1 in regulation, 39%, and Circle 2 putting, 36%, although C2 putting does not account for her two final round throw-ins.
Allen finished comfortably in second at 8-under par 190 total, also recording a 5-under par 61 final round. She was first in fairway hits, 78%, parked shots, 17%, and C1 in regulation, 41%.
"My second round was quite possibly the worst round of the season," Allen said in an Instagram post after the round. " I have worked so so hard on and off the course, so this lost is tough."
Lisa Fajkus moved two spots up into a tie for third with Rebecca Cox at even par 198 total.