Kevin Jones throws 1093-rated course record to move into third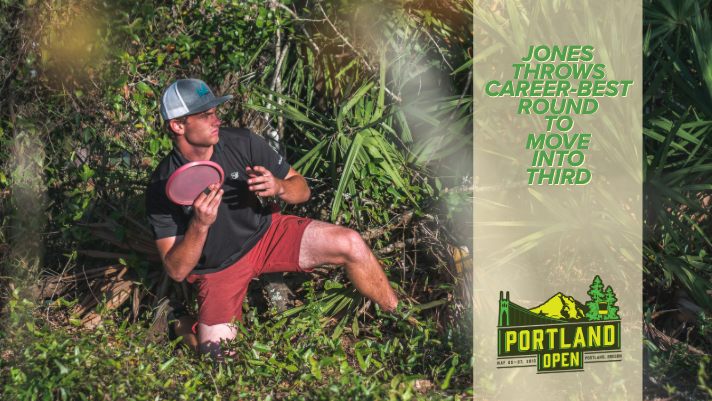 The Portland Open is living up to all its promise.
After two rounds at Blue Lake, Simon Lizotte and James Conrad are tied at 18-under par 114 total going into the final round. Lizotte was positioned to take sole possession of first place going into the final hole of the day but threw OB and bogeyed hole 18, dropping him to 9-under par 57 on the day and into the tie with Conrad.
Conrad went into the clubhouse with an 11-under par 55 Sunday, clean and bogey-free. On day one, Conrad bogeyed holes 15 and 16. During round two, he was able to correct and par the holes. Conrad was second in Circle 2 in regulation at 67% and hit 12 C1X putts.
The scorecard story belonged to Kevin Jones who went and had himself a day, shooting a 1093-rated 15-under par 51, the highest rated round of his career. Jones birdied the first 11 holes before notching a par on hole 12. He got right back on the birdie train from holes 13 to 16 before he bogeying 17. Jones birdied 18 to close out his day.
Jones's putter did not hit the ground, going 100% from C1 and C2, including 60-foot putts on holes 12 and 16. The big putt on 12 saved par after going OB off the tee. Jones credits the work around the greens with his scorcher of a day,
"Today I knew I needed to make a push," Jones said. "I just felt great about all my lines and I was able to make all my putts. Eleven under through 11 holes was unreal, and hitting a par save on hole 12 was when I knew I had a good round locked up."
Despite Jones's course record-setting second round, it was not enough to overcome his substandard day one, and his early move into first place would not stand up. He will go into day three tied with Nate Sexton for third place at 16-under par 116 total.
Eagle McMahon was able to make a jump up the leaderboard himself, moving up 23 spots to a tie for sixth place with Seppo Paju at 14-under par 118 total after a 12-under par 54.