Early rounds benefitted from better conditions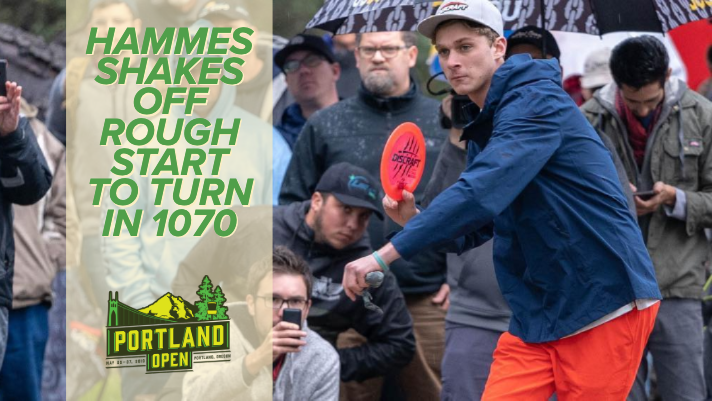 Adam Hammes was still playing Junior II when Pro Worlds stopped in Portland in 2014. Five years later and he's leading the return to Blue Lake at the inaugural Portland Open.
Hammes jumped out to a one stroke lead through 18 holes after carding a 1070-rated 10-under par 56. His start did not indicate how his day would play out, as Hammes began the day with two straight bogeys before following it up with an eight hole birdie streak. After two-putting on the first hole, he did not miss a Circle 1X putt and added six from C2, four for birdie. Hammes led the field in fairway hits at 89%.
Tied in second place behind Hammes at 9-under par 57 are Simon Lizotte, James Proctor,1 and Michael Johansen. Lizotte hit every putt inside C1X, and MJ turned in a clean round.
"I'm just trying to keep it in bounds and give myself opportunities on the holes I can get," Johansen told Cory Murrell after the round. "Try not to throw OB and keep it safe, out of the way and in a good spot."
Proctor made his living from C2, leading the field in C2 in regulation at 83% and hitting four birdie putts from long range.
Nate Sexton, Dion Arlyn, Alex Russell, and Luke Humphries are knotted up in a four way tie in fifth place at 8-under par 58. JomezPro fans will remember Arlyn from his appearance on a Final 9 from 2018. Arlyn can throw the disc a mile, and is one of the many hometown heroes looking to make a run at the win this weekend.
It is rare that we get this far into a recap without mentioning the names Ricky Wysocki or Eagle McMahon. After one round they are in a nine way tie for 29th after carding 1019-rated 2-under par 64s.
---
told you so! ↩