Matt Bell hits six Circle 2 birdies, tied in second with McBeth, McMahon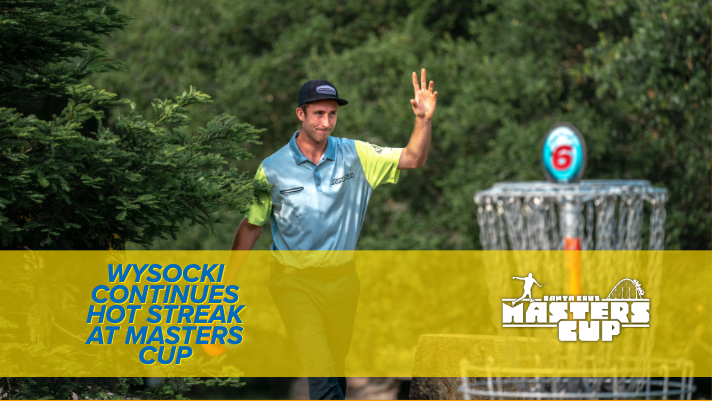 Ricky Wysocki did not leave anything in San Francisco.
After one round at the DeLaveaga Disc Golf Course, Wysocki leads the Santa Cruz Masters Cup by two strokes. He wrapped Friday with a 1081-rated, 14-under par 59. Wysocki missed exactly 0 putts inside Circle 1X, did not card a bogey, scrambling at 100%, and led MPO in C1 in regulation at 58%.
Paul McBeth, Eagle McMahon, and Matt Bell are knotted up in second at 12-under par 61 after 24 holes. McBeth and McMahon join Wysocki in the bogey-free club, while Bell matched his 14 birdies. McBeth was second in the field in fairway hits, parked shots, and C2 in regulation but 70th in C1X putting at 67%. Bell connected on six C2 putts, all for birdie.
Garrett Gurthie held the early clubhouse lead at 11-under par thanks to a bogey-free opener, and sits in a tie for fifth with Sias Elmore and Eric Oakley. If GG can remain clean Saturday, the open setting of the Golf Course during the final round could leave him in the running for a podium spot.
We sure hope that everyone paid into the Ace Pot at the Masters Cup today. Elmore and Austin Hannum were first to get on the board, both smashing chains on the 356-foot hole 3 on back-to-back cards. Hannum's partner, Catrina Allen, had actually hit the basket on hole 3 during the FPO opening round as well. Drew Gibson later aced the 310-foot hole 9 with a straight shot down the gut.
This year's opening round played 3.4 strokes under par, compared to the 2018 edition playing 0.65 strokes over par. Holes 4, 11, and 14 continue to be three of the hardest holes to par on the disc golf course.