Wysocki tied in second, shot bogey-free with eagle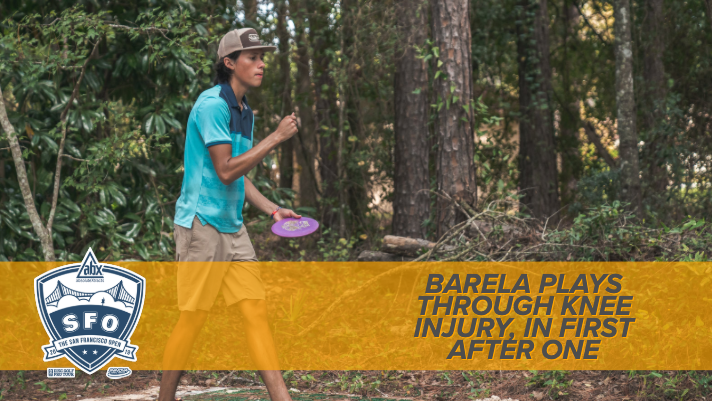 Anthony Barela is in the lead after one round at the San Francisco Open. On a Gleneagles course that rewards long throws and fresh legs, Barela's youth and playing style perfectly fit the bill and explain why he was able to shoot a 1078-rated, 11-under par 53.
Except, Barela wasn't actually firing on all cylinders.
"I can't really show off my distance right now because I'm on a hurt knee," Barela told Cory Murrell after the round. "I actually dislocated my knee cap last Friday. It makes me play a little more conservative. Can't go for the big shots."
Barela still got off the tee well, birdieing 13 holes as well as coming in second in the field in parked, Circle 1 in regulation, and Circle 2 in regulation shots. His putter has also remained hot in the weeks following the Glass Blown Open. Barela was 89% from C1X and had back-to-back C2 birdies on holes 5 and 6.
"I actually think the wind helped me," Barela said of the breezy conditions. "I feel like I have some overstable discs and my spin putt can handle the wind pretty well."
Ricky Wysocki, Calvin Heimburg, and Simon Lizotte are tied in second, one stroke behind Barela at 10-under par 54. Wysocki was one of only three players, along with Austin Hannum and Dustin Keegan, to finish bogey-free, and got the only eagle on hole 9.
Hannum, Paul McBeth, Kevin Jones, and Adam Hammes are two strokes back of the second place logjam and tied in fifth at 8-under par 56.
Hammes was the early leader in the clubhouse and credited his strong first round to strong putting and comfort in the wind.
"Putts were falling today. I felt like the wind was strong but just coming from GBO I felt confident," Hammes said, reiterating what his touring partner Barela said of the weather. "I stuck to my game plan, just making putts."
On day one, the field averaged 2.51 strokes over par, but no individual hole averaged more than .78 strokes over par. Hole 5, the toughest of the bunch, is a 1055-foot downhill par 4 with a well-guarded pin. Less than half of the MPO field recorded par or better.