Wysocki, McMahon tie for second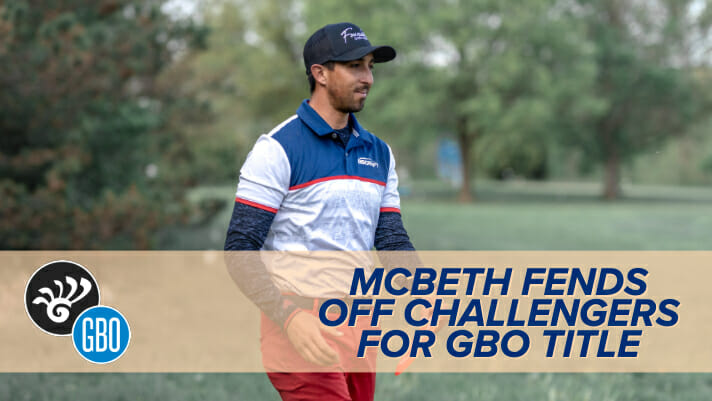 Winds were swirling in typical Kansas fashion, and Paul McBeth had shed the longsleeve shirts he'd been wearing all weekend. Now it wasn't just the players that were exposed on the course to the punishing, unpredictable whims of the weather, but also McBeth's swollen, poison ivy splotched arms.
The final round of the Glass Blown Open Saturday was going to be an endurance test of patience, grit, and some needed luck.
McBeth came into the round with a three stroke lead, built it up to four near the end of the front nine, and also gave the entire advantage away, but still won the tournament with a lay-up par on hole 18 for his third GBO title.
Much like round three, round four was full of big stroke swings between players and positions. McBeth immediately dropped two strokes on the first hole, he picked up five on Ricky Wysocki on hole 8 after Wysocki had closed the gap to one, and Wysocki and Eagle McMahon would later tie McBeth in first using similar swings.
In a round where no player was playing especially well — the hot round was Colten Montgomery's 3-under par 62 — McBeth shot the poorest of the eventual podium finishers. He had difficulty finding positions to score, only landing in Circle 1 in regulation at a 33% rate, and once he got there was not comfortable converting, putting 67% from Circle 1X. This was no more evident than on the island hole 16. After playing the safe lay-up, his approach still left some meat on the putt, which McBeth was not able to hit, allowing Wysocki to tie for the lead.
With Wysocki tied for the lead and McMahon within one, McBeth was about to play one of his best holes of the day on the 18th. McMahon missed the hero shot directly toward the green, and Wysocki went OB off his drive, but it wouldn't have mattered. McBeth worked his way up the fairway with confidence.
"I think I played it perfect," McBeth said. "I had like maybe a 20-footer, if that, for birdie."
McBeth wouldn't need to run the birdie and settled for par and the win with Wysocki's bogey. McBeth finished at 2-over par 67 for the day and 16-under par 244 total for the tournament.
"I had a chance on the last hole. I had a great wind and I knew if I threw the Cloudbreaker perfectly I was going to park it and I was going to win the tournament," McMahon said after the round. "But, uh, it didn't happen like that. So I'm sitting here in second. That's good enough, I guess."
McMahon again showed more emotion than we're used to seeing out of the defending GBO champion. Some bad breaks caused quick blow-ups, and after missing his shot over the water on hole 18 he ripped his hat off, throwing it on the ground by the tee and giving it an emphatic stomp before retreating to the drop zone.
"That seemed like the easiest thing for me to do. I wanted to outright win, I didn't want to go into a playoff," McMahon said about his decision to go for it.
McMahon was even par 65 on the day and finished tied for second with Wysocki at 15-under par 245 total. He was tied for the lead on hole 14 before bogeying hole 15.
A 2-under par 63 from Wysocki doesn't do justice to how well he was playing. With the exception of a triple bogey on hole 8, and the unfortunate bogey on hole 18 — where he missed a par save to force McBeth to run his birdie — he was the most-focused of the lead card. He led the field in holes under par and Circle 1 in regulation on Saturday. Wysocki was twice tied for the lead, after hole 12 and then again after hole 16.
As for McBeth, he ended the event top five in fairway hits, C1 in regulation, C2 in regulation, and scramble rate. He was 88th in C1X putting at 69%.
"This event, it is special. Every year they're trying to make this course harder and harder and they're doing that," McBeth said."The atmosphere around the whole tournament itself is incredible. It's like, you know, it's almost like being a celebrity. Everyone knows who you are, so it's a different feeling."