Two Europeans round out podium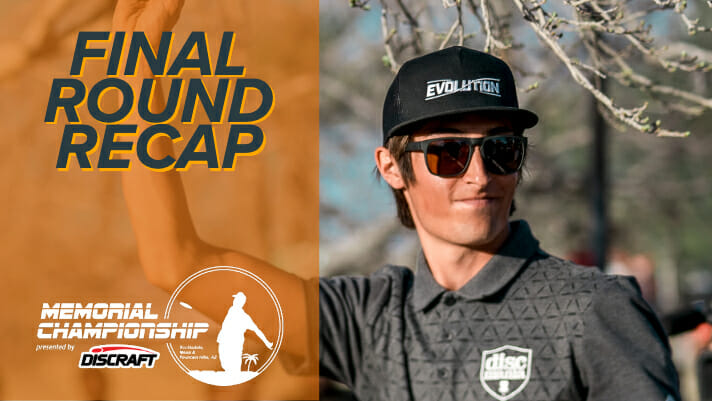 He was there the first two rounds, waiting in the wings. As we all focused on Simon Lizotte — the leader! — we weren't able to properly focus on the player performing just as well beside him. Sure, we pointed out that Eagle McMahon was averaging some absurd round rating, but he wasn't leading. Well, as Lizotte showed chinks in his hyzer armor, guess who was there to fill the void.
McMahon started the final round at the Memorial Championship with a three-stroke lead and never looked back, finishing at 49-under par 183 total for the weekend. It is his first Disc Golf Pro Tour win.
"I could have easily checked-out earlier in the tournament saying, 'Simon is playing so well,'" McMahon told Ultiworld Disc Golf after the event. "I just kept my head in it and focused on what I could control in each moment. I'm really proud of my perseverance"
The final margin of victory could have been higher, at one point late in the day Sunday reaching seven, had McMahon not gotten a bit casual over the last four holes. McMahon was otherwise dominant all weekend, helping set the tone by shooting an 1101-rated, 16-under opening round. That was just the start, as he followed that up with a 1080-rated, 13-under second round; a 1091-rated, 13-under third; and a victory lap that came in at a paltry 1035-rated, 8-under par 52.
"On the first couple holes today it felt really shaky. I was kinda throwing out of bounds, but luckily my putting saved me," McMahon said. "There's always room for improvement. You could ask Kobe. You could ask Michael Jordan. They never thought they could stop [improving]. The ceiling is unknown."
McMahon only carded a single bogey throughout the tournament and led the field in scramble rate and birdie percentage.
Talk of Fountain Hills Simon Lizotte wasn't able to maintain his own pace but took second, finishing at 45-under par 187 on the weekend. He was never within less than four strokes when it mattered.
"The last two days were so weird," Lizotte said. "Both times I got off to a good start. Sometimes, you feel like you've got the momentum but then weird stuff happens. I can't explain it. It was a little frustrating."
Jalle Stoor rounded out the podium and gave the top three a European advantage. The 1015-rated Finn averaged 1061-rated golf over four rounds to finish at 43-under par 189 total, including the highest rated round ever by a player from Finland.
"I was a little nervous today," Stoor said. "I think I learned a lot about playing under pressure."
Paul McBeth and Ricky Wysocki both made solid pushes from the chase card, but weren't able to crack the medal spots and finished tied for fourth at 42-under par 190 total. Wysocki shot his best round of the tournament in the final round, a hot 13-under par 47, but two-putted on three holes; he was 75-percent from inside Circle 1X. For his part, McBeth drove well all weekend — first in fairways hit and Circle 2 in regulation — but wasn't able to string together birdies.
"I don't think I had a putt longer than 40 feet today," McBeth said. "I'm throwing the disc really well I'm just not putting it in the basket. I'll have a good nine holes of putting and then the next three holes it's gone. It's been something that's been lingering the past couple of years."
Along with Stoor, Scott Withers, Paul Oman, and Brian Earhart all earned their first career top 10 finishes at a DGPT event.