Pierce, Weese one stroke back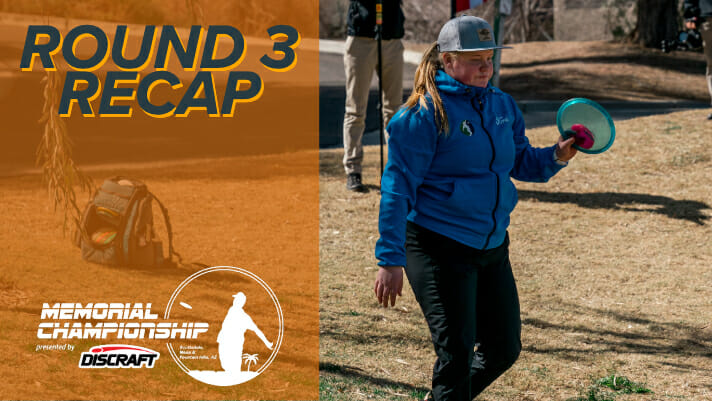 There were expectations for Eveliina Salonen when she announced her 2019 travel plans would include starting the season in Las Vegas and Arizona. Salonen played well in the PDGA National Tour opener, but her abilities and consistency have yielded much better results so far at the Memorial Championship.
Entering the final round of the Disc Golf Pro Tour kickoff, Salonen holds a one-stroke lead over Jessica Weese and Paige Pierce after tying for the hot round 2-under par 58 at Vista del Camino Saturday. Her 2-under par 170 total has Salonen averaging 970-rated golf over the first three rounds. While C1X putting has held her back, she continues to put herself in the position to score, ranking second or third in the division in fairway hits, OB rate, and Circle 1 and 2 in regulation.
Pierce had the opportunity to really build out a lead if not for bookending her round with rough holes. She was able to overcome a double bogey on hole 1 to go under par on the round until the newly installed hole 18 came into play. Two OB throws later, and Pierce had given up four strokes to Salonen and Weese and gone from a three-stroke advantage to trailing. Weese has shown a similar consistency as Salonen all weekend, shooting her first under par round Saturday with a 1-under par 59. Weese and Pierce are tied in second at 1-under par 171 total.
With a cut line eliminating 60-percent of the field before round four, several players had work to do to stay safe. Madison Walker and Paige Bjerkaas both jumped six spots and into the top 10 to fend off danger.
"I've been kind of waiting for a hot round for the past week," said Walker after tying for the hot round at 2-under par 58. "I had a little bit of a struggle bus at Las Vegas, and then at Fountain Hills I had some rough luck, but I managed to battle through it today."
Unfortunate to miss the cut were Maria Oliva, who was on lead card for round two, and Sai Ananda, who for the second week in a row was the last player to be eliminated.
Takeaways
Rebecca Cox and Sarah Hokom were the other two players to match the 2-under par hot round. Both were tied in ninth and remain tied but five spots higher in fourth at 3-over par 175 total.

Will the tournament come down to OB strokes? Salonen and Weese have 10 hazard strokes combined, while Pierce's riskier gameplan has produced 12. Every stroke will count Sunday with the thin margin between places.

Vista del Camino was playing almost a strokes higher than the first round at the course in 2018. The difference can almost be directly contributed to the new hole 18 which averaged 1.13-over par Saturday. We're in for an interesting finisher.

Only two players in the top 10 — Missy Gannon, Zoe Andyke — were in the top 10 in C1X putting through three rounds.
---
The lead card of Salonen, Weese, Pierce, and Cox tees off at 8 a.m. local time (10 a.m. Eastern) and will be streamed on the DGPT YouTube channel. Scores can be followed on UDisc Live and check Ultiworld Disc Golf's Instagram for updates.