One hole proved disastrous for Lizotte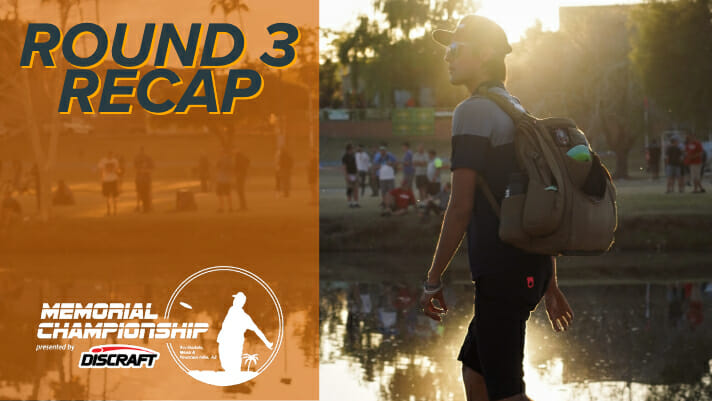 All weekend it has been the Simon Lizotte and Eagle McMahon show, with some guest stars making the occasional cameo, and day three at the Memorial Championship was no different. Lizotte and McMahon traded time at the top for most of the day, but it will be McMahon with the pole position going into the final round.
McMahon was 100-percent from inside Circle 1X, hit his fairways at an 89-percent rate, and was able to take advantage of Lizotte's miscues to take first for himself as part of his 13-under par 47 round. Sitting at 41-under par 131 total, McMahon continues to average 1090-rated golf and has a three-stroke lead on the field.
"Basically, the round was super stressful the entire time because it's another one of those courses where you know if you don't birdie a hole then you're probably losing to the field," McMahon said. "It was just a complete birdie-fest out there and that really kind of makes you lock in on every hole and you don't want to have those opportunities slip up."
Lizotte and McMahon were tied going into hole 16, but the Bremen Bomber took just his second OB stroke of the tournament — his first coming earlier in the day — and struggled to find the basket with his putter resulting in a double bogey. It was a crucial series of errors and may end up being the most important hole of the tournament. Lizotte finished his round at 8-under par 52 and still has a strong hold on second at 38-under par 134 total.
Vista del Camino finally tested Lizotte's putting and accuracy in a way Fountain Hills could not. Both his Circle 1 in regulation and C1X putting percentage dropped with the course change.
Scott Withers and Jalle Stoor weren't able to catch Lizotte and McMahon, but they were able to keep pace and maintain their positions in the top four. Stoor went 8-under on the front nine and tied McMahon for the hot round. He's in third at 35-under par 137 total and led round three in fairway hit percentage. Withers was putting like a man possessed, hitting 67-percent from Circle 2. He's in fourth at 32-under par 140.
Takeaways
Over the first two rounds, the field finished around an average of 3-under par. At Vista, the field averaged just 0.25-under par. This is no huge surprise.

Hole 2 proved the most dangerous of the bunch after one round at Vista. The 351-foot par 3 played more than half a stroke over par.

Anthony Barela nabbed the lone eagle of the day. Barela took the 651-foot par 4 hole 10 in two strokes.

Don't look now, but Paul McBeth has worked his way into fifth place. He will enter the final round 10 strokes back of McMahon at 31-under par 141 total. Ten strokes is a lot of ground to make up, but the Memorial is notorious for wild finishes. Maybe we'll see one tomorrow?
---
The lead card of Lizotte, McMahon, Stoor, and Withers tees off at 2:45 p.m. local time (4:45 p.m. Eastern) and will be streamed on the DGPT YouTube channel. Scores can be followed on UDisc Live and check Ultiworld Disc Golf's Instagram for updates.