McMahon in second at 15-under par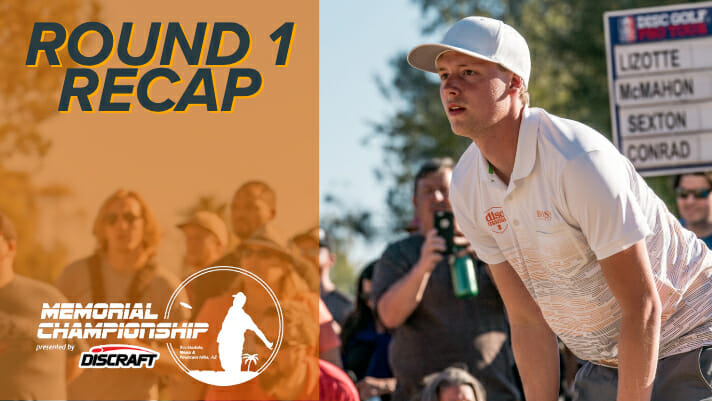 Simon Lizotte has thus far mounted a convincing defense of his 2018 title at the Memorial Championship with a scorching hot 16-under par 40 to start things off at the first Disc Golf Pro Tour event of the season.
Hot on Lizotte's heels in second is Discmania teammate and former touring partner Eagle McMahon, whose 15-under par 41 was overshadowed because he was playing on the same feature card as Lizotte. The Crush Boyz have established some early distance on the field with their 1100+ rated rounds, as behind McMahon is a logjam for third with Jalle Stoor, Sias Elmore, Ricky Wysocki, and Alex Russell all at 12-under par 43.
"It was kind of nice having Simon in front of me on the back nine because it feels like it almost took the pressure off me," McMahon said. "I could turn on autopilot and all the eyes were on him. I felt like I was flying under the radar."
Lizotte's 18 was a thing of beauty as he did not find OB, was 100-percent from C1X, and did not bogey. The course is a bit of a hyzer fest and there are precious few players in any division who are as accurate on a big hyzer line as Lizotte. He finished an amazing 100-percent on fairway hits and Circle 2 in regulation.
"Paul [McBeth] and Eagle were freaking killing it off the front and I was just trying to keep pace at that point," Lizotte said after the round. "Most of my putts felt like tap-ins. When the 20-25 footers feel like tap-ins you know you're kinda in the zone. It didn't feel like I only missed two holes."
McMahon is one of the few players that can challenge Lizotte in terms of distance and accuracy, and he had himself a day as well. McMahon shot a clean round but had to scramble twice in a three-hole stretch around the turn, the only three holes he did not birdie.
Will the Crush Boyz be able to keep up the torrid birdie pace, or will the field catch-up?
Takeaways
Round one played 3.22-under par, almost two strokes lower compared to round one in 2018 (1.03-under par).
Of the top 10 after round one, only Steve Brinster has more than one bogey.
Jeremy Koling Resurgence Watch: 9-under par, one bogey, no big numbers. Koling won the Memorial in 2015.
Wysocki has to be feeling good at 12-under par. Of all his accolades and wins, a victory at the Memorial still escapes the 2-time world champ.
Playing on the same card as Lizotte and McMahon, McBeth started equally hot at 7-under par through eight holes. Things just couldn't come together on the back nine, the more easily scorable half of the course. He's tied for 15th at 9-under par 47.
---
The lead card of Lizotte, McMahon, Stoor, and Wysocki tees off at 2:45 p.m. local time (4:45 p.m. Eastern) and will be streamed on the DGPT YouTube channel. Scores can be followed on UDisc Live and check Ultiworld Disc Golf's Instagram for updates.