Still anyone's game with six tied in first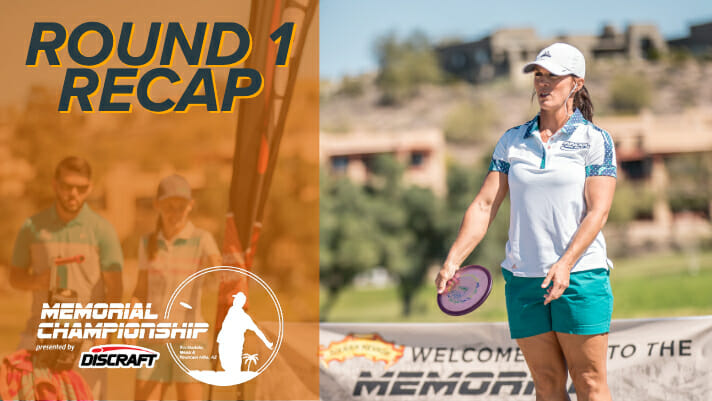 Fountain Hills is legendary for its eponymous park feature and perilous watery OB. On day one of the Memorial Championship, the Open Women's players who strayed away from the hazards have found themselves in enviable positions to attack on Friday at the Disc Golf Pro Tour kickoff.
Six are tied in first at even par 56. Let's run down the list: Jennifer Allen, Zoe Andyke, Jessica Weese, Maria Oliva, Missy Gannon, and Eveliina Salonen. Salonen tied with Catrina Allen for the most birdies on the day, four, but had an early double bogey on the par 4 hole 2 keep her from coming in under par. Oliva, a 920-rated Texan who may be the biggest surprise of the leaders. She had only one birdie, a 50-footer on hole 5 that was the only score under par on the hole all day, but 78-percent C1X putting also yielded only one bogey.
"I had no expectations, this is my first Memorial," Oliva said after the round. "I just wanted to stay safe, and my round was pretty boring, but wasn't too bad."
Seventh through 11th place are only three throws at most behind the leaders and the pack includes Catrina Allen and Paige Pierce. Allen and Paige Bjerkaas were last in the division in OB rate, and Pierce was tied for second worst. So maybe the hazard strokes don't mean as much as we think.
Takeaways
While no player was below par in round one, it's not much off the pace of the 2018 Memorial. Pierce shot the hot round last year at only 2-under par 54, although she rallied for a 6-under par 50 on the second run through of the course.
The new DGPT media plan got off to a rocky start with its FPO coverage Thursday. On hole 4, the stream froze and remained so for an extended period of time before turning off. The video would return near the end of the feature card's round for several holes. YouTube issues were blamed for the technical problems.
Jennifer Allen matched Oliva's big putt on hole 5 with a 66-footer of her own, but the throw-in was to save par. Allen spends a lot of time around the Phoenix-area courses so we're expecting her to continue to play well.
---
The lead card of Jennifer Allen, Andyke, Weese, and Oliva tees off at 8 a.m. local time (10 a.m. Eastern) and will be streamed on the DGPT YouTube channel. Scores can be followed on UDisc Live and check Ultiworld Disc Golf's Instagram for updates.