Keegan, McBeth shoot way back onto lead card, contention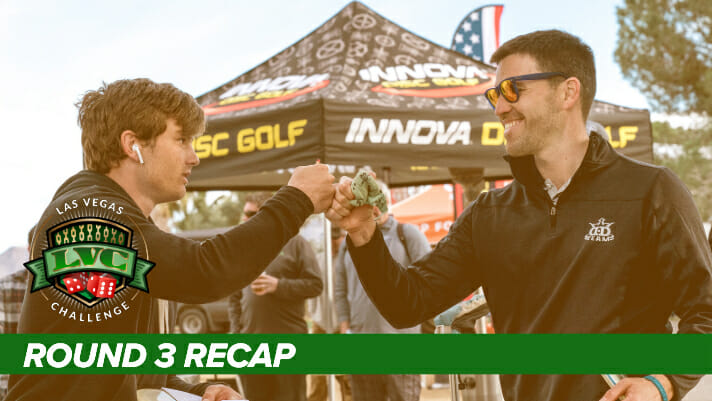 Ultiworld Disc Golf's coverage of the 2019 Las Vegas Challenge is presented by Innova Discs; all opinions are those of the authors. 
Moving day at the Las Vegas Challenge was unforgiving for many and a boon for some. The Innova Factory Store Course provided a template for attacking, and very low scores were needed to jump up the leaderboard.
Calvin Heimburg is still in pole position at 36-under par 145 total after a 12-under par 49 Saturday. A six-stroke lead is two more than he came into round three with, but Heimburg was several throws off the pace of the hot round. Now he has a stable of pedigrees in striking distance.
Dustin Keegan, Paul McBeth, Ricky Wysocki, and Kevin Jones all made double-digit moves up the leaderboard and into the top five.
Keegan jumped 15 spots into a tie for second with McBeth at 30-under par 151 total, thanks in large part to finishing the day on a 12-hole birdie streak. His 1084-rated hot round 15-under par 46 saw Keegan hit every fairway, and he was a jaw-dropping 67-percent putting from Circle 2. The Oregonian has only bogeyed three times on the weekend, including twice at the Innova Course the field returns to Sunday.
McBeth, Jones, and Wysocki eagled their way to the top. Wysocki eagled hole 2, Jones hole 12, and McBeth eagled both holes 2 and 12.
Josh Anthon had a quiet round and sits in fourth at 29-under par 152 total. Austin Hannum, Nate Sexton, Wysocki, and Jones are tied for fifth at 28-under par 153 total, just a single stroke ahead of Eagle McMahon, Thomas Gilbert, Simon Lizotte, and Cale Leiviska.
Takeaways
Reigning world champ Gregg Barsby has been eliminated from the competition, missing the top 40-percent cut line by one stroke.

Average scores dipped back under par for the third round. Players averaged 3.47-under par.

Heimburg is hitting his fairways at a 93-percent rate and reaching Circle 2 in regulation 91-percent of the time, both best in the division. Guess why he's in first?

Also, guess who shot the hot round on Friday on the Innova Couse? Heimburg.

After struggling on the Innova Course, round one leader Anthony Barela found his feet and steadied the ship. His 9-under par 52 still saw him drop down the leaderboard, however.
---
The lead card of Heimburg, Keegan, McBeth, and Anthon tees off at 1:00 p.m. local time. Jomez Pro will feature next day coverage, and live scores can be followed at UDisc Live.