Catrina Allen's 1012-rated hot round nets her third, 2019 Points title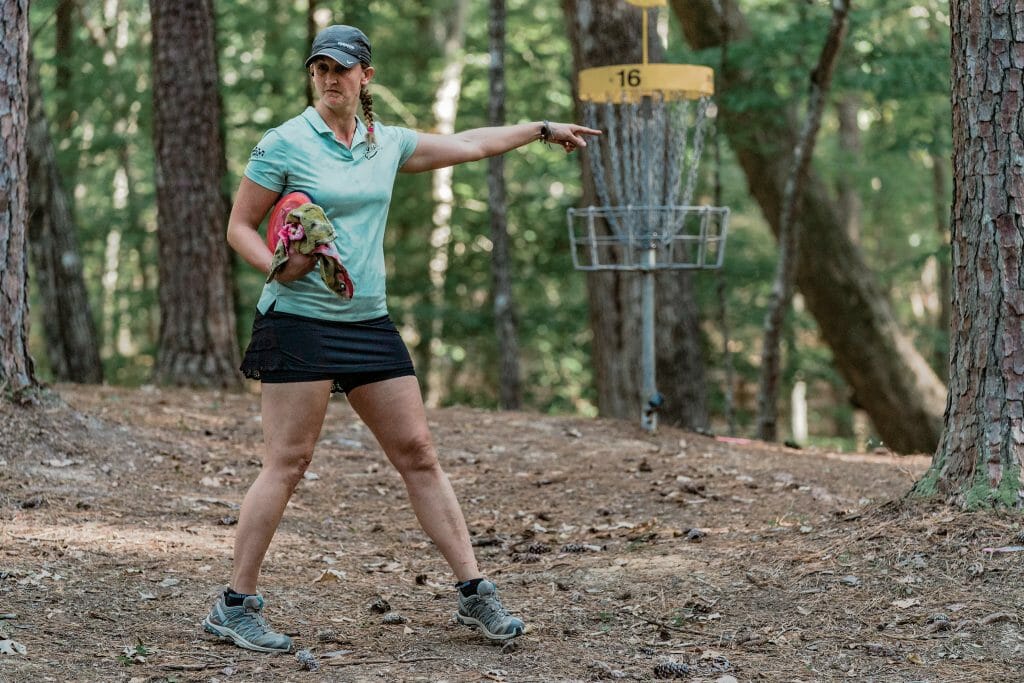 One year ago at the 2018 Hall of Fame Classic, Sarah Hokom first started experimenting with an MVP Spin, adding it to her bag for putts outside the circle. Twelve months later her entire Zuca cart is gyro-technology1 and she returned to the W.R. Jackson course to put up one of the best performances of her career.
Coming into the final round Sunday with a two-stroke lead over Paige Pierce, it was still a wide-open contest. Hokom had already put up two rounds with four digit ratings, but the Georgia woods hand out two-stroke swings around every corner.
"I wasn't as nervous as I have been in past final rounds," Hokom said after the round. "I think I've just come to the understanding that it could go lots of different ways today, and I just need to do the best I can.
"I think it was also that I didn't want it too much. I mean, I always want to win, but if you over-want that's when you put that extra pressure on yourself, and then you start doing weird stuff."
There was nothing weird about Hokom's gameplan during the final round, even after Pierce had managed to tie the score at 2-under par total after a bogey by Hokom on hole 5. It was all about focus. A big 50-footer on hole 10 built the advantage back to two in Hokom's favor but Pierce was good at going under par over the back 9.
As the round dipped into hour four and the heat and muggy conditions began to creep in, Pierce was the first player to flinch. Hole 16 isn't long, yet it's one of the more technical shots and greens on the course. Pierce was down by one when the lead card stepped up to the tee. Neither Hokom nor Pierce were putting after their drives; it came down to tricky approaches.
On her second shot, Pierce juiced it just past the win and her disc skittered down the sloping backside of the green, sliding an inch out of bounds. She wasn't able to save the bogey and took a 5 on the par 3.
"That's the exact struggles I had at Vegas and Memorial, just overthrowing the shots," Pierce said. "I feel like I've been doing so well with the upshots and, you know, the one crucial moment in this tournament I just had a lapse of touch. It's pretty unfortunate, that is going to haunt me through the offseason as well but it'll be motivating."
Even with three strokes to her name, Hokom knew it wasn't quite over. Pierce had birdied holes 17 and 18 both Friday and Saturday to Hokom's two bogeys and one birdie. Hole 17 can be especially punishing. Getting off the tees cleanly left only pitch-ups for Hokom and a tap-in par to claim her first PDGA National Tour win in the season's final event.
"I hadn't gotten into the hunt for a national tour this season, so it feels really good to finish the season with an NT win," Hokom said. "I feel like I kind of surprised myself a little bit to be under par."
Hokom was the only player to score under par every round and finished at 4-under par total to win by four strokes after a 991-rated 1-under par final. Pierce finished in second place at even par.
Catrina Allen dropped the hot round on Sunday with a 1012-rated 4-under par 63 and jumped Jessica Weese and Holly Finley to take solo third place at 5-over par total. Allen also won the PDGA NT Points title, followed by Pierce in second and Hokom in third.
---
Apologies to the Streamline discs ↩