A teenager wins a Jeep, Keith gets an A-tier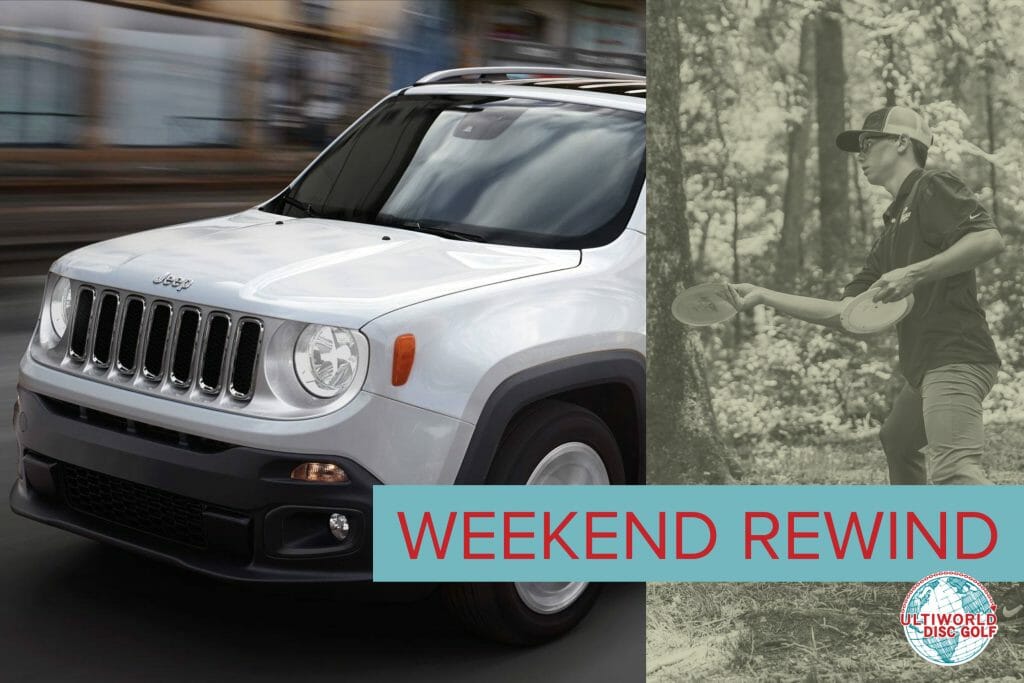 A sponsor announcement may have taken all our attention as the week started, but there was plenty happening on courses around the country.
---
The largest prize (physically and cash value) in disc golf was awarded at the Next Generation Tour National Championship in Arizona, with the winner receiving a 2018 Jeep Renegade.
Over three days, 80 amateur competitors were whittled down to five for a Final 9 after five rounds of golf at Fountain Hills, as well as a semifinal round of nine holes. To make it to the championship, players first had to receive an invitation through NGT event performance or region-based rankings throughout the year.
By the end of round three on Saturday, two names had begun to separate from the pack at the top of the leaderboard, and heading into the semifinals, Silas Schultz and Kyle Klein were eight clear of the field, with Schultz leading by six.
Schultz, a Discmania-sponsored 15-year-old from Louisiana, was the Junior 15 runner-up at the 2018 PDGA Junior World Championship, and finished fourth in Advanced at the 2018 United States Amateur Championship in June. Klein was 15th at the USADGC and has a couple B-tier wins in Advanced this season.
Schultz was able to add to his lead in the Semifinal 9, giving him eight strokes to play with in the final. Klein picked up six strokes on Schultz over the final nine holes, but Schultz still won by two, earning a car he is not able to drive yet.
While the Disc Golf Guy and Smashboxx TV provided coverage of the NGT Championship, Jomez Pro was down in their home state of Texas covering the Veterans Park Open.
Sixteen 1000+ rated players stacked the field in Arlington, and Eagle McMahon looked to repeat on his 2017 win. Simon Lizotte also decided to crash the party after spending the week filming trick shots with Paul McBeth, Brodie Smith, and Jomez.
By the second round, however, Emerson Keith decided he didn't want any out-of-towners to spoil his local A-tier. Keith's 1065-rated second round, which included an ace, put him ahead of McMahon by three strokes. He added to the lead on Sunday to win the first A-tier of his career. McMahon finished second, Austin Hannum third, and Lizotte fourth.
Paige Pierce had a dominant win in a seven-player Open Women's field. Her first two rounds registered in the 980s, and she finished only 3-over par on a very long layout. Maria Oliva was second.
The final A-tier of the weekend was down in coastal North Carolina at the 17th Annual Fall Disc Golf Classic.
Dan Hastings' one-stroke win came down to the final, fourth round, and a surprise name snuck into the second spot. Taylor Rafaleowski, of Greenville, North Carolina, has only been playing sanctioned tournaments since July, yet bested Barry Schultz and Nathan Queen, among other top local talent. Rafaleowski averaged 64 points over his rating.
Elaine King came out on top in the Open Women's division.
---
Is Calvin Heimburg the new man to beat in Florida? He handily won the Broward Disc Golf Open by 25 strokes.
Kevin Jones also grabbed a B-tier win. He took the 14th Annual Alma Greens.