Disc golf has a severe case of island fever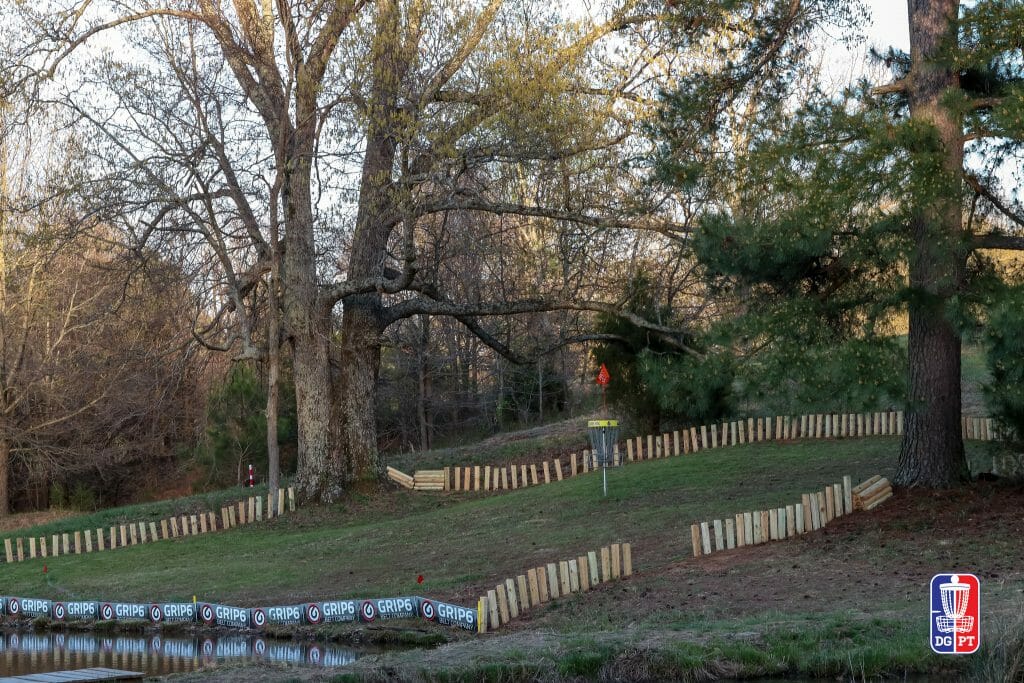 Is it written somewhere that disc golf course designers must include at least one atoll or pay a toll? Because island greens have become a mainstay. Most tour stops have one. Many two. Some boast three or more. We're well past the point of oversaturation. It makes me want to strike up a cynical rendition of that good ol' seventh inning standby, "For it's one, two, three strikes, you're out, at the old ball game."
Honestly, our islands aren't even destination retreats. Some feature a beachfront. Most are entirely landlocked. The archipelago is in a pretty sad state.
The most common argument I hear in favor of weekly island hopping boils down to one word: drama. Island greens are dramatic! Following that logic, hole 15 on the New World Disc Golf Elite Course lived up to expectations.
Unfold your travel brochure and gaze upon the 270-foot par 3. It features an elevated tee surrounded by 360-degrees of white sand beaches, a double mandatory through the inland palms (i.e. pines), an artificial island green built from railroad ties, and an elevated basket. I hear it's lovely during sunset and its doors are literally always open.
In less sarcastic terms: a lot can go wrong on this hole for players and tournament staff alike.
MPO Finals 2018 DGPT Championship – Hole 15
On Sunday, Nikko Locastro held a two-stroke lead at the DGPT Tour Championship with four to play, but missed the green short and settled for a disappointing bogey. His error opened the metaphoric door for Chris Dickerson to tie with a birdie. The Tennessean, known for his putting prowess, missed his 20- to 25-foot attempt and only gained one stroke on Locastro.
This is the type of drama the course designers envisioned, but it's not the dramatic turn we'll remember.
Teeing first, Nate Sexton threw a forehand with his trusty Firebird. It wasn't his best effort. His drive leaked right and appeared to strike a portion of the wall before slowly rolling through an unaccounted for breach in the levee. Apparently, a groundskeeper failed to replace a tie after mowing the green months ago, and the structural change wasn't spotted by a DGPT staffer.
MPO Finals 2018 DGPT Championship – B9 | Nate Sexton hole 15 drive
Drama is a missing railroad tie. Drama is an unpainted line. Drama is a tense, speakerphone conversation with Tour Director Steve Dodge cut abruptly short.
I've said it once, but it bears repeating, "had the barrier wall forming the island green on hole 15 been fully intact, Nate Sexton would have been putting for birdie." I agree with the official ruling, but proper course management prevents the situation from arising at all.
Unfortunately, the DGPT has a spotty track record when it comes to island greens. Garrett Gurthie was tied for the lead during the second round of the 2018 Jonesboro Open when he spun O.B. through the missing section of wall on hole 6. At least this cutout was intentional and the O.B. line was clearly strung, but the optics still weren't good. Ironically, it was Nate Sexton who initially questioned the need for this walkway in the Jomez commentary.
2018 Jonesboro Open | Rd2, F9, MPO | Garrett Gurthie hole 6 drive
Even honest-to-goodness islands aren't exempt from criticism. At the 2018 Glass Blown Open, the sixteenth hole was another site for early-season drama. On moving day Eagle McMahon missed the green short, but the call required protracted and heated deliberation because there wasn't a clear O.B. line. For the record, my appraisal of the Emporia Country Club is lukewarm, but hole 16 is easily the best island hole on tour.
2018 GBO | Lead Card, Rd2, B9 | Eagle McMahon hole 16 drive
The latest incident and its fallout calls to mind the adage, "Fool me once, shame on you. Fool me twice, shame on me." Golfers will be wary of these greens in the future.
Landlocked islands are devilishly tricky to get right because they so easily become gimmicky. The quadrumvirate consisting of elevated tee, double mando, manmade island, and elevated basket locate Jacksonville's fifteenth squarely in this category. In the same boat? The triple island in Vegas. The bridge hole in Peoria. Both are similarly contrived. I love the Beaver State Fling, but it over-relies on asphalt moats. The USDGC persists at Winthrop University in large part due to the iconic nature of hole 17. But does it anchor a slowly sinking ship?
Disc golf seems desperate to create its own version of the 17th hole at TPC Sawgrass, but forgets that the gem of Ponte Vedra Beach owes a good measure of its iconic status to the simple fact that island holes remain anomalous on the PGA tour and not the status quo.
My son loves the movie Moana. When the eponymous heroine meets the demigod Maui — famous for pulling islands from the sea — he uses the hypnotic power of song to imprison her in a cave and steal her boat. In his feature number, "You're Welcome," Maui raps, "What's the lesson? What is the takeaway?" Seriously though, what can disc golf learn from our blunders?
As long as we continue to conjure islands, item number 1 on all pre-tournament checklists for 2019 should read as follows: Inspect. Every. Island. Twice.