15 players within four strokes of lead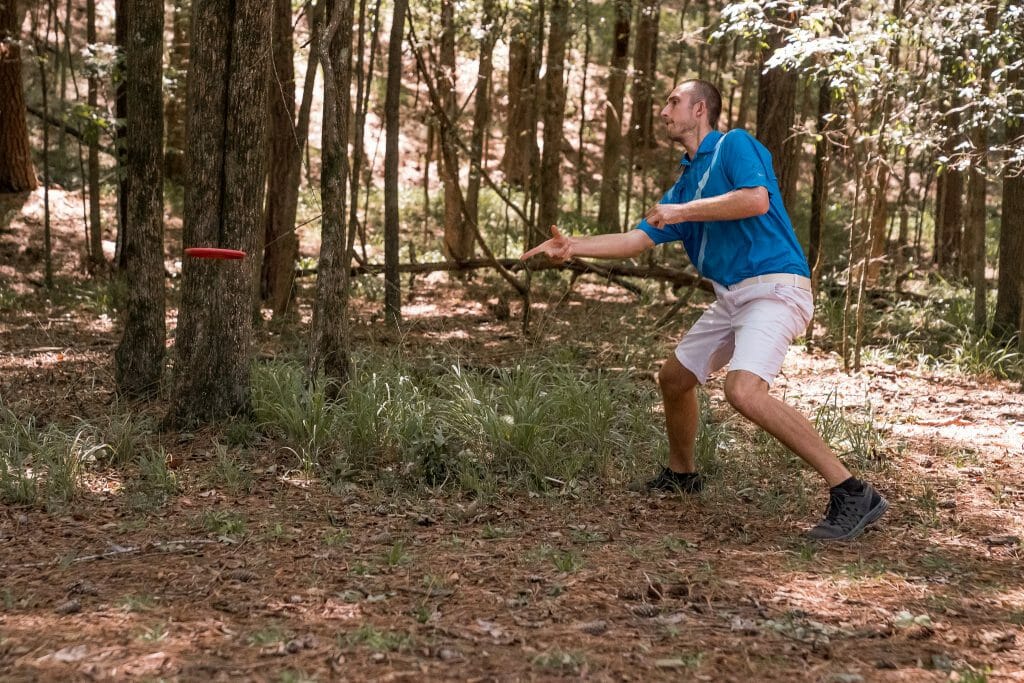 It's not always the best indicator of tournament performance, but so far the Ed Headrick Hall of Fame Classic has shown that history has a way of repeating itself.
During round one of the 2017 Pro Worlds in Augusta, JohnE McCray came out blazing, posting the hot round on W.R. Jackson to lead the tournament early. Ricky Wysocki would finish off that event as the eventual champ, and then return to the same course in October and prevail victorious again after a three-man playoff at the National Tour stop.
So who sits atop the leaderboard after one? It's McCray and Wysocki.
McCray was in the International Disc Golf Center with the outright lead at 8-under par 60 as the first person to break the 7-under threshold. He was perfect with the putter inside 10 meters and never missed a scramble opportunity when he was off the fairway. Outside of putting — he added two Circle 2 connections as well — McCray's stats weren't eye-popping, but he avoided bogeys throughout, being one of only four players to finish clean.
The 8-under would have been enough for first place had Wysocki not gone on a run to end his day. After picking up his single bogey on hole 13, Wysocki rattled off five straight birdies to close out the day and usurp McCray with a 9-under par 59. He led the field in Circle 2 in regulation and tied for second in Circle 1 in regulation. Wysocki's putter was also back up to our expectations — he was 100-percent from Circle 1 and hit three from long range.
Not A Lot Of Breathing Room
Fifteen players are within four strokes of the lead. Tied in third are four players with 7-under par 61s, including Paul McBeth, Eagle McMahon, Zach Melton, and Kevin Jones.
McMahon was one of only five birdies on the new 432-foot par 3 hole 5. Melton was one of the four bogey-free rounds. Jones tied Wysocki's Circle 2 in regulation percentage, and topped the Circle 1 in regulation category but his scrambling and putting couldn't keep up. McBeth was generally consistent but left some putts out on the green as well.
Four more players — Gregg Barsby, Michael Johansen, Philo Brathwaite, Jared Neal — are tied in seventh at 6-under par 62. Both Barsby and Neal finished their rounds on high notes with eagles on hole 18, the easiest hole to par on the course.
Hall of Fame Classic Round One Highlights
UDisc Insights
The long, wooded par 3s at W.R. Jackson can have some teeth, which explain the scoring droughts we saw all over the division. Every player went, at minimum, three holes without recording a birdie at some point in their round. Notably, McBeth went eight scoreless holes in the middle of his round, Melton went seven. Chris Dickerson, tied in 11th at 5-under par 63, went par on his first eight holes before recording a birdie on hole 9. Matt Dollar, also tied in 11th, went nine holes without a birdie.
Of the new holes on the course — holes 3-6, 11, and 16 — holes 5 and 3 were among the five toughest to par, and holes 4, 11, and 16 were among the six easiest to par. A pretty fair balance of additions.
---
The lead card of Wysocki, McCray, McBeth, and McMahon tees off on W.R. Jackson at 12:10 p.m. local time. Follow along on UDisc Live and watch next-day coverage on the JomezPro and Central Coast Disc Golf  YouTube channels.