How the $70,550 purse was dispersed.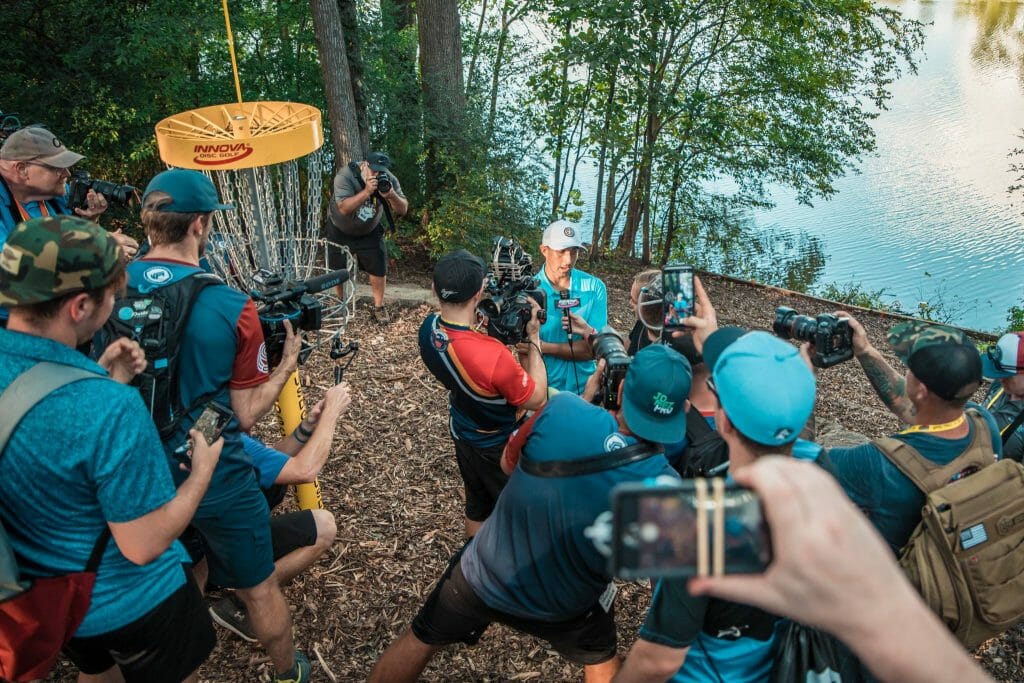 Below is the final leaderboard for the United States Disc Golf Championship, featuring the prize money earned for a top 60 finish. This year's USDGC purse was $70,550, which included $31,550 of added cash. It was a 9% increase over last year's purse of $63,550.
With a $10,000 payout for first place, it matches the biggest winner's prize at any event this year (Pro Worlds also paid out $10,000 for first place), but was $2,000 less than the 2017 payout for first place. Last year, the tournament paid out 40 places, with this year's payout at 40 matching last year's final spot ($600).
Here's the full list of prizes:
| Place | Name | Par | Prize |
| --- | --- | --- | --- |
| 1 | Paul McBeth | -34 | $10,000 |
| 2 | James Conrad | -31 | $6,000 |
| 3 | Kevin Jones | -30 | $4,000 |
| 4 | Nate Sexton | -29 | $3,000 |
| 5 | Ricky Wysocki | -27 | $2,000 |
| 6 | Eagle McMahon | -26 | $1,900 |
| 7 | Gregg Barsby | -25 | $1,750 |
| 7 | Josh Anthon | -25 | $1,750 |
| 9 | Garrett Gurthie | -24 | $1,600 |
| 10 | Chris Dickerson | -23 | $1,500 |
| 11 | Nathan Queen | -22 | $1,450 |
| 12 | JohnE McCray | -21 | $1,400 |
| 13 | Paul Ulibarri | -19 | $1,350 |
| 14 | Emerson Keith | -17 | $1,300 |
| 15 | Joel Freeman | -14 | $1,200 |
| 15 | Steve Brinster | -14 | $1,200 |
| 15 | Seppo Paju | -14 | $1,200 |
| 18 | Martin Handel | -13 | $1,005 |
| 18 | Matt Orum | -13 | $1,005 |
| 18 | Noah Meintsma | -13 | $1,005 |
| 18 | Devan Owens | -13 | $1,005 |
| 18 | Max Nichols | -13 | $1,005 |
| 18 | Nikko Locastro | -13 | $1,005 |
| 24 | Brian Earhart | -11 | $910 |
| 24 | Matt Dollar | -11 | $910 |
| 26 | KJ Nybo | -10 | $860 |
| 26 | Teemu Nissinen | -10 | $860 |
| 26 | Zach Melton | -10 | $860 |
| 29 | Philo Brathwaite | -9 | $780 |
| 29 | Scott Withers | -9 | $780 |
| 29 | Cam Colglazier | -9 | $780 |
| 29 | Patrick Brown | -9 | $780 |
| 29 | Jeremy Koling | -9 | $780 |
| 34 | Nate Perkins | -8 | $710 |
| 34 | Eric Oakley | -8 | $710 |
| 36 | Austin Hannum | -7 | $680 |
| 37 | Dutch Napier | -6 | $660 |
| 38 | Jeremiah Kraus | -5 | $620 |
| 38 | Drew Gibson | -5 | $620 |
| 38 | Leo Piironen | -5 | $620 |
| 41 | Calvin Heimburg | -4 | $580 |
| 42 | Chris Clemons | -3 | $550 |
| 42 | Silver Latt | -3 | $550 |
| 44 | Charlie Goodpasture | -2 | $498 |
| 44 | Alex Russell | -2 | $498 |
| 44 | Jesse Bickley | -2 | $498 |
| 44 | Brian Schweberger | -2 | $498 |
| 48 | Steve Rico | -1 | $460 |
| 48 | Andrew Presnell | -1 | $460 |
| 48 | Mikael Hame | -1 | $460 |
| 51 | Barry Schultz | E | $440 |
| 52 | Simon Lizotte | +1 | $430 |
| 53 | Robert McCall | +2 | $395 |
| 53 | Grady Shue | +2 | $395 |
| 53 | Dustin Keegan | +2 | $395 |
| 53 | Matt Bell | +2 | $395 |
| 53 | Colten Montgomery | +2 | $395 |
| 53 | Josh Childs | +2 | $395 |
| 59 | Brett Stetson | +3 | $355 |
| 59 | Jay "Yeti" Reading | +3 | $355 |