Conrad moves into second; Melton, Anthon drop back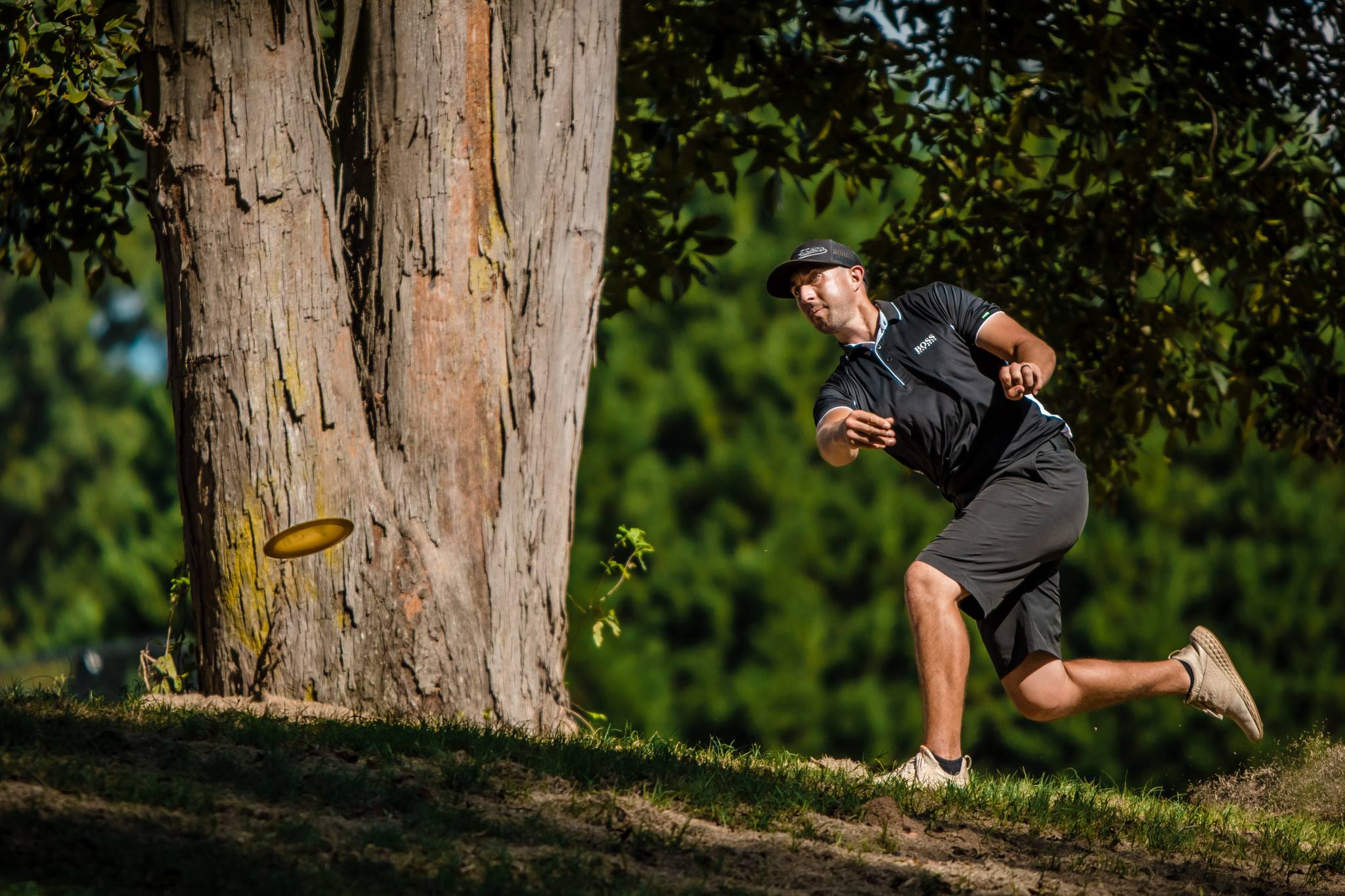 ROCK HILL, S.C. — Paul McBeth's dream start to the 2018 United States Disc Golf Championships continued on Thursday as, for the second day in a row, he shot the hot round, this time with a 1083-rated 12-under par 55. He now leads the tournament at 25-under, eight strokes ahead of James Conrad at 17-under.
Again, McBeth was the picture of elite execution, even as he attacked holes others laid up. In many ways, today's round felt a lot like yesterday's. Some areas were slightly worse — his parked percentage dropped from 33% to 11% and his green in regulation stats also declined — but, aside from an almost-shocking miss on a birdie putt from inside the circle on 15, his putting was better. He also got an easy eagle on hole 10 and continued to throw surgical shots from the tee and the fairway.
Now sitting with a big lead, will he dial back the aggression?
"No, I don't think I've really been aggressive at all out here," he said. "I mean [hole] 10, it's a two or four really. That drop zone's not that hard. For me, it's just a firebird to get up there. So even if I was to lay up, I'd lay up near that drop zone. I don't feel like I've been too aggressive. So that's kind of, I think, what's propelling me to this spot right now."
On yesterday's live edition of The Upshot podcast, McBeth also mentioned that in 2014 he had a sizable lead after two rounds before "laying an egg" in round three.1 Given the way he is throwing right now, it's hard to see that happening again.
McBeth did card his first and only bogey of the tournament on Thursday after his approach shot on hole 12 trickled out of bounds. Although he was disappointed since he liked the shot he threw, he took it in stride.
"If you were at ask what I was more disappointed in the putt on 15 or the bogey there, it'd be the putt on 15, because I should make that basically every time I get that opportunity out there, especially for a birdie," he said. "So I think that pushed me away from 13-under again more than that bogey."
Notably, McBeth played through some illness today. On The Upshot, he said that he thought he was going to throw up at some point during the round after feeling nauseous to start the round, and he took medicine at multiple points during the day.
If this is McBeth when he's sick, good luck everyone.
James Conrad Takes Over Second Place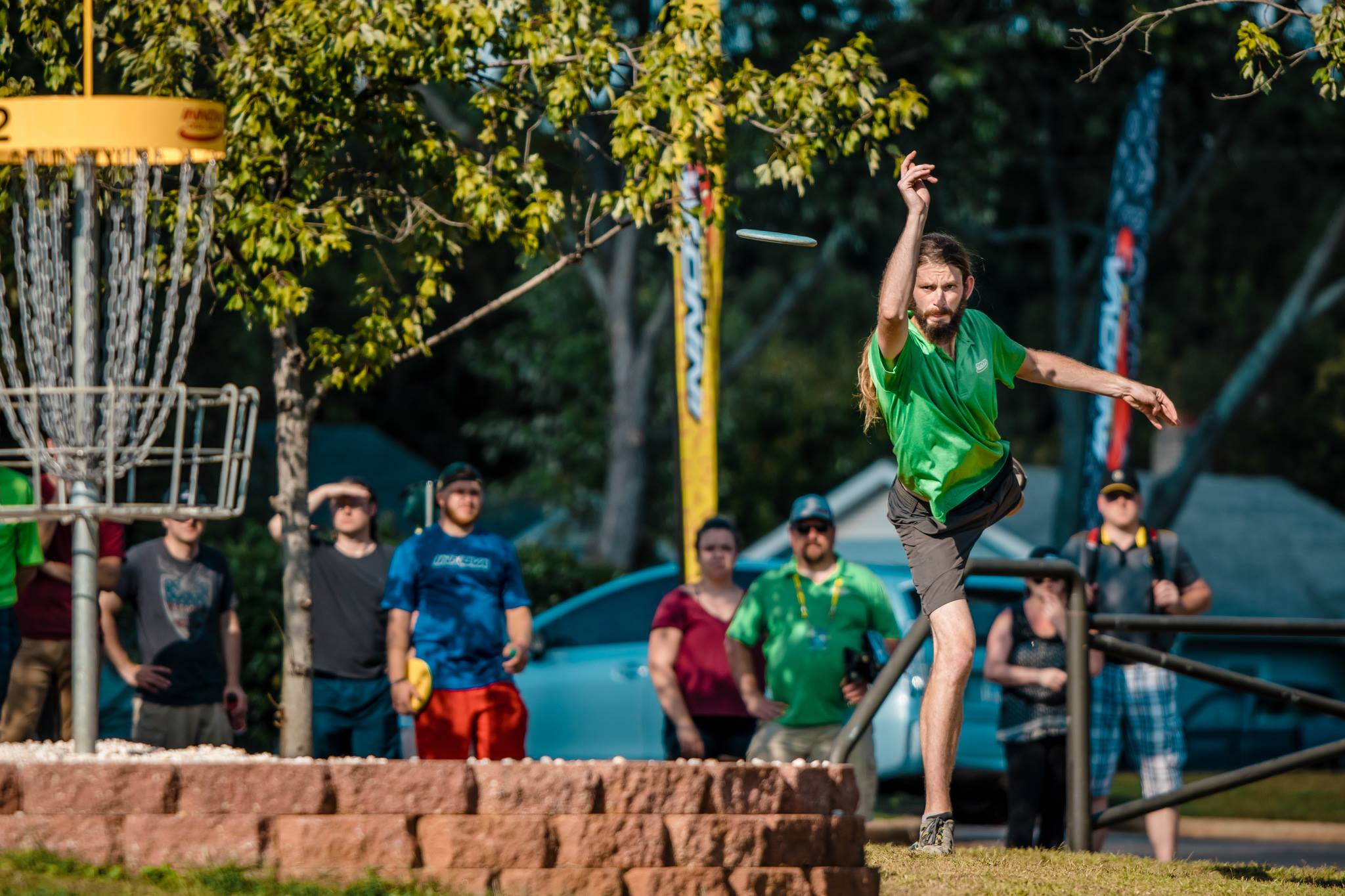 Last year, Nate Sexton won USDGC by five strokes with a 34-under total. James Conrad is exactly halfway to that number at 17-under through two rounds — but is sitting eight shots behind the leader, and that's on a course that's been made more difficult with the changes to hole 9.
It goes to show you what kind of a tear McBeth is on.
But Conrad continues to play very well in the second half of this season, posting a 1054-rated 7-under 60 during round two. His success so far this week despite his reluctance to throw forehand on a course that rewards them is particularly impressive.
"I threw three today, which is a lot for me," he said. "So it's a testament that is somewhat forehand friendly. Like the upshot on four is almost a mando forehand. The tee shot on one in that left position is almost a mando forehand. And then the drop zone from hole 11 was almost a mando forehand too."
For the second day in a row, Conrad will be on the lead card. He's got a lot of ground to cover if he wants to win. What's the plan?
"Being that far ahead, [McBeth] might kind of let off the gas a little and that could punish you just as quick as getting hyper-aggressive," said Conrad. "So yeah, just kind of play my game, play it by ear. If it's close on Sunday, then, you know, that's when I'll definitely been considering running everything and stuff like that."
By the way, James Conrad is a great juggler. He was putting on a show after the round yesterday. Check it out:
Sexton, Koling Bounce Back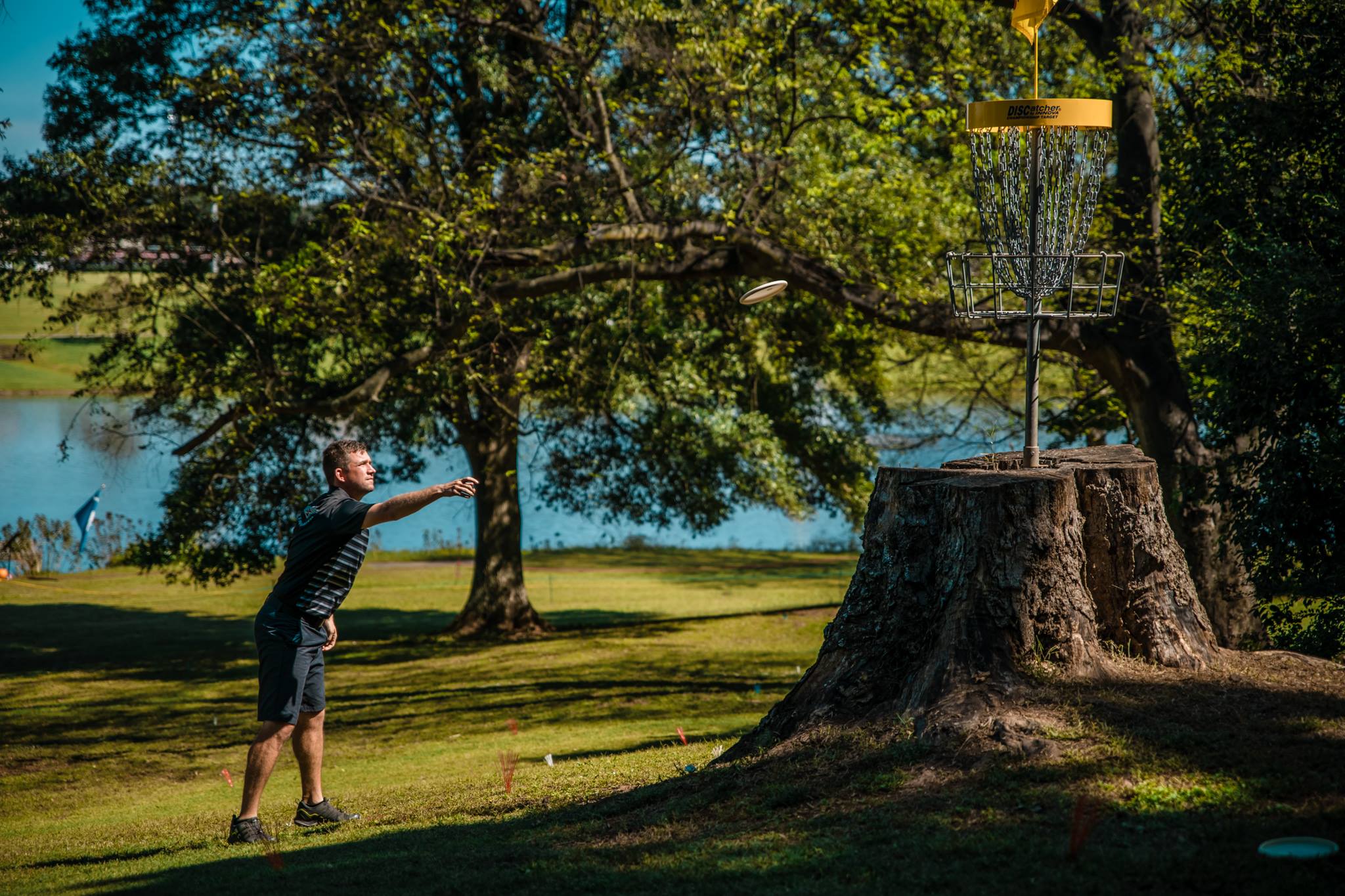 After taking round-derailing numbers on hole 17 Wednesday, the past two USDGC champions, Nate Sexton and Jeremy Koling, sharpened up considerably on Thursday, throwing two of the best rounds of the day.
Sexton moved up 13 spots into a tie for fourth place with a 9-under par 58 (13-under total) and will play on the lead card. Koling jumped 22 spots with a 10-under par 57 (12-under total) into a tie for seventh.
"Second place is absolutely in play and you never know what happens with Paul, there's two more rounds," said Sexton. "…I mean, I love the guy, if that's what he does, if he comes out here and shoots better than 40 under, hats off to him. You can't do anything else, but just congratulate him on a great, great tournament, so we'll see what he does."
Both players would be much closer to striking distance if it weren't for that pesky hole 17. "I think I'd be in second place right now had I executed," said Koling. "But I mean, that's also changing the group that you're playing with, the dynamic. Everything changes. But, yeah, if everything was the exact same, six strokes better puts me in second place. It stung. I've never been struck by the hole 17 blues out here, but everybody gets to listen to the music every once in a while. It's not a song I want to ever hear again."
Kevin Jones Back In The Spotlight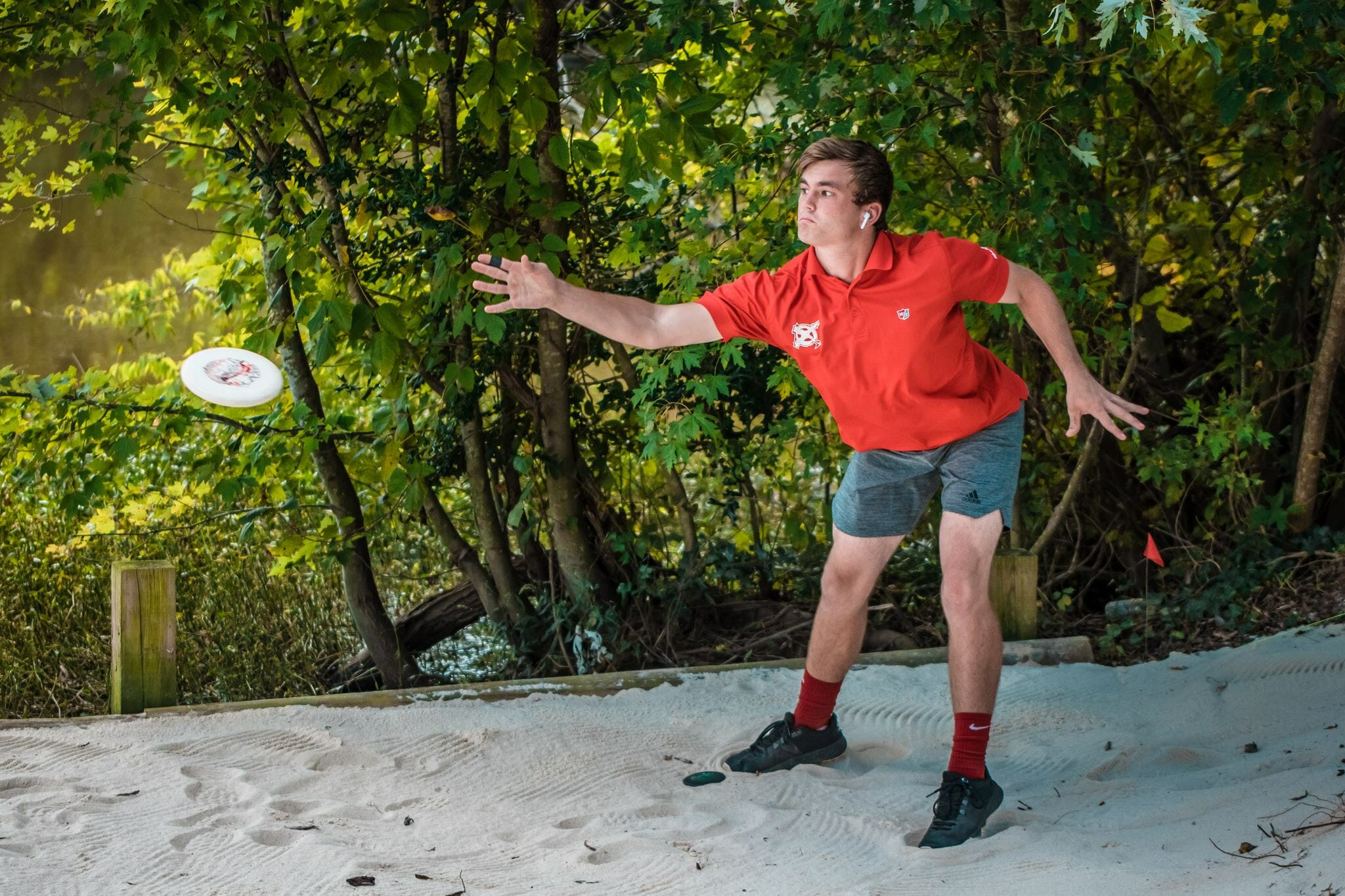 One year ago, Kevin Jones burst onto the national disc golf consciousness with an 8-under opening round at USDGC. Now, after a year on tour, he's sitting in a tie for fourth place with a chance to reflect.
"It definitely feels different," he said. "Feels like a little deja vu here and there. But it's just really nice to come back and try to better what I did last year. There's a little sense of pressure I would say because I placed, I think, 18th last year. It's a pretty good placing. But you never want to go down, you never want to not improve. So sure, trying to get better every year. I think I will this year."
Jones had a very solid round — 8-under par 59 — marred only by a double bogey on hole 16 after going out of bounds and then missing a short putt to save bogey. Otherwise, he posted a clean sheet with 10 birdies. Although he's become known as a player who's birdie or bust, rarely carding par, he takes umbrage with the suggestion that he's an undue risktaker.
"I just don't see it that way as people see me as like going for everything, but I mean Paul and Ricky are in the same boat," he said. "They have every skill that's needed to score on a course and they're not going to lay up a shot that they have, a shot that they know they can execute. So I'm in the same boat as them."
Jones will be back on the chase card during Friday's round three.
Notes and Quotes
Ken Climo.

Ken "The Champ" Climo had to withdraw this week, but he's still enjoying his time at Winthrop Gold, roaming around the course on a bicycle and delivering fantastic commentary to anyone nearby who wants to listen. I walked a few holes with him on Thursday — he's quick with his thoughts as soon as discs leave guys' hands. He'll be on the live broadcast today and tomorrow in the late afternoon as the lead card is rolling in towards 18. I'd recommend tuning in.

"Tough crowd," said Zach Melton after the entire lead card made fabulous approach shots on hole eight and the gallery barely clapped. It was a subdued, respectful crowd yesterday. Maybe people were worried their bosses would hear them skipping work.
"My best is insanely good. My best is, you know, I would say I've never played my best. Maybe, you know, my best is something other worldly, so I know that I'm capable of 18-under probably," said Nate Sexton when I asked him if he could beat McBeth when Paul's playing like he is right now.
Happy birthday to Jeremy Koling, who turned 33 on October 2nd.
"I think this course is mean and I think any hole — we've seen it this year from all the guys up top. Any hole can ruin their tournament," said Kevin Jones, who feels confident that he's still in the mix for a USDGC title.
---
He was up by five strokes on JohnE McCray after two rounds but shot a 69 in the third round and ended up losing the tournament. ↩