It's anyone's game in wide open field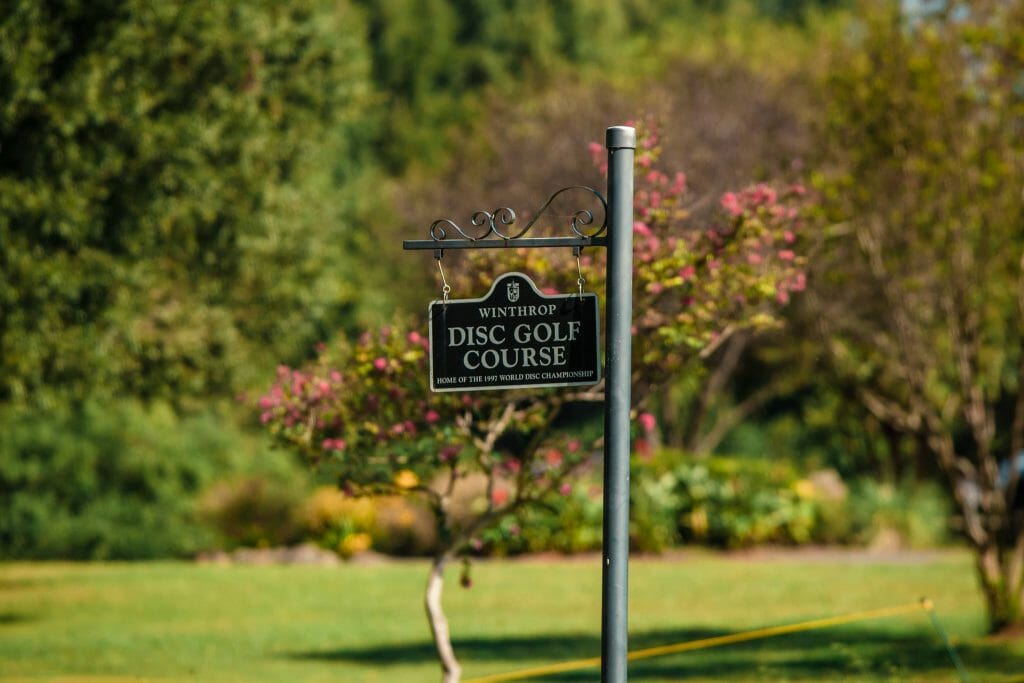 "'The stage is set, the players are ready. The ropes are strung, the circles are painted. All that is left is the playing. -William Shakespeare.'
-Michael Scott"
-Ultiworld Disc Golf
The 2018 United States Disc Golf Championship is upon us. The 130 best Open division disc golfers in the world will gather this week on the campus of Winthrop University in Rock Hill, South Carolina, to battle it out on the famous Winthrop Gold course for the event's 20th anniversary. This season has already delivered some of the most exciting disc golf in recent memory, and this weekend should be no different.
Part of what has made this season so exciting are the dominant performances from the likes of Paul McBeth and Eagle McMahon, not to undervalue watching folks such as Nate Sexton, James Conrad, and, of course, Gregg Barsby, snag big wins of their own. What makes this week's matchups tantalizing is that at some point this year, every top player has stumbled, and when those players fall, another player is there to rise to the occasion and assert themselves as a threat to take the win.
For the first time in a long time, tournaments feel like they are anyone's to win.
Winthrop Gold is the type of course that tests every shot, forces players to be mentally strong, and does not forgive mistakes or suffer fools lightly. Last year, Sexton was able to pass each test. If his performance at the Ledgestone Insurance Open, on a course similar to Winthrop, was a sign of things to come, we could be looking at our first repeat champion since Will Schusterick in 2011 and 2012.
Storylines
The 2018 season has been dominated, more or less, by two players: McMahon and McBeth. Ricky Wysocki has a couple of wins under his belt on both sides of the Atlantic, but these two players have set the bar for success. Eagle's early season run of National Tour dominance and his win at the Konopiste Open changed the conversation from McBeth versus Wysocki to, McBeth versus Wysocki versus McMahon. For his part, McBeth has finished in the top three in 14 of the 20 tournaments he has played in this year, and has seven wins under his belt to boot. He also shot an 18-under par round at the Great Lakes Open, lest we forget.
McMahon will be playing in his fourth USDGC this year, and Winthrop Gold has not been as kind to him as many may think. Over his three appearances, he has averaged a 16th place finish. Three events at a course is a small sample size to be sure, and McMahon has made some changes to his approach this season to obvious positive effect, but Winthrop is the type of course which has historically, with the exception of this year's Glass Blown Open, given McMahon fits. Variable distances, tight OB, and tee shots which can bait an undisciplined big thrower into taking risks all litter Winthrop Gold.
For his part, McBeth is looking like the best player in the world, again. His second place finishes at the MVP Open and Pro Worlds could just have easily been wins for him had he not run into two players, James Conrad and Gregg Barsby, who were playing the best golf of their lives on those particular weekends. If there is any knock on McBeth going into USDGC, it is his 13th place finish at Ledgestone which is a similar style of course to Winthrop Gold. In Illinois, McBeth coughed up more than 10 strokes to the OB ropes.
We would be remiss not to discuss last year's champion and, if such a title existed, current North American Champion, Nate Sexton. Last year Sexton won the USDGC by five strokes. Perhaps six strokes is more accurate since his victory lay-up is hidden in that total. How did he do it? By playing consistently and sticking to his plan. Sexton's 2017 rounds went like this: 59, 58, 57, 58 (including victory lay-up), an average of 58. The numbers tell you what your eyes suspect when rewatching the coverage form 2017: Sexton did not deviate from his gameplan of calculated risk taking and smart shooting off the tee. It is also worth noting that Sexton's lone Disc Golf Pro Tour win this season came at Ledgestone.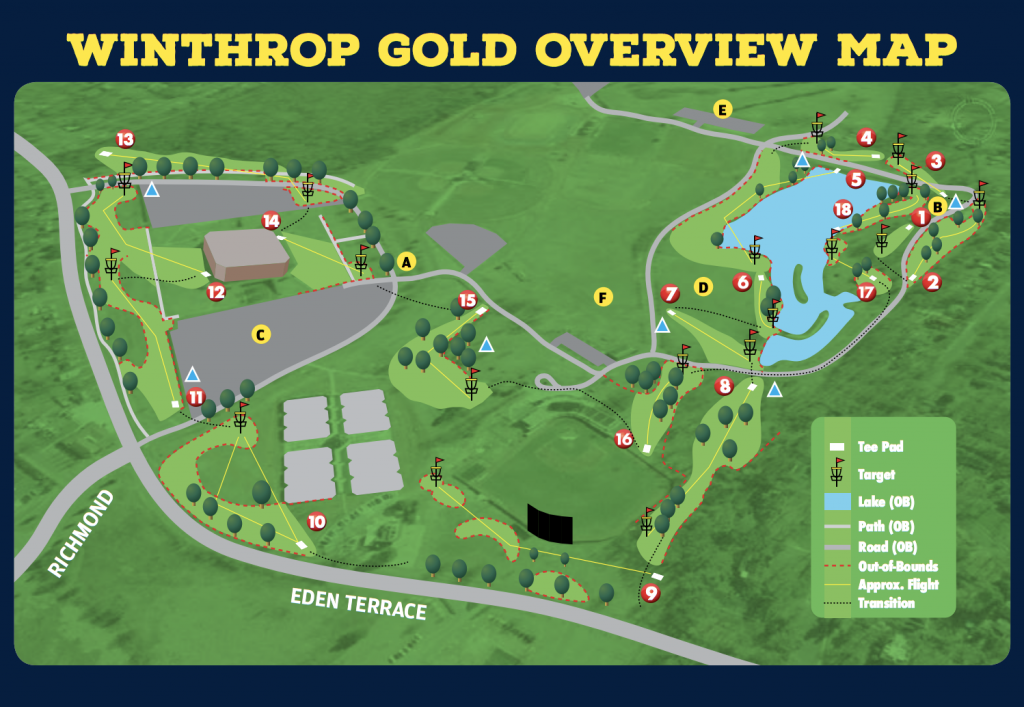 The Course
Winthrop Gold: Par 67, 10,200+ feet. – Variable pin positions on a number of holes utilized over the duration of the tournament will dictate the length of the course each round. On opening day the course will check in at 10,262 feet. For days two and three it will play 10,381 feet long. For the final round, a 10,264-foot layout will be used.
On days one and four, holes 1, 13, and 17 will play slightly shorter than on the middle two days. Hole 1 will play to the "A" position, the traditional straight shot, on day one only, which is shorter than the "B" position on the tree stump by two feet. On hole 13, players will also play to the "A" position, 999 feet on days one and four, 1,111 feet on days two and three. On days one and four, 17 will also play to the "A" position, 5 feet shorter than the "B" position, and in the closer position to the water.
Some notable changes have been made to the track at Winthrop. A detailed summary can be found on the event website here. In general, the changes look like they will be making the course more difficult and errant shots will be more severely punished.
The biggest change will be to hole 9 which runs alongside the Winthrop University baseball field. Instead of a winding fairway with tight OB all the way to the pin, the "fairway" will consist of three islands surrounded by OB. Off the tee players will have a couple options: bail off to the left for the shorter safe zone, go for the middle island fairway, or go for the green 685 feet away. The choices here are to island hop for par, skip a step for birdie, or go for glory. Don't expect to see that glory shot. OB shots will be taken from the previous lie or drop zone. There is a mandatory forcing shots to the left of the baseball field foul pole, and missing that mando forces a shot from the drop zone.
Past Winners
| | Winner | Runner Up |
| --- | --- | --- |
| 2022 | Gannon Buhr | Niklas Anttila |
| 2021 | Paul McBeth | Kyle Klein |
| 2020 | Chris Dickerson | Calvin Heimburg |
| 2019 | James Conrad | Jeremy Koling & Nikko Locastro |
| 2018 | Paul McBeth | James Conrad |
| 2017 | Nate Sexton | Ricky Wysocki |
| 2016 | Jeremy Koling | Nikko Locastro |
| 2015 | Paul McBeth | Ricky Wysocki |
| 2014 | Will Schusterick | Paul McBeth & JohnE McCray |
| 2013 | Steve Brinster | Barry Schultz & Steve Rico |
| 2012 | Will Schusterick | Ricky Wysocki |
| 2011 | N/A | |
| 2010 | Will Schusterick | Nikko Locastro |
| 2009 | Nikko Locastro | Dave Feldberg |
| 2008 | Nate Doss | Avery Jenkins |
| 2007 | Ken Climo | Avery Jenkins |
| 2006 | Barry Schultz | Brian Schweberger |
| 2005 | Dave Feldberg | Scott Martin |
| 2004 | Ken Climo | Darrell Nodland |
| 2003 | Barry Schultz | Ken Climo |
| 2002 | Ken Climo | Barry Schultz |
| 2001 | Barry Schultz | Ken Climo |
| 2000 | Ken Climo | Al 'Sugar' Schack |
| 1999 | Ken Climo | Al 'Sugar' Schack |
How to Follow
Check in here at Ultiworld Disc Golf for recaps of each round and daily podcast from our team on the ground including UWDG Publisher Charlie Eisenhood and Jamie Thomas in his role with Spin TV.
UDisc Live is providing live scoring. Post-production, next-day video from the event is set to be released on the Jomez Pro YouTube channel featuring both lead and chase cards throughout the event.
We will also be welcoming a newcomer to the disc golf media scene. Per the USDGC website, "Live video returns to Winthrop Gold for 2018 for the final two rounds of the event. Crews from Fulcrum Media will be filming holes 1, 5, 17, and the tee shot of hole 18 as well as parts of other holes. Most of their attention, including three cameras, will be focused on Hole 17, making that already nerve-racking tee shot a little more intense. Watching from the elevated Hole 17 broadcast booth will be commentators Jamie Thomas (of Spin TV) and 2009 World Champion Avery Jenkins, who will lead the live coverage and will be joined by a host of guests including 5-time US Champ Ken Climo. Look for video to be posted at Innova's Facebook and YouTube accounts."
Forecast
High pressure should lead to nice conditions for the USDGC. Highs each day will top out in the mid to upper 80s and wind conditions should remain rather calm. This should lead to great scoring conditions for the entire field.
Wednesday:
8 AM: 68° with a calm to light southwest wind.
2 PM: 85° with a calm to light southwest wind.
Thursday:
8 AM: 68° with a calm to light southwest wind.
2 PM: 87° with a west wind around 5 mph.
Friday:
8 AM: 69° with calm wind conditions expected.
2 PM: 87° with calm wind conditions expected.
Saturday:
8 AM: 70° with calm wind conditions expected.
2 PM: 86° with calm wind conditions expected.
The main weather story may be the unseasonably warm temperatures. That, combined with high humidity levels, will lead to heat indices exceeding 90° during the afternoon. Keeping the hands dry of sweat and staying hydrated will be key to having a successful weekend at USDGC.