A few player patterns to watch for going into USDGC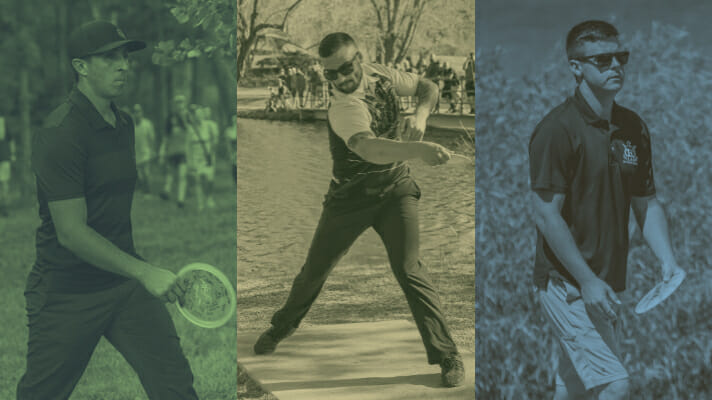 Every October, the United States Disc Golf Championship indicates we are approaching the end of another season of disc golf, which is bittersweet. Of course, it means that in the near future we will have much less content on the internet to entertain us. But it also means that we have a plethora of UDisc Live data that we can investigate going into one of the biggest events of the year.
So let's do that. Let's look at how some players games have changed, for good, bad, or both, over the 2018 season coming into the USDGC.
The Good: Paul McBeth
If you zoom out and think about his season, the narrative in your head may go something like, "slow start, struggles with the putter, but he has warmed up with the weather," and the stats in some ways bear that out. His putting has definitely improved as the season progressed. The plot below shows his Circle 1 putting percentage by tournament. Clearly, it has increased over time. Remember his performance at Delaware! He missed only one Circle 1 putt and won the tournament.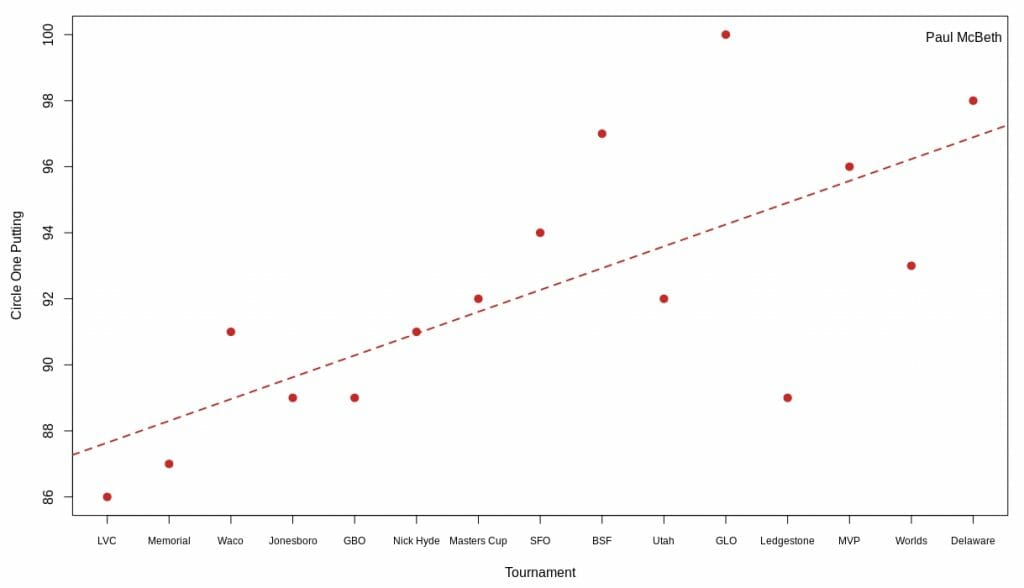 He has improved his Circle 2 putting, as well. Going back to June, his putting percentage has been below average in a tournament only once, at Ledgestone, and, for him, he had a poor showing finishing 13th. Since then, he has been on a tear, putting well above average from Circle 2 at the MVP Open, Pro Worlds, and DDGC.
The Bad: Drew Gibson
Gibson had a hot start to the season, full of top 10s and a tie for second place at GBO. However, recently he has struggled, with only one top 10 in his last five tournaments. This is reflected in his long distance accuracy. Below is a plot of Gibson's fairway hit percentage by tournament. Overall, it has decreased significantly over time. Unfortunately, the same pattern holds for his Circle 1 and Circle 2 in regulation rates.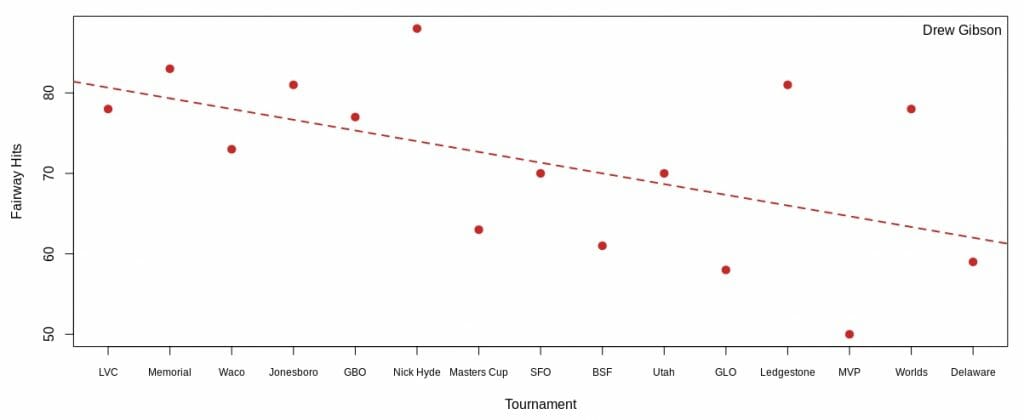 The Confusing: A. J. Risley
Risley has had an up-and-down year. He has struggled at times, such as him finishing 84th at Worlds a few weeks ago. But he has also had some nice finishes, like top 10s at GBO, GLO, and Ledgestone. Perhaps his success can be attributed, at least in part, to his much improved Circle 2 putting throughout the year (plot below). Conversely, his Circle 2 in regulation rate has decreased and may explain some of his inconsistency from tournament to tournament.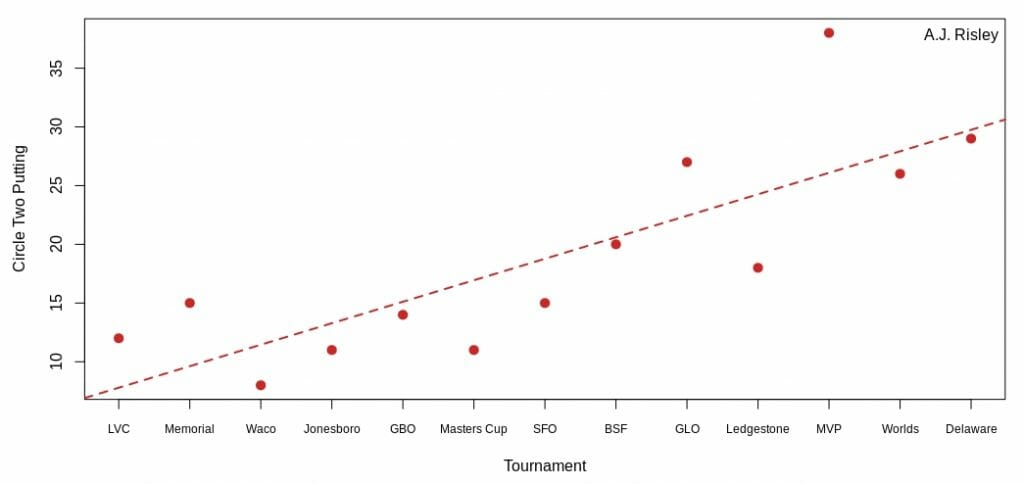 Conclusion
In the big picture, Risley and Gibson are clearly on upward trajectories. Gibson hasn't been playing the high stakes tournaments for all that long, and Risley hasn't been in the hunt for high finishes in those same tournaments until recently. They may just be sharpening their competitive teeth. Both clearly have skills and with experience, they may gain some consistency. I definitely won't count either of them out at USDGC, but I also don't feel confident about predicting a high finish for either of them.
For McBeth, like Gibson and Risley, consistency has been an issue for him this year. But, he is also trending upward and his competitive teeth are as sharp as they come. With McBeth's putting game in form, I predict a very strong finish at the USDGC.