McBeth and Wysocki put on a putting clinic at the 2018 Delaware Disc Golf Challenge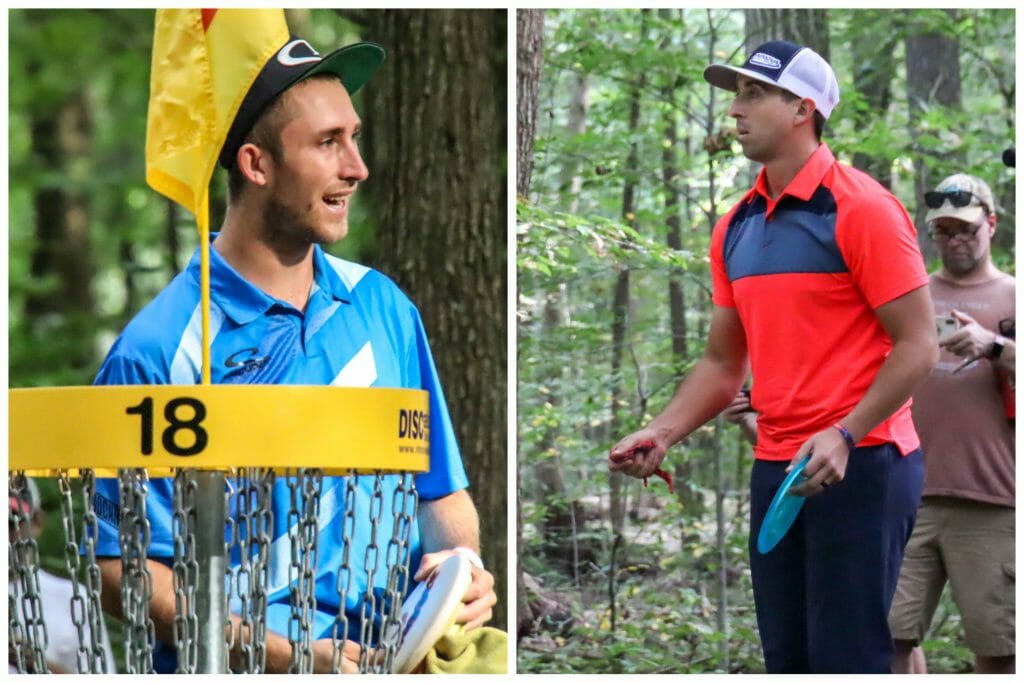 Over the past three weeks, I've tackled big picture topics in this column including course design, basket size, and tournament format. Time to step onto the green and talk about some golf.

Literally.
Sunday, September 16 was Mexican Independence Day. As night fell, the pop, whizz, and bang of fireworks resounded through my neighborhood. Earlier that day, Paul McBeth and Ricky Wysocki put on a fireworks display of their own, exploding chains from all over the putting green. Their rate of conversion from Circle 2 was spectacular to behold.
Delaware is sometimes called the "Diamond State." The nickname derives from a popular legend that Thomas Jefferson once quoth, "it is a jewel among the states." This saying was meant to emphasize Delaware's importance relative to its small size. Its license plates bear the moniker "The First State." And yes, Delaware was first to ratify the U.S. Constitution on December 7, 1877, so I suppose that's fitting, too.
But I'm dubbing it the new "Golden State" because California boy Paul McBeth and Ricky Wysocki did their best impersonation of the "Splash Brothers," NBA sharpshooters Steph Curry and Klay Thompson, at the Delaware Disc Golf Challenge this past weekend. If you watched the coverage, checked the stat lines, or read any of the recap articles, you know what I'm talking about.
Cue the ticker tape:
McBeth went 13/23 (56.5-percent) from Circle 2 for the tournament.1

Wysocki went 12/21 (57.1-percent) from Circle 2.

McBeth went 6/11 (54.5-percent) in the final round.


Wysocki went 4/6 (66.7-percent).
Combined, the duo went 25/44 from Circle 2 putting.
2018 Delaware Disc Golf Challenge | Final RD Ricky Wysocki hole 5
2018 Delaware Disc Golf Challenge | Final RD Paul McBeth hole 9
To further illustrate their dominance, the next best grouping — Philo Brathwaite 8/16 (50-percent), Kevin Jones 6/13 (46.2-percent), and Calvin Heimburg 7/17 (41.2-percent) — went 21/46 (45.7-percent). McBeth made as many C2 putts as Kevin Jones attempted (!), which brings us to another crucial statistic:
McBeth achieved 83-percent Circle 2 in regulation for the weekend (1

st

).

Wysocki achieved 74-percent (3

rd

).

McBeth achieved 100-percent C2 in regulation on Sunday.

Wysocki achieved 75-percent.
Looks like they heeded Elaine King's advice to Paige Bjerkaas, "find the spaces between the trees."
Maybe basketball is the wrong sport for comparison. Step onto the green? More like step into the ring. In his post-round interview with Steve Hill, McBeth mentioned that he watched Canelo Álvarez crowned boxing's new middleweight world champion in a narrowly contested, 24-round slugfest against Gennady Golovkin on Saturday night.
So let's roll with the punches.
Seeming to bear no ill-effects from his visit to the E.R. earlier that morning, Wysocki had the hotter hand on the front nine connecting from distance on holes 2, 5, and 6. But McBeth dialed-in the distance down the stretch and strung together five straight Circle 2 birdies on holes 9-13. Wysocki answered from 60 feet on hole 15, only to watch McBeth counter from 35 on the next hole. For the record, that amounts to blows landed in rounds 2, 5, 6, 9, 10, 11, 12, 13, 15, and 16. Add 'em up. That's 10 holes between the two where one of them connected on an outside the circle putt. What a treat for the peanut gallery.
2018 Delaware Disc Golf Challenge | Final RD Ricky Wysocki hole 15
2018 Delaware Disc Golf Challenge | Final RD Paul McBeth hole 16
If you're looking for factors that tipped the balance in McBeth's favor, all six of his C2 putts resulted in birdies. Wysocki canned one for eagle on 5, but twice needed the long bomb to save par. Wysocki's four missed greens in regulation ultimately cost the two-time world champion the W, as he sacrificed exactly one stroke per hole in each case.
Make no mistake, ladies and gentlemen, this was disc golf at its finest. Dappled sunlight filtered through the dense canopy at Iron Hill as two iron men charged through the tree-lined fairways in pursuit of glory. Putts rained down on the baskets, reminiscent of the showers that drenched the course earlier that week. It was a classic McBeth vs. Wysocki tilt. McBeast emerged victorious this time around, but when the pair battle like they did on Sunday — breaking and tying the old course record, respectively — we all win.
---