10 meters, 10 quick hits. From Wednesday & Thursday at Worlds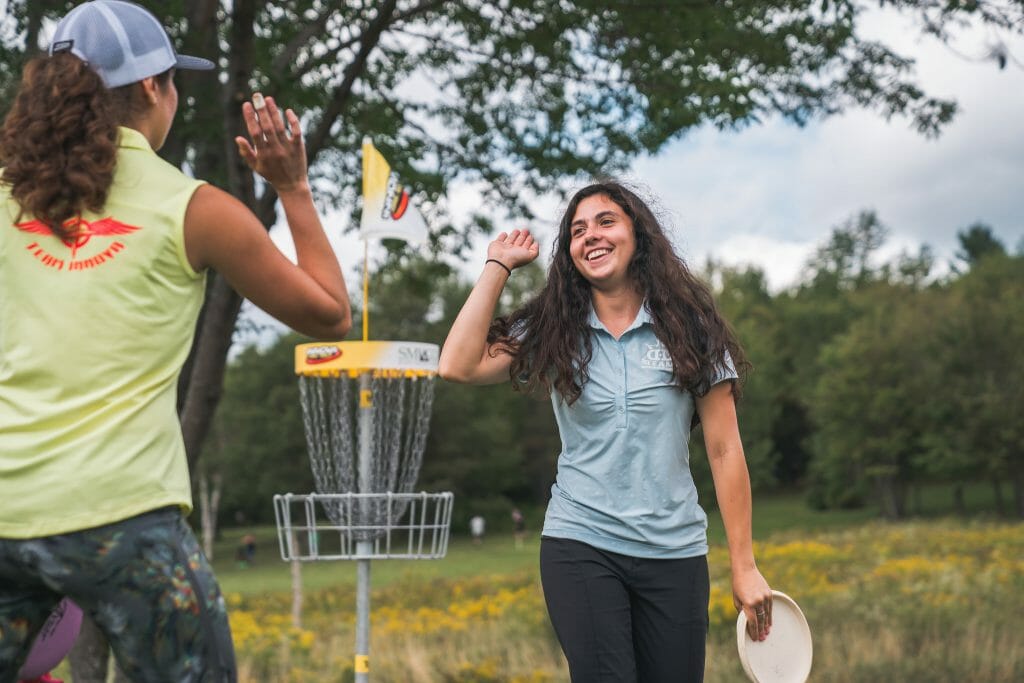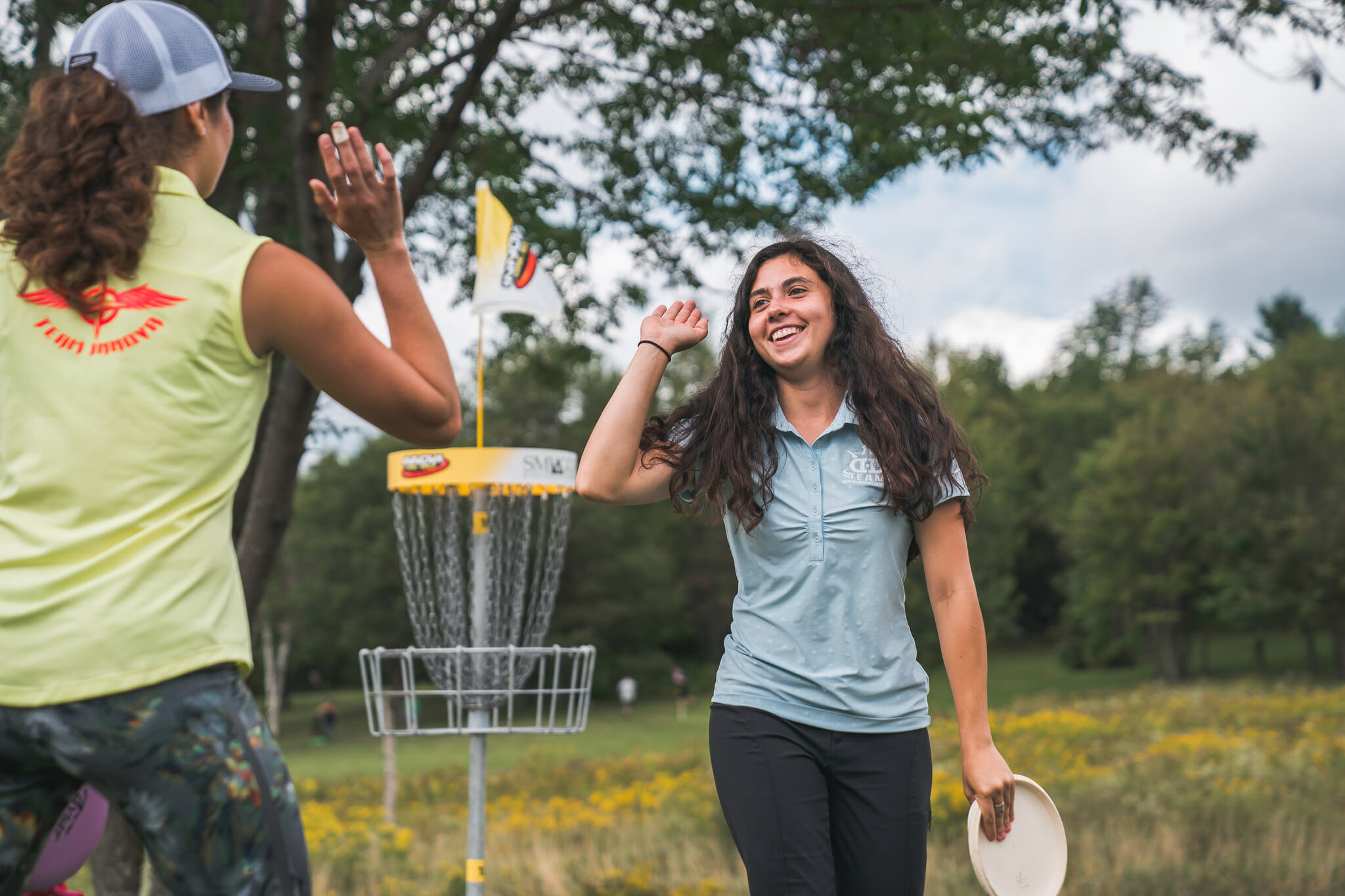 1m – Paige Bjerkaas carded the first birdie of singles competition at the PDGA Pro World Championship with a medium-range Circle 2 putt on the first hole at Brewster Ridge in round one. Yesterday, she hit one from a similar distance on hole 9 at Fox Run Meadows en route to a 5-under par 58. Preliminary round rating: 1021! Bjerkaas was one of 10 players to record a par on the 1085-foot par 5 7th. This hole saw more triple bogeys (or greater) than pars. She also showed poise in the face of adversity, scrambling at 83%. Most notably, after throwing O.B. on her last drive of the day—her only penalty stroke of the round—Bjerkaas kept calm, carried on, and collected her bogey.
2m – Isn't hole 18 at FRM a great finishing hole? Truly a fitting venue to crown the world champion. Quick media note: I don't even want a catch cam angle on the drives. Just give me the full flight from behind the teepad. The sweep of the disc against the stunning Vermont landscape from on high is breathtaking. (For example, check out the footage of Calvin Heimburg's crush on Wednesday.)
3m – I am really looking forward to watching the lead card in FPO (live!): the young guns Bjerkaas and Rebecca Cox vs. the old guard Paige Pierce and Sarah Hokom. Not an unexpected quartet, but definitely an intriguing one. Last month Bjerkaas told me that the reigning-supreme women better watch out for the up-and-comers next year. It's starting to look like we won't need to wait that long.
4m – But with three rounds to play, you can't count Paige Pierce out. Remember, she overcame a six-stroke deficit on the final day of the 2017 Green Mountain Championship, shooting a 1005-rated, 5-under par 55 to win from the chase card. It should be noted that Pierce secured her victory with her woods play in 2017. People remember the four-digit charge for the win in the fourth round, but her first round at Brewster was rated 1012! The middle rounds at Fox Run nearly doomed her chances at victory. On the more open course, she only averaged 935-rated golf.
5m – Paul McBeth has a tenuous one-stroke lead on Paul Ulibarri and James Conrad entering the third round. When he opened his tournament with a penalty-4, I was worried that we were going to see a 2017 Ledgestone Open-type performance, but he stayed pretty clean for the remainder of the round. If he can keep it dancing, he'll be hard to catch.
6m – Bradley Williams started hot, snagging the first eagle of the tournament with a throw-in from 250 feet on hole 1 at Fox Run. It had to have been a Nova, right? Unfortunately, he gave those strokes back on the 18th green when he three-putted from within Circle 1 and recorded a triple-bogey 7.
7m – It took 1032-rated Cale Leiviska twelve holes to record a par on day 1 at Fox Run Meadows. Through the first 11, he tallied seven birdies, three bogeys, and one double bogey. As a point of reference, 934-rated Zach Podhorzer of the B Pool owns the second longest par drought: nine holes.
8m – Does anyone else think Ricky Wysocki looks like a Borg in the Jomez thumbnail for round 1? Did Dave Feldberg assimilate 'Raptor Legs' during one of his offseason stints in Arizona? Without a doubt, Wysocki hopes to assimilate a couple more birdies today to keep pace with the leaders, because its time to start moving up the leaderboard or get left behind.
9m – I kind of miss old hole 12 (the water carry) at Fox Run, but I love new hole 15 and the modifications to hole 16. People describe the Smugglers' Notch courses as Yin and Yang. Well, the wooded additions to the open course really work well with that imagery, they're like the small dot representing Brewster contained within Fox Run. The penultimate par 4 is going to be especially crucial coming down the stretch. What a great golf hole.
10m – Did you know that Vermont outlawed billboards on the roadways in 1968? It was a legislative gamble that banked on the unspoiled, natural beauty of Vermont to attract tourists. Doesn't Fox Run Meadows look better without the DGPT advertisement boards? I only spotted one strip of 'em hidden away to the right on hole 17. I know, I know, we need ways to recognize the money, but maybe let's not become too attached to sponsor walls. Related: the white O.B. stakes look so much more professional than rope or flags.