Sexton one back, seven players tied for third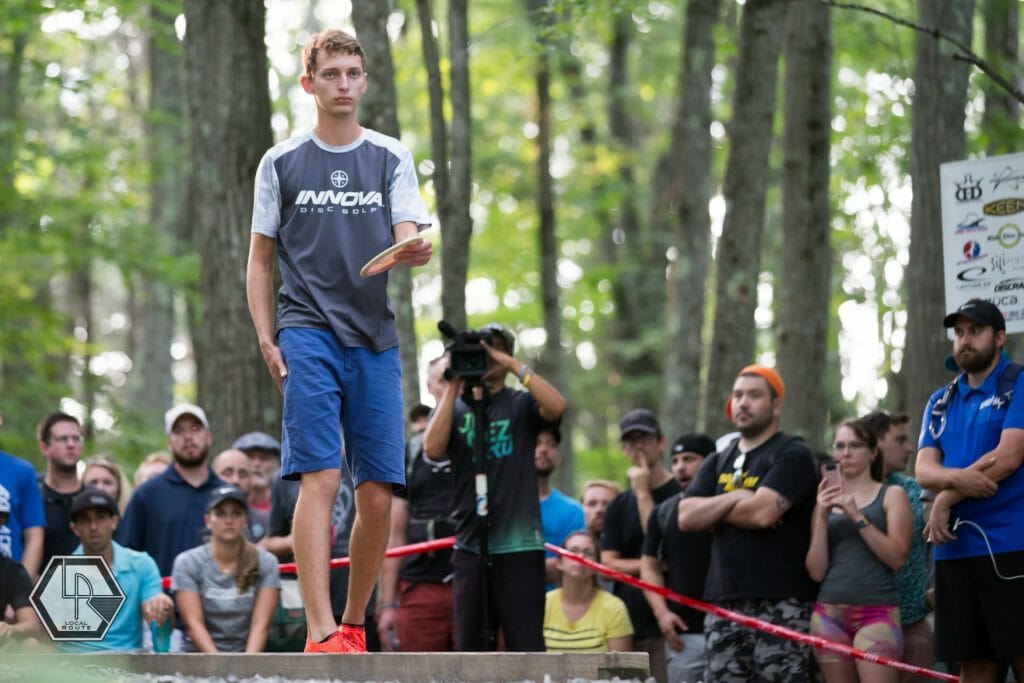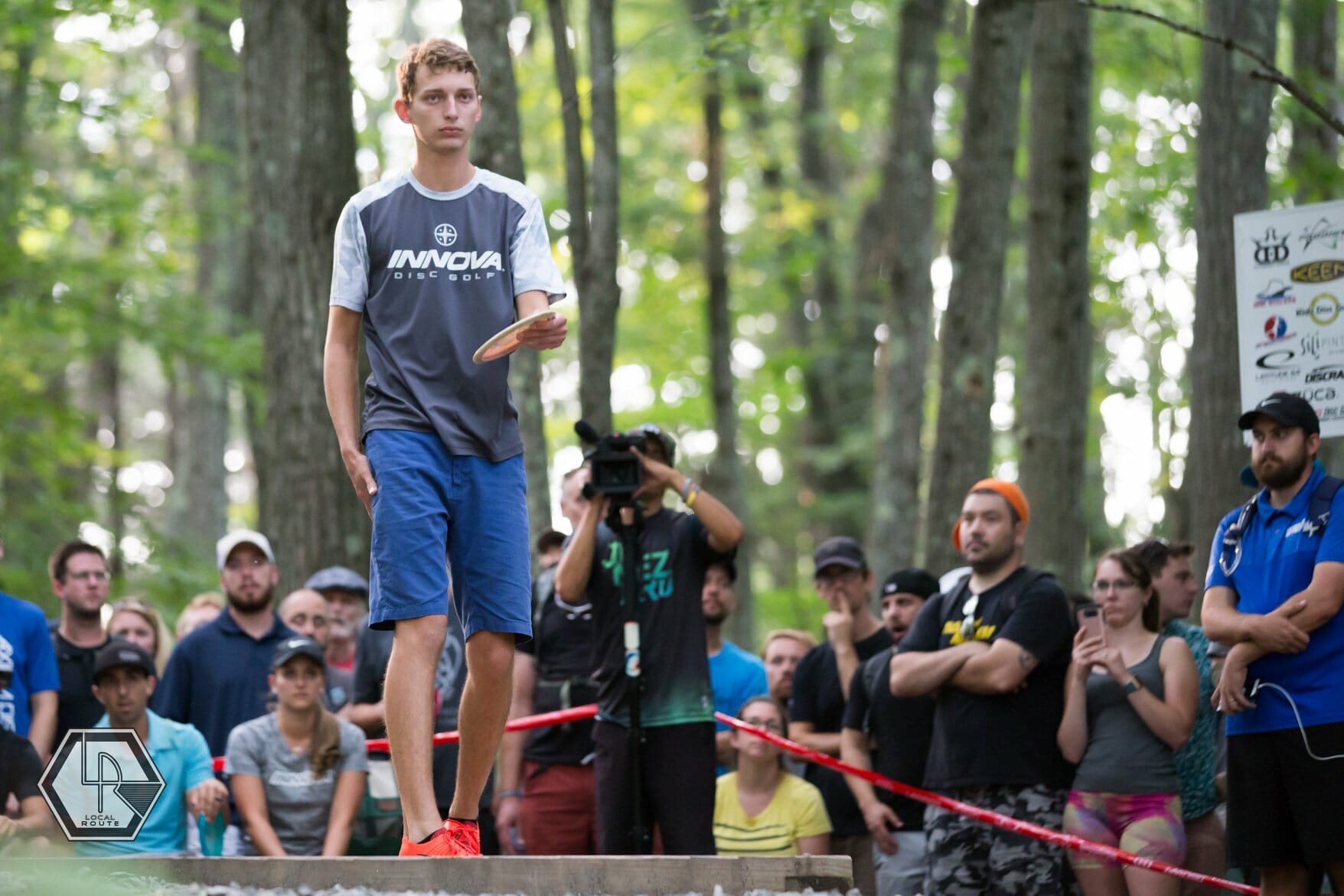 Underneath unseasonably warm sunshine, the world's top professional disc golfers lit up the scoreboard on the Fox Run Meadows course at Smugglers' Notch Resort in Vermont during the opening round of the 2018 PDGA Pro World Championship. Nearly every hole on the course had birdie potential, and combined with players' focus on avoiding big numbers, scores were clustered: 20 players finished the day within four shots of the lead.
With the opening day nerves out of the way, the competitors transition today to the Brewster Ridge course. Here's a look at where things stand.
Calvin Heimburg Stays Hot, Earns Sole Possession Of The Lead
A blistering start for the young Calvin Heimburg — 8-under par through the opening eight holes — set up an 11-under par 52 finish in round one to give him an outright lead heading into round two.
Heimburg has played tremendous golf in the last month, finishing on the podium at the MVP Open two weeks ago and showing off both power and precision at Fox Run on Wednesday. He missed just a single putt all day, going 100-percent inside the circle and making 2/3 of his Circle 2 putts. He also had the only eagle on the monstrous 1225-foot par 5 hole 7.
"I threw a Destroyer off the tee and it carried a little farther than I expected," he said during an interview on The Upshot podcast. "Then after that, I was debating whether or not to lay-up with a fairway driver or go for it again, and I realized, worst case scenario, throwing a distance driver again was a par. So, [I] went for it again and was able to put it inside 20 feet and got a relatively easy tap-in eagle."
He wasn't perfect: he went out of bounds four times and carded back-to-back bogeys on holes 9 and 10, but he bounced back with five more birdies to finish out the back nine and grab a one-shot lead over Nate Sexton.
The recent University of Florida graduate said that he's not fazed to be playing on the lead card today. "I think it's another day," he said. "I did get some experience out there at MVP playing on the lead card in the last round with a big gallery, which I think will help."
Strong Putting Leads Nate Sexton To Double-Digit Day
Until late yesterday afternoon, Nate Sexton was the clubhouse leader with a 10-under par 53. Instead, he sits in solo second. Sexton was his usual rock-solid self, carding 11 birdies and going 100-percent from inside the circle. He only went OB once, taking his only bogey of the round on hole 16.
Still, though, he walked off the course knowing that he can do more. "Any hole I didn't birdie that wasn't hole 8, because hole 8 I'm playing for par, but all the rest, if I didn't birdie it, I could definitely clean that up," he said. "All the rest of the holes are in play."
Sexton's ability to place shots at distance is a real plus on the Fox Run course, and for the most part he was methodical and precise. When he put it close, he birdied. When he didn't, he saved par. When I asked him if he thought 10-under par would be the lead at the end of the day, he said (presciently) that it wouldn't hold up. And in a tournament of this magnitude, he said, it wouldn't matter that much anyway.
"You can't count your championship nearly this early," he said. "It wouldn't matter if I shot 25-down today, if I had aced seven of them. I wouldn't be walking around like 'I've got this won.'"
Logjam At 9-Under
Seven players finished Wednesday with 9-under par 54s, setting up a tiebreaker (lowest PDGA number) to determine which players end up on the lead card. Nikko Locastro, James Conrad, Paul McBeth, Jake Lauber, Matt Bell, Andrew Fish, and Lance Brown all enter today tied for third, two shots off the lead.
They did it in different ways. Bell, for instance, lead the tournament yesterday in birdies (13) but had two double bogeys that gave back some strokes. Locastro started slow but shot a 7-under par back nine. Lauber was bogey-free and never threw OB.
McBeth, for one, was hungry for more. "Not really a big fan of [my round]," he said. "I putted well overall but just was having grip issues. That was my fault. Put some bug spray on my hat and forgot about it. Just really got on my fingers. I was focused too much on that, and it kind of affected my game." He was definitely effective with the putter — he hit a couple shots from 50 feet and only missed inside Circle 1 once — but had some issues shaping his shots off the tee and, as a result, let some very scoreable holes get away from him.
Conrad, like many players, expressed a desire to just stay connected to the top of the leaderboard. "I wasn't trying to get too crazy aggressive here in round one," he said. "I know with it being a five round tournament, I didn't want to shoot myself in the feet and go for everything. I just wanted to keep it clean and keep it in bounds and make my putts, and I did most of that."
Shootaround
Lance Brown got off to a dream start, kind of like he did to begin the season with a Wintertime Open win over Paul McBeth. He's been dealing with a frustrating injury: a wart on the middle finger of his throwing hand kept him off the course for a while, which caused his forehand callus to disappear, leading to blood blisters and pain when he throws. "I've had no choice but to tape it," he said. Brown said he was careful to just take what he's got — he said he's at about 90-percent — and to get into a position to hit putts. He canned this death putt on hole 18 for a huge birdie to put him at 9-under. Brown was pumped and said that he told himself, "A world champion isn't laying up from inside the circle, and I've been making these for the better part of my pro career," before he drained it.
There may have been no better sequence yesterday than Gregg Barsby throwing in back-to-back 100+ foot birdies en route to an 8-under finish.
Tournament favorites, including defending World champion Ricky Wysocki and Eagle McMahon played well, if not spectacularly. Wysocki finished at 8-under par 55 in a tie for 10th, but didn't hit any putts from outside the circle. McMahon got off to a great start — 5-under par through six holes — but struggled to place his tee shots after that and managed only three birdies in the final 12 holes. He is tied in 13th at 7-under par 56.
Some players voiced frustration about not having space to warm up their drives. There is a tee pad and a net set up, but no open throwing area. Perhaps a potential improvement for Smuggs in the future.