MPO, FPO momentum heading into Worlds and more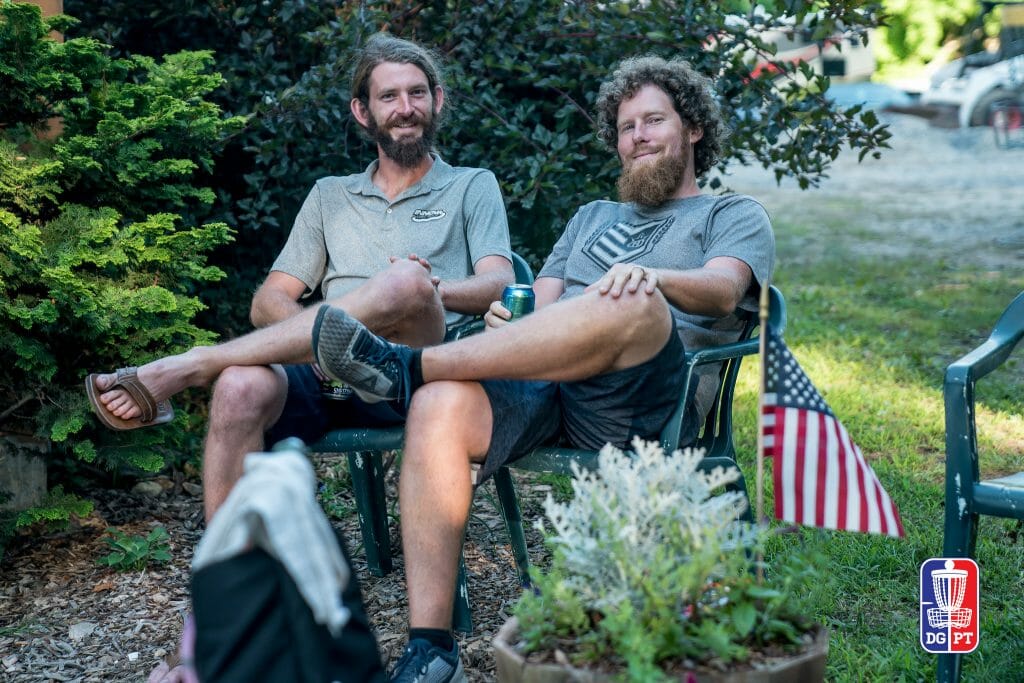 Circle M1nday: 10 meters, 10 quick hits. Some thoughts and observations following the MVP Open at Maple Hill.
1m — Is Paige Pierce still the favorite to win Worlds? Honestly, I'm not feeling it. She's only won twice since June and just finished outside of the top five for the first time since July 2016 when she took 7th at The Majestic. Including the provisional ratings for the MVP Open, she's averaged 957-rated golf since the San Francisco Open in late May. That number drops to 937 in her last two tournaments — Ledgestone and this one. Her ceiling is typically higher than the other women on tour, so if she plays to her potential in VT, she should win, but she's not been the best American golfer in the division this summer. That distinction goes to…
2m — Sarah Hokom! The MVP Open marks her third DGPT win since SFO. She finished in second place at the other two DGPT events during that span. It's hard not to make her the odds-on favorite to win worlds based on the most recent run of play. Remember, she led Pierce by six strokes entering the final round of the 2017 Green Mountain Championship and only ended up losing by one. I think she's playing better now that she was then.
3m — I didn't put Paige Bjerkaas on my podium this weekend and rue that decision. Spoiler: I'm putting her in my top 3 for Worlds.
4m — Is anyone else disappointed the Eveliina Salonen and Henna Blomroos won't be at Worlds? Talk about a hypothetical logjam at the top if that wasn't the case! I'm crossing my fingers that Innova and Prodiscus scrounge up the change from the couch cushions to get those women to Peoria next year.
5m — I predicted James Conrad would win after he drained his birdie putt on the third hole of the final round. Ask my cat, she heard me say it. By carding the lone deuce, he gained five strokes on the lead card: one apiece on Paul McBeth and Calvin Heimburg and three (!) on Ricky Wysocki.
6m — McSecond. Paul McBeth only occupied one position on the leaderboard at Maple Hill: 2. Averaging 1064-rated golf usually wins you the tournament. It didn't this weekend, but his consistency should strike fear into the heart of his competitors going into Worlds. Can he play five rounds at that clip? 5x has a nice ring to it.
7m — After a month away from the tour, Eagle McMahon seemed a little bit rusty out of the gate. His play steadily improved over the course of three rounds at Maple Hill, but he only mustered an eighth-place finish, nine strokes out of first. It was his worst showing in 2018.
8m — What do Matt Dollar, Gregg Barsby, and Nate Perkins have in common? They were the only three players to birdie hole 9. Dollar in the first round from 100 feet, Barsby in the second from 102, and Perkins in the third from 98. Easily the hardest hole on the weekend, it averaged 0.85 strokes over par. There were fewer twos on hole 9 than holes-in-one in the entire tournament.
9m — This is why I watch the live coverage. Wysocki took a penalty-4 after his long birdie bid on 14 rolled into the pond. Unfortunately, we only catch the tail end of the putt as it trundles down the backslope of the green and hops over the log into the drink. Clearly steamed, Wysocki slaps the water with a mighty splash while retrieving his disc and stalks toward the next hole. Jump ahead about four minutes and we see him sitting alone in the rough ahead of the tee pad on hole 15. Fast forward through the next four shots: he shanks his drive and nails an early tree, throws his second so fast the camera crew misses it, just sails a long putt to save par, and finally taps in his bogey. Wysocki took a bit more time on 16's tee and pured the gap. It's apparent in his demeanor and facial expression that he's reclaimed a calm mental space as he steps up to his circle's edge putt and converts the birdie. Such a compelling 30 minutes of golf. I love the post-production coverage, but you lose some of the drama in the compressed format.
10m — Terry Miller and Dixon Jowers are starting to develop better on-air rapport as the season progresses, which is a boon to their commentary. I've got three observations. I'll start with a criticism before touching on two positives. 1. It seemed like every drone flyover on Friday began with some banal reference to the hole being "really hard" or "difficult." Ugh. Describe the unique features of the hole, regale me with stats from UDisc Live, explain specific challenges players will face and hypothesize about how the players will attack the hole. No lead-in necessary. Fortunately, the trend didn't continue for the remaining rounds—I'll give credit where credit is due. 2. They seem more comfortable allowing for silence these days. It's a subtle quality of good commentary not to fill every minute with chatter and to let the action speak for itself. 3. Kudos to Jowers for his quick wit in the final round. One example: on the fourth hole, Wysocki rimmed out a long birdie attempt. McBeth's putt also spun around the inside of the tray but stuck. Cue Jowers, "Ooh-ooh-ooh… not only did Paul make it, but it was pretty similar action in the chains. Just a little salt in Ricky's wounds." Overall, nice work in Leicester from the live crew.