Who are we missing? Who is in your top three?
And just like that, we've arrived at the last regular season Disc Golf Pro Tour event of the year: the MVP Open at Maple Hill. This annual marquee event features one of the deepest fields of the season as the professionals flock to the Northeast ahead of the PDGA Pro World Championship. It's also the last opportunity for players to earn points toward their seeding at the DGPT – Tour Championship in Jacksonville, FL. Charlie and Jamie will make their picks on The Upshot, now the staff make theirs.
This week, the top 5 rated women and the top 11 rated men (there is a tie for 10th) were excluded from Dark Horse status.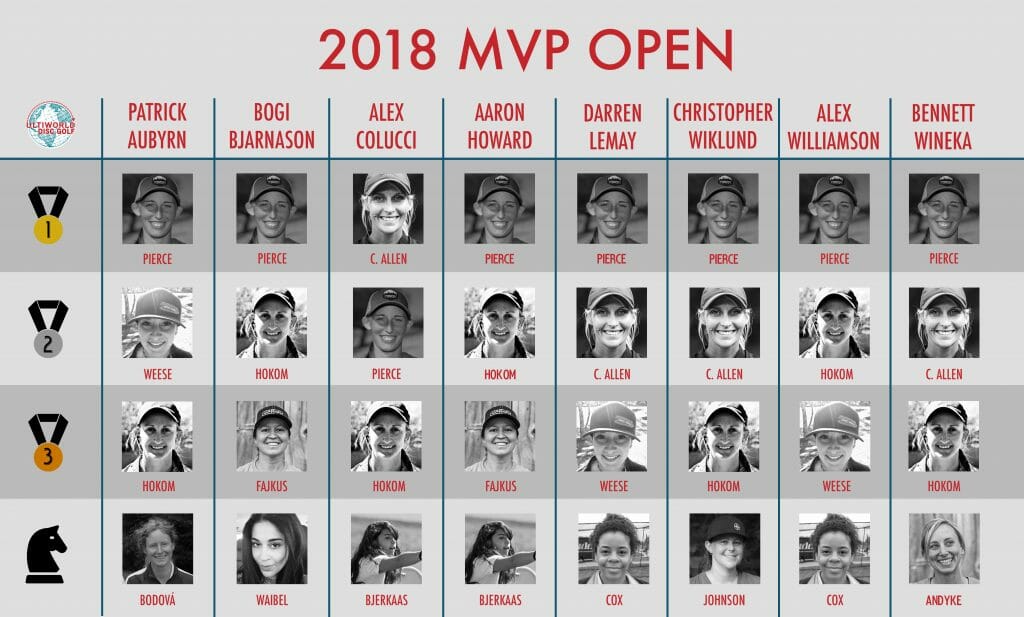 RATIONALE
The midseason "slump" for Paige Pierce has been real. She asked for a more challenging course, now she has one. Also worth noting: this is Paige Pierce! She's won at Maple Hill four times…consecutively. One for the thumb! ~Darren LeMay & Benn Wineka
Catrina Allen is hoping to steady the ship after some inconsistent play the past couple weeks. She won at Maple Hill in 2012 and has never finished outside the top four. Fresh off of her Vacationland Open victory, Allen is a strong pick to unseat four-time reigning champion, Paige Pierce. ~Chris Wiklund
It's hard not to put Sarah Hokom on the podium even if she did finish in eighth place last year. She has the accuracy to stay safe on Maple Hill's treacherous fairways and is still riding high after taking second at Ledgestone two weeks ago. ~Alex Williamson
Jessica Weese finished 14th at the Beaver State Fling. Since then she's been on a tear, finishing no worse than fourth and snagging two victories to boot. She's the best two-way player (backhand/forehand) in the field and looks super confident on the putting green of late. ~Patrick Aubyrn
Lisa Fajkus is the most consistent putter out there in the Open Women's field, and putting is as important as it gets at a challenging course like Maple Hill. Smart money says to always bet on the best putter. ~Bogi Bjarnason & Aaron Howard
The Cavalry:
Rebecca Cox has fared pretty well this season at DGPT events with woods in play (fourth at WACO and third at Idlewild). And overall, she's finished top six in 16 of her last 17 tournaments. Podium? Maybe… Top 5? Guaranteed! ~Darren LeMay & Alex Williamson
Paige Bjerkaas has been getting better and better as the season progresses. With her recent decision to continue her tour full time for the rest of the season, look for her to be focused and ready to compete at Maple Hill. ~Aaron Howard
Erica Johnson is a Massachusetts native and dominates the local scene. She tied with Sarah Hokom at last year's Vibram Open and will be very familiar with the course. Look for Johnson to make some noise this weekend. ~Chris Wiklund
I think Katka Bod'ová is better than her 908 rating suggests. She averaged 20 points above this mark en route to a T4 at the European Disc Golf Championship. Look for her to improve upon her 12th place finish at Maple Hill last year. ~Patrick Aubyrn
We don't get to see Zoe Andyke at all the major events, but don't be surprised when she crashes the top five. ~Benn Wineka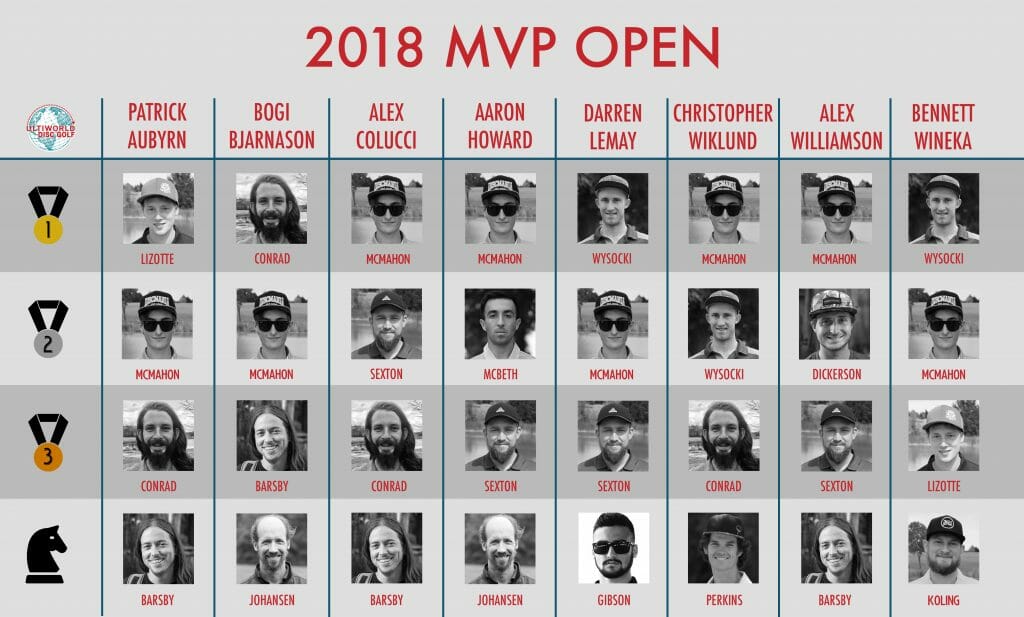 RATIONALE
Eagle McMahon's more patient and less aggressive approach on the course this season has paid dividends with four high profile wins; that's three NT wins and a Major under his belt. A less risky approach to the tight fairways and woods at Maple Hill should get him the win. ~Chris Wiklund
Ricky Wysocki has only one win higher than A-Tier this season. The last time that was true (2015) he won at Maple Hill. Another fact: over the past 10 years of premier events at Maple Hill, there has been only one Open division player to repeat as champion. Yeah, 'Raincoat Ricky.' We bet Wysocki finds his groove in MA on the road to VT. ~Darren LeMay & Benn Wineka
Maple Hill is Simon Lizotte's home course when he's stateside. His bed is literally 20 minutes away. The MVP Open is the last real tune-up for Worlds, so I don't envision a post-EDGC letdown. ~Patrick Aubyrn
James Conrad has a big arm for the open shots and C2 putting dominance to help recover from tree hate: a winning combination. ~Bogi Bjarnason
Chris Dickerson hails from the Southeast and that means he knows his way around a wooded course like Maple Hill. Add to that his amazing 2018 season, including taking second place at Ledgestone, and you have the perfect recipe for a podium finish at Maple Hill. ~Alex Williamson
As long as Paul McBeth is playing I will include him on my podium. His Circle 1 putting is improving, and if he keeps it in the fairway he will at least match his second place finish last year. ~Aaron Howard
Unflappable mental game? Check. High floor, high ceiling combo in terms of finishes at top events? Check. A history strong finishes at the course? Check. Momentum coming off a big win? Check. That's Nate Sexton. Just pick him. ~Alex Colucci
The Cavalry:
Michael Johansen + heavy woods? You do the math! (MJ slays in the woods.) His gliding Comet shots are a sight to behold. What better place for him to break into the top-3 of a big tournament for the first time in 2018? ~Bogi Bjarnason & Aaron Howard
With two top-four finishes at Maple Hill in the last three years, Gregg Barsby is low-hanging fruit for a dark horse pick. [Editor's note: that's why Bogi's got him on the podium.] If he can play 1057-rated golf for four rounds, he'll win the MVP Open. That's what he averaged for the first three rounds last year before succumbing to the rain in the fourth. Had he shot, say, a 1046-rated 56 on Sunday, five strokes better than he played, he would have finished one clear of Ricky Wysocki for the W. ~Patrick Aubyrn & Alex Williamson
Nate Perkins plays better in the woods. Simple as that. Luckily for him, Maple Hill will give him plenty of opportunity to put his technical skills to use. If Perkins can replicate his effort from WACO earlier this season, he should be just fine. ~Chris Wiklund
Drew Gibson finished 11th and 5th, respectively, the last two years at Maple Hill. This has been his best season on tour but he has yet to reach the podium on the DGPT. I'm getting a Bradley Williams-esque upset vibe, here. When Williams won in 2016, he demonstrated that a player rated in the low 1020s can take the crown. Gibson currently sits at 1022. ~Darren LeMay
Jeremy Koling's first big win of his professional career came at Maple Hill. I expect to see big forehands flexing all over the fairways. ~Benn Wineka