Final day showdown with McBeth looms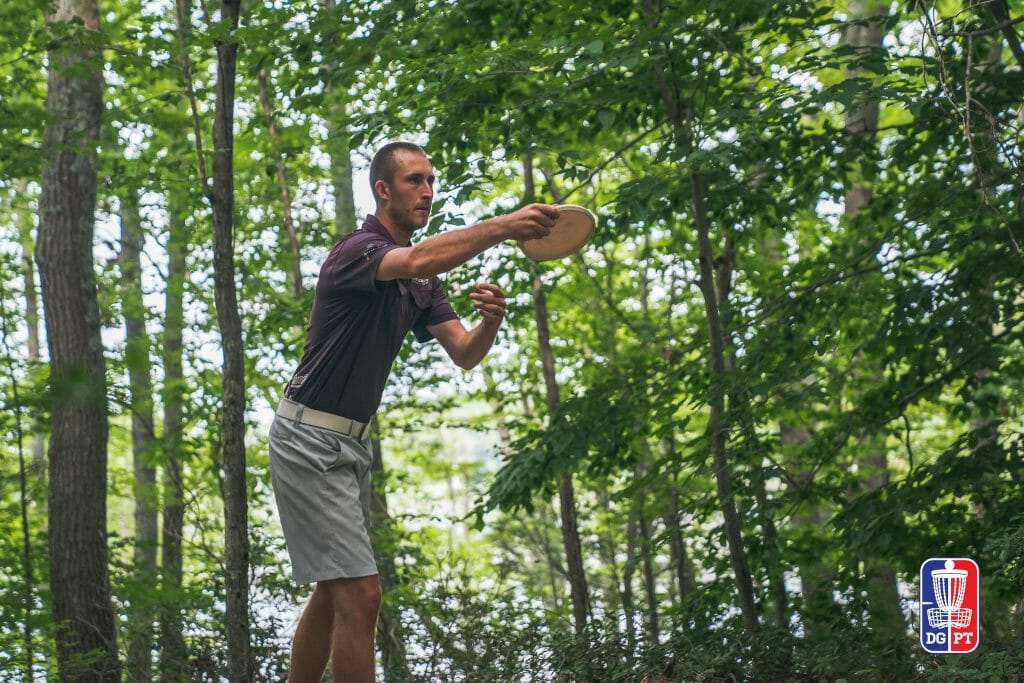 What's that thing people say about speaking too soon? Don't?
After throwing an uninspired first round at the MVP Open, Ricky Wysocki turned around and demolished Maple Hill to the tune of a 13-under par 46, jumping him 29 positions into the solo lead at 14-under par 104.
To put Wysocki's round into perspective, Paul McBeth's 1121-rated, 14-under par 45 at Maple Hill in 2013 is considered to be one of disc golf's greatest ever rounds.
On Saturday, Wysocki's 1108-rated run through included zero bogeys, perfect putting from inside Circle 1 and a highlight ace on the 320-foot island hole 8. He rarely found himself in trouble, successfully scrambling four times, and added a couple Circle 2 putts for birdies for good measure.
Paul McBeth at 13-under par 105, Calvin Heimburg at 12-under par 106, and Nate Sexton at 11-under par 105 practiced consistency and remain in the top five.
Round Two 2018 MVP Open at Maple Hill – Nate Sexton hole 18
Expectations for the final round will be high.
Moving Day
Joining Wysocki in the leaderboard shake-ups were James Conrad, Simon Lizotte, Cameron Colglazier, Gregg Barsby and Kevin Jones.
Conrad worked his way onto the lead card and into a tie for fourth place with Sexton at 11-under par 105 total with an 8-under par 51 round. He'd finish strong, birdieing five of the last seven holes, including a 75-foot throw-in on hole 18 to end his day. He and Colglazier were the two other players with Wysocki to play blemish free golf.
Starting Saturday from a similar position as Wysocki, Lizotte was also in need of a big day on his home turf. He matched Conrad's 8-under par 51 to jump 15 positions into solo sixth place at 10-under par 108 total.
Colglazier and Barsby are tied in 11th at 8-under par 110 total, rising 36 and 19 positions respectively. Barsby was the only player in the field on day two to birdie the 420-foot hole 9. He did so with a 102-foot throw-in, much like Matt Dollar did in round one.
Still on the outside looking in at 17th, Jones' 9-under par 50 saw him leap 43 spots, the largest positive move of the day.
Aces A Plenty
Besides both Wysocki and Trevor Harbolt acing hole 8, two other players recorded hole-in-ones around the course.
Able Virgile is tied in 115th and nabbed the ace on the 285-foot hole 5. Jeremiah Libby, tied for 126th, got the 250-foot hole 4. The MVP Open ace total for 2018 is now at five.
---
The lead card of Wysocki, McBeth, Heimburg, and Conrad will tee off at 3:15 p.m. EST. Live coverage will be on the DGPT YouTube channel, with live scoring happening all day at UDisc Live. Follow Ultiworld Disc Golf here and on Instagram for updates all from the final round along with recaps and coverage this week.