McBeth, Sexton among six tied in second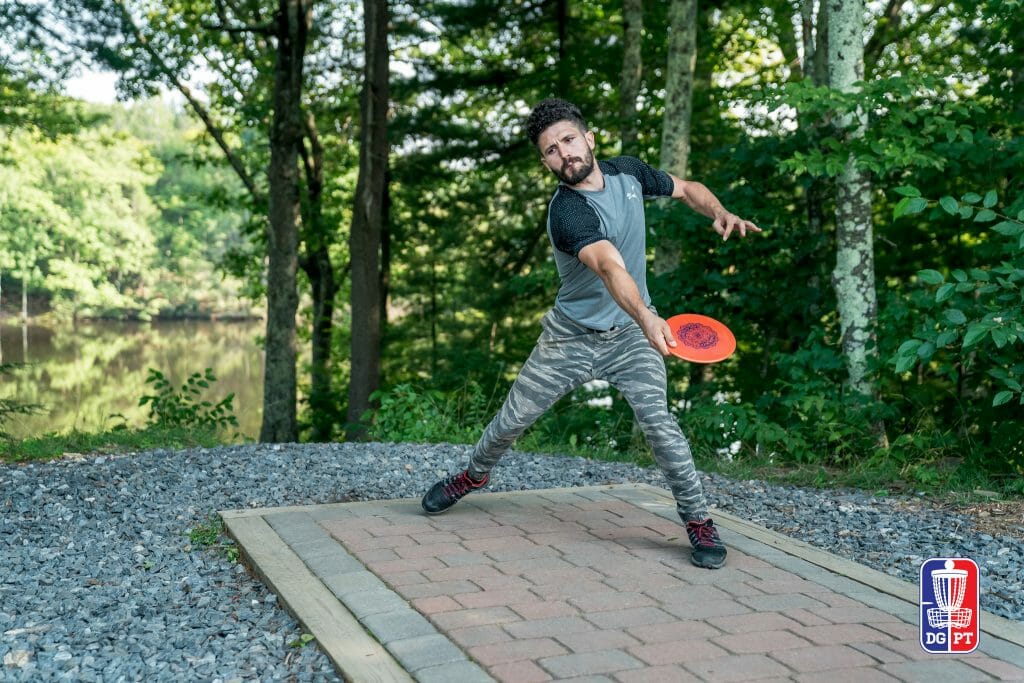 Maple Hill is back to its old ways. The Massachusetts course usually finds a way to surprise you, and it's usually by seeing unexpected names at the top of the leaderboard.
Only one round in at the MVP Open and we've already thrown our expectations out the window. Many favored the 'Crush Boiz' — Eagle McMahon and Simon Lizotte — to come in discs blazing or Paul McBeth and Ricky Wysocki to flash their rings. But instead, it's the mercurial Nikko Locastro who throws the hot round and holds a two-stroke grasp on the lead at 8-under par 51.
Locastro's putter didn't touch the ground from inside Circle 1, and he even hit half of his Circle 2 attempts, not including the 80-foot throw-in to save par on hole 16. The 2010 event champion birdied 50-percent of the holes, with a lone bogey coming on hole 18. The 1073-rated round is just two points shy of last season's best showing at the Disc Golf Pro Tour stop.
Bottleneck In Second
Of the six players tied in second at 6-under par 53, Steve Brinster may stand out the most. Or is it Calvin Heimburg? Either way, the two went about their rounds much differently.
Brinster had identical putting stats to Locastro: perfect from C1 and 50-percent from C2. Heimburg, on the other hand, struggled a bit from inside the circle, yet led the field in fairway hit rate at 83-percent, and was either first or second in Circle 1 and Circle 2 in Regulation percentage.
The other four players in second should not raise too many eyebrows as we've seen them at most of the major events all season.
Nate Sexton, Matt Dollar, Paul McBeth, and Austin Hannum all limited mistakes on what can be an unforgiving course, and converted putts like pros should. For a while there it looked like we were going to be in the presence of a 2013-esque Maple Hill McBeast moment as he started the round by birdieing the first four holes, the only player to do so. However, a slow back nine put a damper on that.
It was the MVP-sponsored Dollar who got maybe the highlight of the day with a 100-foot throw-in for birdie on the 420-foot par 3 9th — it was the only one recorded on there Friday. Guess those Black Hole baskets really do have their own gravitational pull.
Matt Dollar birdie hole 9 MVP Open
How?
We take it back. Dollar did not have the highlight of the day. That belongs to Samuel Aldrich, who aced the crazy-wooded hole 15. We may not have the actual highlight to enjoy, but the post-shot-chain-love-hug-celebration counts in this very special situation. Aldrich is tied for 30th with McMahon, Wysocki, and seven others at 1-under par 58.
Sam Aldrich hole 15 ace MVP Open
Two-Color Score Cards
Joel Freeman — eighth place at 5-under par 54 — and Zach Melton — tied for ninth at 4-under par 55 — were the only two players to finish bogey-free. Both men scrambled extremely well just were not able to get themselves into birdie positions consistently.
---
The lead card of Locastro, Brinster, Sexton, and Dollar will tee off at 3:15 pm EST. Live coverage will be on the DGPT YouTube channel, with live scoring happening all day at UDisc Live. Follow Ultiworld Disc Golf here and on Instagram for updates all weekend.