Salonen ends just three strokes behind as Tattar rounds out the podium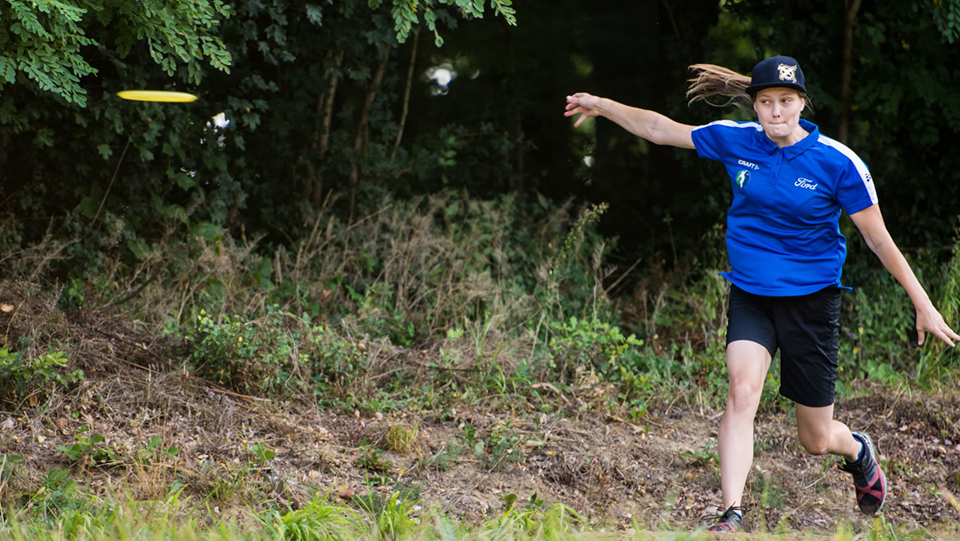 Out of all the tournaments where both of the young Finnish powerhouses Henna Blomroos and Eveliina Salonen have been present this year, one of the two has always won. This includes the Skellefteå Open in Sweden where Salonen beat out highest rated female player in the world Paige Pierce—along with Catrina Allen and Kristin Tattar—in a four-way playoff, and the Konopiště Open, where both players finished ahead of Catrina Allen and all their top competition from Europe. In fact, Salonen hasn't finished below any player this year except Blomroos.
Given this impressive record, there was little doubt that this year's Open Women division at the European Disc Golf Championship would likely turn out to be a showdown between these two players, who share a healthy competitive camaraderie and a good friendship on and off the course. And the two highest rated players in the Open Women field did not disappoint with Blomroos just edging out Salonen to become this year's European Champion. Blomroos's 8-under par 240 came in three strokes ahead of Salonen's 5-under par 243. Third place was taken by Estonian Kristin Tattar with a 5-over par 253.
The Open Women played an altered layout of the Spa Hills Disc Golf Course in Toplice Sveti Martin, Croatia from the Open field, featuring shortened tee pads on three holes and one hole where par was upped by one stroke. The course featured a mixture of more open, ball-golf fairways and tight, wooded corridors.
As Blomroos headed into her final round on this layout, she had a four-stroke lead, putting the pressure on Salonen to chase her down. Salonen didn't have the best start to her task, bogeying the first hole while Blomroos parred. Still, by hole 12, Salonen had cut Blomroos' lead to just two strokes. However, Salonen never got closer than that for the rest of the round, and Blomroos taking a birdie to Salonen's par on the last hole of the tournament was just an exclamation point.
Though, to be fair, Blomroos' real exclamation point was a 1024-rated 8-under par 54 effort from the tournament's second round. As we've reported before, this round is unofficially the highest rated by a European woman in history.
With her usual manner of not mincing words, Blomroos responded to a question about how she felt about winning the title simply and honestly.
"It feels really awesome," she said.
Given her success this year—she also recently won the Finnish Nationals—it also seemed worthwhile to ask if Blomroos was mulling over a trip to the 2019 Pro Worlds, but unfortunately, all she could say was that she "doesn't know yet."
Salonen, when asked about how she was taking having to settle for second, admitted to some disappointment but also seemed to be rapidly trying to look on the bright side.
"At first it didn't feel good," Salonen said a few hours after her final round. "But now it maybe feels a little bit better."
While there were a good number of strokes between first and second as the final round began, there were none between Eva Králová of the Czech Republic and Tattar, who were tied for third. Going into hole 7, the two were still tied, but after it was over, Tattar had shot ahead by three strokes. She birdied the 160-meter (525-foot) par 4 while Králová had taken a double bogey. Tattar wouldn't lose that lead for the rest of the round, and in the end had separated herself from Králová by a total of seven strokes to earn the last spot available on the podium.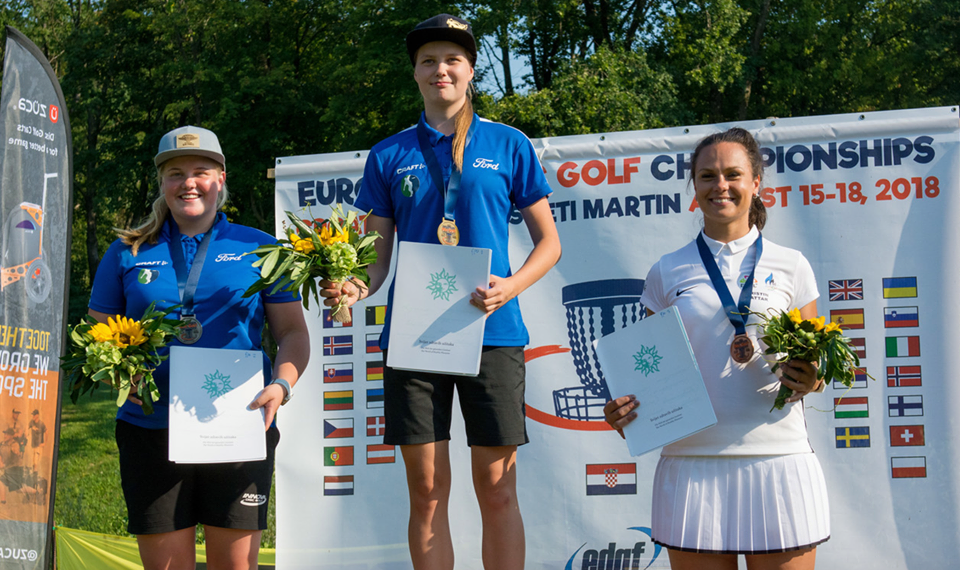 "I'm feeling great that I actually got myself together, fought till the end, and took home third place," Tattar said. "It was all I could do after three rounds, and—let's face it—this year Henna and Eveliina are moving with their own pace and quite often it's hard to match theirs."
When asked what she thinks she will need to work on in order to compete on the level of the two Finns more regularly, Tattar pointed to that bane of many disc golfers: putting.
"I think I have to be better with my longer putts," Tattar said. "I give myself many birdie opportunities but just can't get the putter in the basket. I have my good days, but mostly I'm a pretty poor putter on the edge of the circle or in circle two. So this is something that I need to work on."
Of the three podium finishers, Tattar is the only one who will be attending this year's PDGA Pro World Championship in Vermont. Clearly, it's unfortunate that we won't get to see if Blomroos or Salonen could deal a huge surprise to their New World counterparts. However, it will also definitely be interesting to see how Tattar fairs away from the two biggest shadows on the European continent. I might feel a dark horse staff pick galloping into the stable already.