Salonen second while Králová and Tattar still share third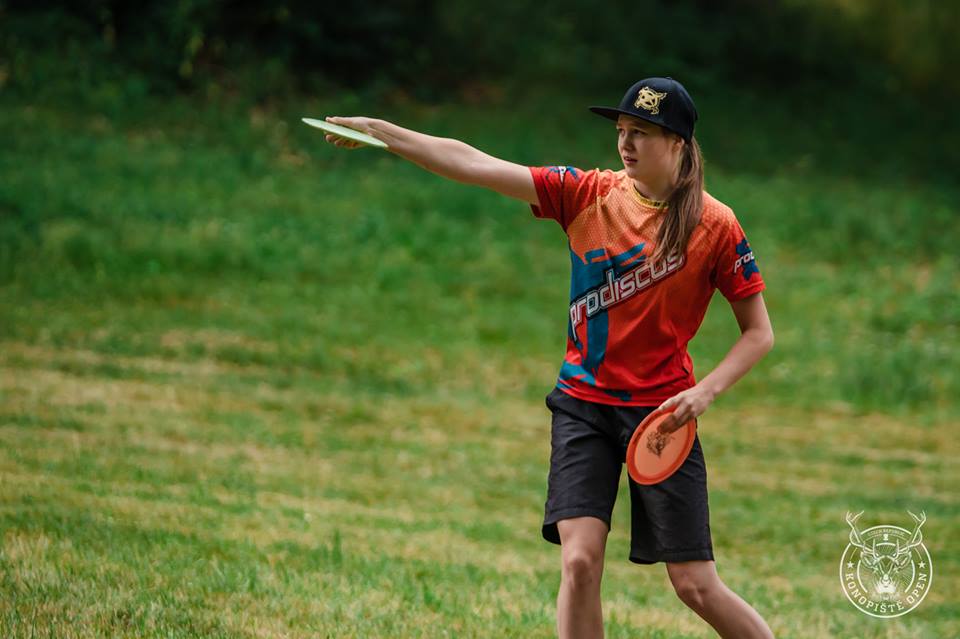 It's not surprising after throwing what has been confirmed1 as the unofficial highest-rated round ever by a European woman in history (unofficial because the ratings are not yet certified) that EDGC leader Henna Blomroos couldn't quite maintain that pace. After her 1024-rated 8-under 54 par effort yesterday, Blomroos shot a 946-rated 1-over par 63 today.
Luckily for Blomroos, her Finnish comrade and closest competitor Eveliina Salonen fared slightly worse, turning in a 2-over par 64. The two are now four strokes apart, with Blomroos at a 7-under par 179 total and Salonen at 3-under par 183.
The same players who started the day tied for third ended the day the same way. After throwing twin 3-over par 63s, the Czech Republic's Eva Králová and Estonia's Kristin Tattar have 7-over par 193 totals.
1st and 2nd: Blomroos and Salonen
When contacting Blomroos and Salonen in writing for comments about their rounds, the two happened to be together and answered with one message. It was clear that they preferred to talk as little as possible about rounds that weren't up to their generally lofty standards and preferred to focus on the possibility for redemption tomorrow.
"We both just had a few bad holes," they said in a joint message. "Not every round can be perfect. Tomorrow we have a new day and one more round."
Barring complete disaster from both of these players, the 2018 European Championship crown is likely to be placed on one of their heads. Which head will depend on who does the better job of seizing that "new day" tomorrow.
Tied 3rd: Králová
This is undoubtedly the biggest disc golf stage Králová has found herself a star on, and even if she has some nerves, she's brimming with excitement.
"It was a lot of pressure to play on the lead card today," she admitted. "I could not be happier that I managed to survive and played as I did."
Though she is generally satisfied to be where she is, given her relative inexperience compared to the rest of the lead card, she isn't beyond looking to improve.
"It would also be nice to get some more birdies or less bogeys," she said, referring to her goals for tomorrow's final round. "I made some small mistakes that cost me a couple strokes today."
Tied 3rd: Tattar
Tattar—who has had a lot of big-time success in Europe this year—wasn't particularly happy with her effort today, expressing that it was hard for her to get in the right head space.
"I wasn't really playing bad, but I got a bad break on hole five and then messed up the next hole and couldn't get back to the rhythm," she said. "Maybe tomorrow I can finally put a decent round together."
Further down the Leaderboard
If neither Králová or Tattar do manage to find a "decent round" tomorrow, there are players hovering nearby who could easily take their spots in the top three. The closest of those is Slovakian Katka Bodová, whose 8-over par 194 is just one stroke behind Králová and Tattar's shared score. It's worth noting that Bodová has improved every successive round of the tournament, and her last round was an even-par 62—better than Králová's best round of the tournament and tied with Tattar's.
Also still very much in the running for the third spot are Finn-by-way-of-California Vanessa Van Dyken and Swede Sofie Björlycke. They are at 10-over par 196 and 11-over par 197 respectively.
---
A big thanks to PDGA Technology Director Steve Ganz for the time researching this question and sharing the results. ↩