Dickerson, Locastro, Walker, and Fajkus pick up momentum going into Ledgestone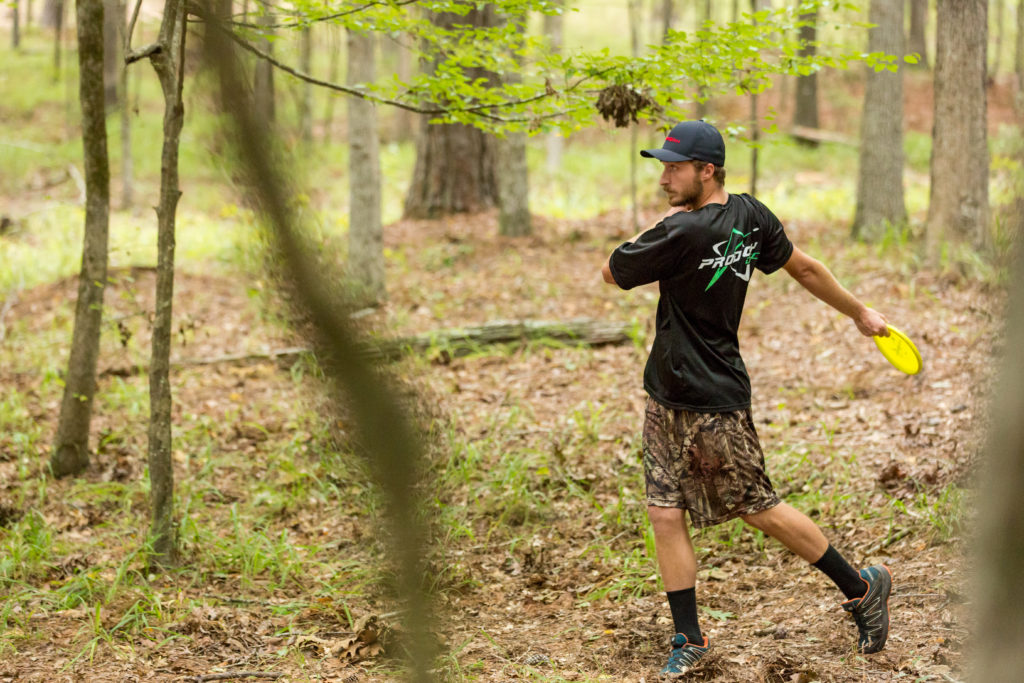 Six A-Tiers provided a slew of dramatic finishes over the weekend.
With the most 1000+ rated players in attendance, the Music City Open in Nashville did not disappoint. Between reviving the Ravenwood Disc Golf Course for the final round, an Open playoff, and Open Women's comeback, the 345 player tournament was a testament to the scene in Tennessee.
Chris Dickerson outlasted James Conrad in extra holes for his 21st win of 2018 after both finished the MCO at 27-under par 156 total. It was the second consecutive weekend Dickerson and Conrad finished one-two at an A-Tier. Cameron Colglazier was third at 26-under par.
In Open Women, Madison Walker staged a rally on Sunday with a 963-rated final round to catch Elaine King and win by two strokes, finishing at 6-over par 189 total. King's 8-over par 191 was five strokes clear of third place Rebecca Cox.
Another midwest tournament with a lot of talent preparing for the Ledgestone Open was the Titan Open in Cedar Rapids, Iowa. Kevin Jones took a lead into the final round but a 986-rated final round opened the door for Nikko Locastro and Jordan Castro to go to a playoff to decide an Open winner. Jones would finish fourth.
Castro looked like he had the win on the first playoff hole until a nasty spit through kept the tournament going several more sudden death holes. Locastro would get the win on the sixth hole.
Jordan Castro playoff putt Titan Open
Lisa Fajkus recorded her fourth A-Tier win of the season in Iowa, winning by two strokes over Kaylee Campbell.
The Pittsburgh Flying Disc Open usually draws a larger crowd but fell during a busy weekend on the schedule. Nathan Queen came away with a playoff win after two extra frames over Andrew Fish despite throwing a 954-rated final round. It was Queen's first A-Tier win, and Fish made up seven strokes in the final round to catch him, forcing the playoff.
Paige Bjerkaas dominated wire-to-wire, averaging 21 points above her rating, on the way to an 18 stroke win.
A 1077-rated second round on an "Ace Run" layout during the Lake Superior Open propelled Cale Leiviska to his first A-Tier win of 2018. Noah Meintsma finished second, six strokes behind. Ellen Widboom is your Open Women's champ.
European Comps
Seems like every weekend there's a new national championship in Europe. This week we had two.
Peter Lunde is your back-to-back Norwegian champion, edging Sindre Roar Fosse by one. Sigrid Sandum captured her fourth Open Women's championship, and first since 2015. Fosse got himself an impressive ace on camera here as well.
Sweden has a first-time national champion in Henric Hagman, who shot above his rating for five rounds to nick Linus Carlsson by one for the win. Sofie Björlycke was a repeat winner in Open Women, crushing the field by 32 strokes.
Väinö Mäkelä shot a 1075-rated second round, setting a course record and carding three eagles in route to the 'W' at Prodigy Disc Pro Tour – Turku. His uphill throw-in eagle linked below is worth a few repeat views. In Open Women, Henna Blomroos and Eveliina Salonen again finished in the top two spots with Blomroos coming out on top by two.