Weather delays pepper opening round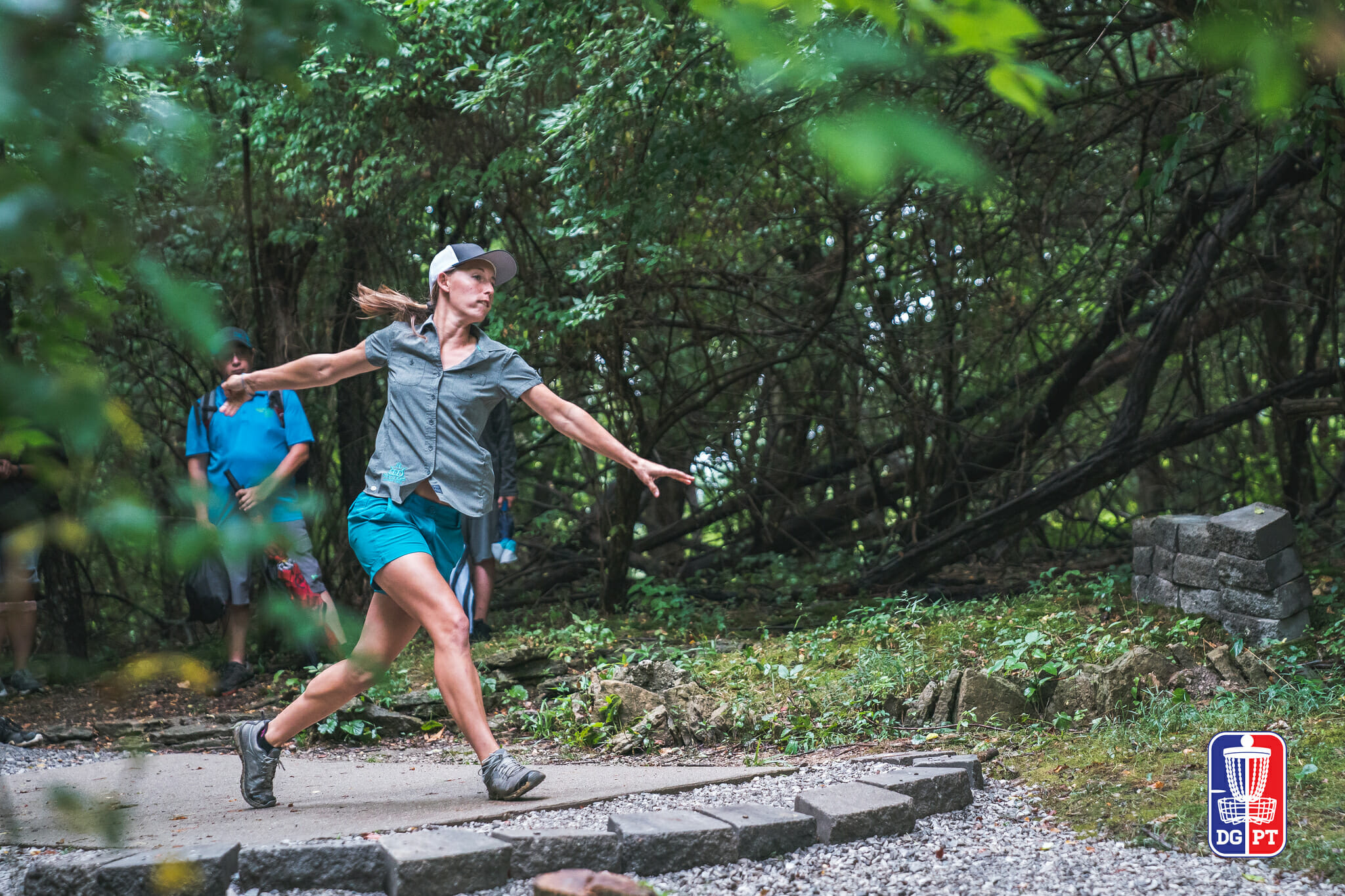 Things were never going to be easy in Burlington, Kentucky. The Idlewild Open is not kind to those hoping to score well and as weather conditions intensified on Friday afternoon the already tough track became a swirling beast.
Players struggled to find a rhythm as the round progressed in fits and starts due to lightning and winds over 40 miles per hour. As a result, some otherwise strong rounds were thrown off course which makes the final outcomes of those who ended up at the top of the leaderboard all the more impressive.
Scoring Down, Separation Persists
Last year's best score came from Paige Pierce, a 3-over par 69 final round on her way to a win. With changes to the course shortening several holes and relaxing the par on others for the Open Women, reason would suggest more scoring opportunities and lower all-around tallies.
However, scores rose on average from 14.17-over par during the 2017 opening round to 16.26-over par Friday. This year's current top 10 has recorded lower scores than last, but 14 strokes still separate first from tenth place, same as it did last season.
Pierce was able to tie her hot round from last year with a 3-over par 69 and sits in first place. Her 22-percent birdie rate led the women and she was the only player to not record a double bogey or worse.
Sarah Hokom held the lead for most of the round and was trending to the hot round but a late bogey on hole 17 and a double bogey on hole 18 to finish her round dropped her to second place at 4-over par 70. Those two holes for Hokom, who was playing on the final, featured card of the day, came in the minutes before the most significant severe thunderstorm arrived at the course.
Rebecca Cox and Mandy Sharp are tied in third at 9-over par 75.
Birdies Not Necessary
Pars are good at Idlewild. So good in fact that two women didn't record a birdie but are still in the top ten.
Paige Bjerkaas is in fifth at 10-over par 76 and leads the women with 61-percent of her holes coming in at par. An 80-foot par save on hole 2 was probably her highlight of the day, and two bad holes are all that kept her from a lead card spot.
Tied in ninth, Catrina Allen also did enough to stay competitive without a birdie. She's sitting at 18-over par 84.
Madison Walker
I couldn't think of anything interesting to title this section but Madison Walker had herself an eventful stretch of holes on the final third of the track, from 13 through 16.
She started the stretch with a massive throw-in to save bogey from over 100 feet on hole 13.
Unfortunately, she three-putted and two-putted from inside Circle 1 on the next two holes, yet stopped the bleeding by getting the only par or better of the day on hole 16. Walker is tied in sixth with Holly Finley at 14-over par 80.
---
The lead card of Pierce, Hokom, Cox, and Sharp is scheduled to tee off at 9:00 a.m. local time, weather permitting. You can follow along with the live scoring at UDisc Live, and edited video footage from the round begins at 2:00 p.m. eastern time on the DGPT YouTube channel. Check back in here at Ultiworld Disc Golf for recaps and coverage of the final round.