Wysocki matches course record, but still doesn't make lead card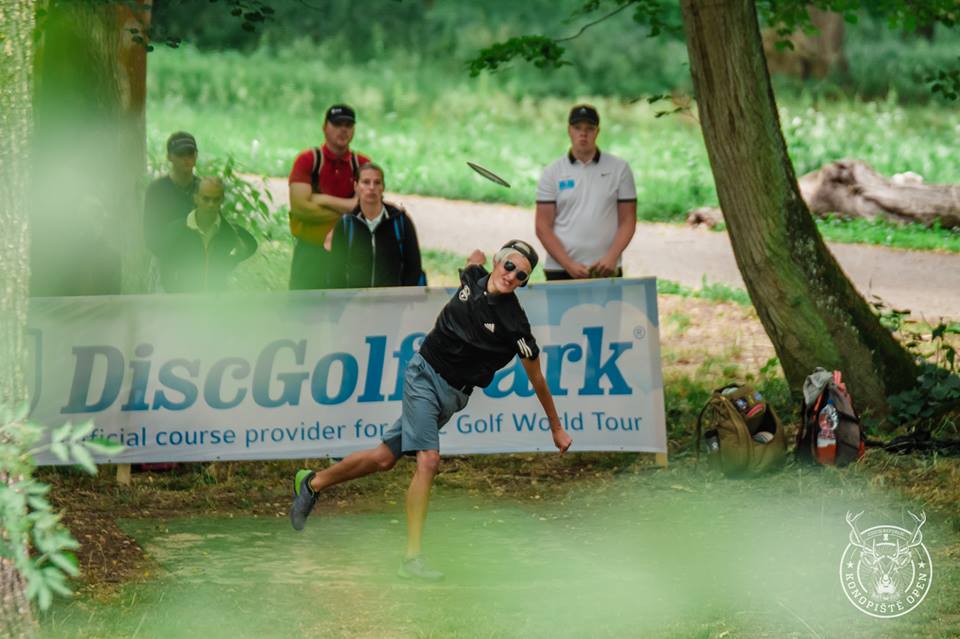 There's no other way to say it: the Open scoring at this year's Konopiště Open is insane. During the second round, tomorrow's lead card of Eagle McMahon, Seppo Paju, Paul McBeth, and Simon Lizotte shot a combined 55-under par. If a player reaches that score over Konopiště's four rounds, they will have averaged almost 14-under par per round.
Something perhaps even crazier is that McMahon's tournament-leading 32-under par 102 came from playing two rounds of 16-under par 51—that's two rounds in a row beating the previous course record by one stroke. That makes Paju, in second place, amazingly six strokes off McMahon's pace after having shot a 12-under par 55 round one and 14-under par 53 round two to be at 26-under par 108. McBeth went from the chase card to lead card with his second round and sits at 25-under par 109, which ties him with Lizotte. 
Not to be forgotten is fifth-place Ricky Wysocki, who—loathe to be outdone—also shot 16-under par 51 on the day, reclaiming a shared part of the course record Eagle snatched from him (and McBeth) yesterday. He's just one back of Lizotte and McBeth at 24-under par 110. More on his round in just a bit.
Commenting on repeating his 16-under par performance, McMahon seemed happy if a little surprised. He described not thinking that it was 'in the cards' to shoot the same score again after missing birdies on holes 1, 2, and 10.
"But then I got the eagle on hole 11, and I was like…if I birdie out, I can tie it," he said nonchalantly. "And after how many ever holes later, I have the same score again."
When I asked him how he felt about sharing the course record, he took no time to consider.
"I don't like it, so I'll hopefully go 17-under," he said. "But that just shows that this course is so shreddable that any lead—if you're off for a little bit—is gonna be taken away from you, so I just gotta continue the pace."
Despite his deficit to the lead, Paju knows a good round when he plays one.
"It's one of the better rounds I have ever shot," he said about his second round. "I've been struggling lately playing like that on lead card, so I'm really happy…tomorrow, I'd like to do the same thing. There were still a few things that I missed because of nerves…but I'm just going for it and trying to do my best."
McBeth saw his 1063-rated 14-under par quite differently than Paju saw his. When I asked him a few minutes after his round what he was thinking, the main theme was improvement.
"I just need to throw the disc better," he sighed. "I had to make quite a few putts outside the circle—a lot of the pars I had were outside the circle where I wasn't able to convert."
Still, when I asked him whether he could make up the seven strokes he needed to catch McMahon, his confidence was unshaken.
"Oh yeah," he said without hesitation. "If he slips up a little bit, there's room. On this course, it's hard to make up strokes, but it's easy to give 'em away…yeah, I don't think seven is enough right now."
Like McBeth, Lizotte had some frustration with his game.
"The front nine was Struggle City," he said. "I shot seven down on the back, which is good, but I gotta clean up the front nine tomorrow because it felt pretty bad."
It speaks to the way players are beginning to view scoring on the Franz Ferdinand course that Lizotte was feeling demoralized by going 4-under par on the front nine even with his 'one and only bogey of the tournament' coming on hole 1.
But when asked how he felt about catching up to McMahon, he came back with an old German saying about the resilience of hope.
"Die Hoffnung stirbt zuletzt," Lizotte said—which translates to "hope dies last."
No one could better exemplify the sentiment of that saying today than Wysocki. After turning in an 8-under par first round—eight off McMahon's blistering pace—Wysocki came into round two on fire. For a while, it even seemed like it wouldn't be long before the world got another 18-under par (or better) round. Through 11 holes, Wysocki was 12-under par, having taken an eagle on the par 5 hole 3 and birdieing everything else.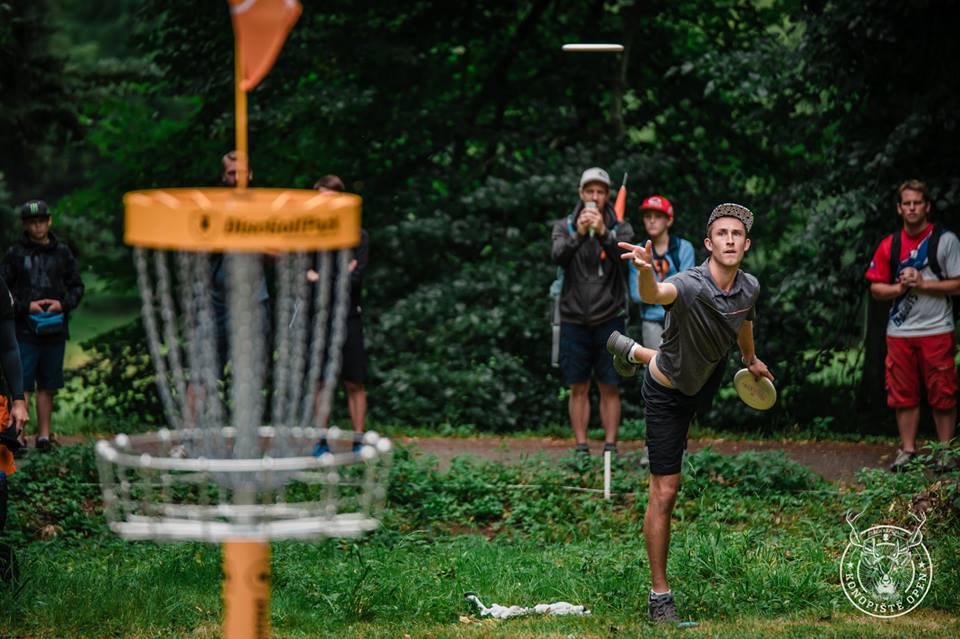 Unfortunately, the dream unraveled when he took two pars on holes 12 and 14. The first par was due to an errant upshot after a perfectly placed drive (and a putt from downtown to save the birdie banged front cage). The second came from a high throw that hit an early limb and sent him careening left on the fairway into thick brush and a low canopy—taking birdie out of the question. Though he still had a chance at reaching 17-under par and taking the course record from McMahon, he also parred the par 4 hole 17 after flipping his drive too far right and failing to reach the circle from his difficult upshot.
Though there must have been some disappointment, Wysocki was focused on the positives of his round rather than the regrets.
"I'm happy," he said. "I knew I needed a good round today, and I had great position the whole time to have an amazing round. I'm just glad I had a chance to put myself in that spot to shoot an almost perfect round. I'm thankful for that and glad I got myself back in contention."
He also has high hopes for tomorrow.
"I feel like I'm back to my comfort zone," he said. "I play well under pressure, and I've got myself into a spot where I feel comfortable…I still feel like I have a good chance to win."
And on having a share of the course record again?
"It's always good to take it back," he said, laughing good-humoredly. "It only lasted one day."
With scores as low as they have been, there's no telling what tomorrow will bring. But in any case, it's likely to be thrilling. If you're interested to learn more about what players believe is causing these objectively outrageous numbers, look out for tomorrow's Czech-In. While you wait, you can read yesterday's if you haven't yet.