Field notes and observations from the 2018 Konopiště Open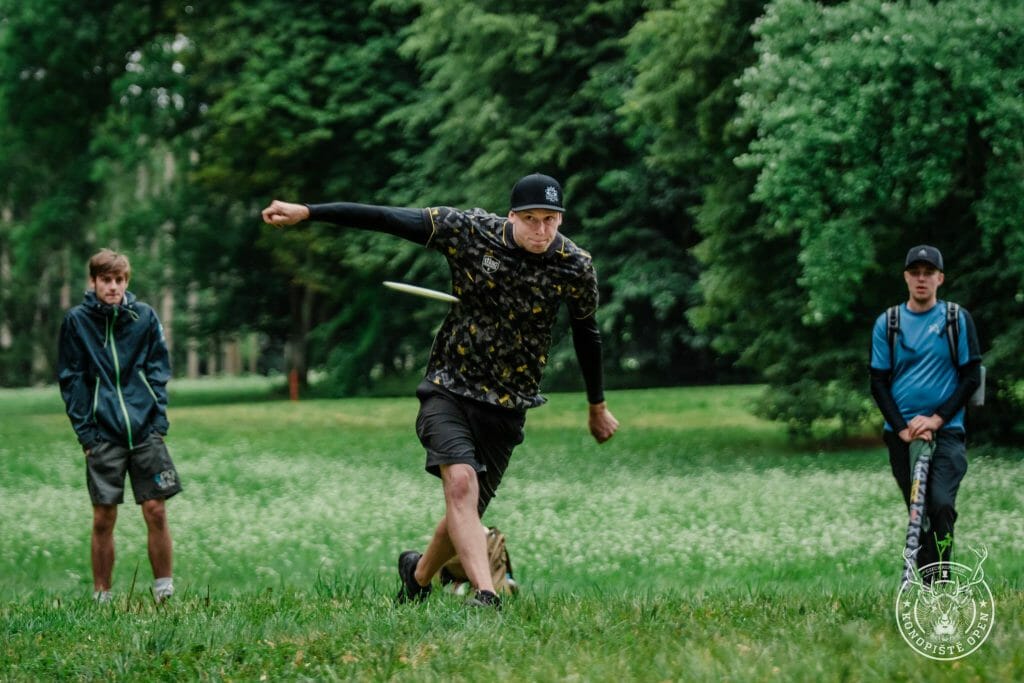 "The Czech-In" is Ultiworld Disc Golf's daily update of all things Konopiště Open from European Beat Reporter Alex Williamson. A new entry for each day of the tournament will add to the scores and stats of our recaps and bring the entire tournament — on and off the course — to life.
---
Taking the Card Less Followed
FRANZ FERDINAND COURSE, Benešov, Czech Republic – Yesterday, I wanted to get out early to check out how the course was playing. To get a player's perspective on this, I thought my best option was to embed myself with a card—specifically one with no gallery, where talk would be free and easy. So, I hopped on caddie duty for Geoffrey "Toad" McReynolds (who some may remember from this feature profile on him from March) and joined his 8:20 a.m. group for their round.
The other players on the card were Estonian Krister Tammjärv and Finns Nils Iso-Markku and Tommi Heikkinen.
One of the first things they noticed was how the grip on the tee pads had noticeably improved. This came thanks to the efforts of the tournament staff to thoroughly sand each tee and everyone on the card was excited by this. Later in the day, Catrina Allen said the same.
"Yesterday in the practice round, I was frustrated because I was slipping all over the place," she told me after her round. "Today was much, much better."
But it wasn't just artificial improvement that helped the card—in most places—keep in a good mood throughout the round (though it must be pointed out when Iso-Markku asked if he could borrow Tammjärv's crushing forehand for one hole, Tammjärv selfishly declined). The conditions yesterday were nearly perfect, and that's likely one reason scoring in Open yesterday was so extraordinarily good.
They also helped McReynolds' card do something pretty impressive—all go bogey-free through the front nine.
Chatting with Avery Jenkins
Longtime pro and owner of the 2009 PDGA Pro World Championship Avery Jenkins must be a morning person. He also started his round before 9:00 a.m. and though others later topped it, his bogey-free 11-under par 56 effort was the early benchmark for the field. After finishing up my caddy duties, I was able to follow him on hole 18 and chat with him as he walked back to the hotel to find some lunch.
When Jenkins reached 18, I quietly asked how he was shooting.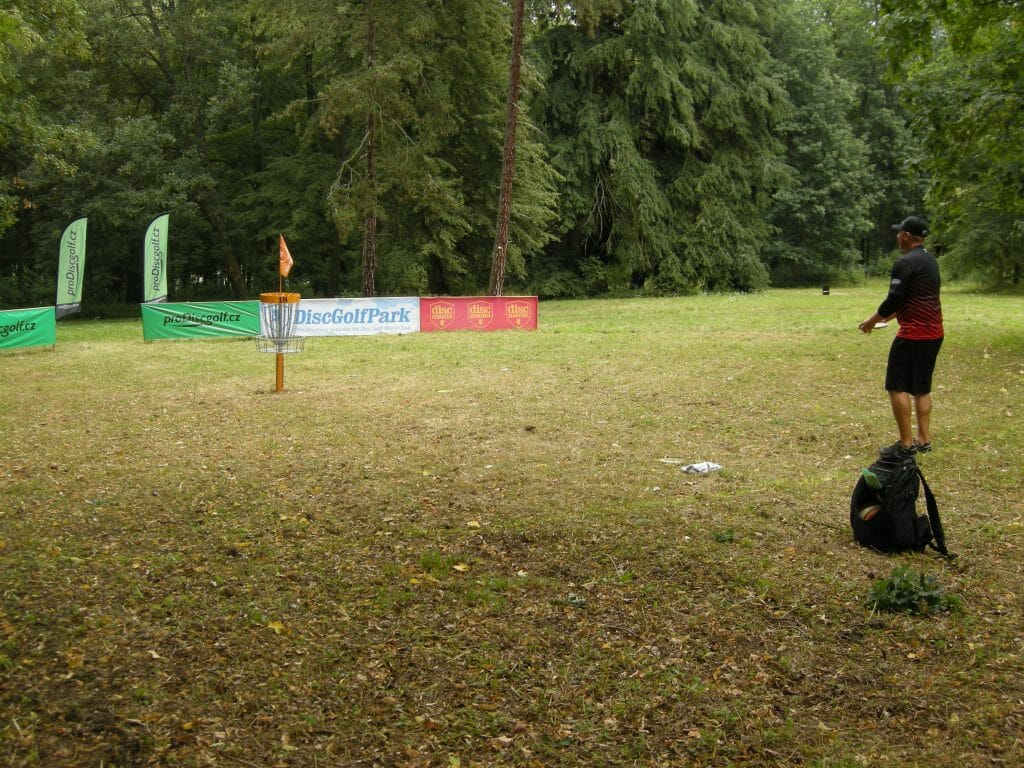 "I'm not worried about it," he said, shortly.
Later on our walk back to the hotel, he put that response into context. "I knew I was shooting well," he explained. "I just don't keep track of things like that because I don't want it to influence shots."
He went on to describe his feelings about the round.
"I'm happy with it," he said. "Getting into double digits is something you need to do the maintain a good score out here. Paul [McBeth] and Ricky [Wysocki] shot 15s out here last year, so it's possible to go real low out here. And, in conditions like this, I could see…13 or 14 definitely."
Thanks to Eagle McMahon, he was off by two there.
Jenkins also expanded on what exactly those good scoring conditions were like.
"This is really ideal golf weather," he said. "65 degrees, overcast skies. You're hiking up hills and not even sweating that much. It's dry. If it stays like this the next three rounds, I'll be happy."
Though we didn't know it then, Jenkins' score would put him in a five-way tie for fifth, just one stroke back of Seppo Paju and K.J. Nybo, who share third. His recipe for continued success was a simple game plan.
"I just need to keep chugging away," he said. "Keep it in the short grass, minimize mistakes, and keep it in bounds."
McMahon on His Putt to Break the Course Record
Naturally, after McMahon banged home a 40-footer to clinch Franz Ferdinand's course record, I had only one question for him.
"Who do you think will win the World Cup?" I asked.
"Um, Croatia," he answered.
You heard it at Ultiworld Disc Golf first.
We also decided to talk about some disc golf, and along with his comments featured in our round recap, he described his feelings about the final hole and the one putt he had to make to clinch the record in detail.
"On the last hole, I was kind of shaking," McMahon admitted. "I'd shanked my forehand drive, and I was like, 'Oh dangit, I'll just tie the course record…it'll be okay.' But when I walked up there, it was a lot closer than it looked from the tee. I stepped up to it and said, 'You gotta take advantage of this.' I focused in, released the putt, and it catches left side…the rest is history."
Lizotte Calls for Better Course Design, Smaller Baskets
While talking with Simon Lizotte about his round, we also discussed how he feels about courses like Franz Ferdinand with very little OB and where the majority of punishment for an errant tee shot comes from brush, tree trunks, and low-hanging branches.
"I love it," he said frankly. "That's how golf is played. I think that's how disc golf is supposed to be played. We just make all these OBs because we don't want to shoot 14, 15, 16-under, but I don't think we should make the course impossible to play and not fun. Just maybe make the freakin' basket so that people don't have a chance to make every 60-footer out there.
"I would love to see a tour or at least [one] tournament a year that tries that and see what the scoring looks like," he continued. "I'm so sick of seeing people just shank shots and just make 60-footers and have the same score as someone who pures a gap."
Lizotte is a busy guy, so I didn't bring up the Disc Dash for Cash that used Dynamic Disc's Marksman baskets (a smaller basket intended to help golfers truly hone their aim) which Central Coast filmed in 2016. Maybe he can take a look and get back to us on that.
Impressions from Open Women
As the Open Women card of Allen, Slovakian Katka Bodová, Estonian Kristin Tattar, and German Wiebke Jahn finished their round yesterday, no one came off the course particularly overjoyed.
As mentioned in our recap of the round, Allen thought her efforts were nothing better than 'okay' despite it earning her a lead. Bodová—one of only 21 registered PDGA members from Slovakia, of which five are female—was also disappointed with her 7-over par 74 effort, but her demeanor was overall calm and good-natured when I asked her about the round.
"Oh, it wasn't that good," she said, sucking a little air through her teeth. "But that's okay. Good thing there are three more rounds left to play," she said cheerily.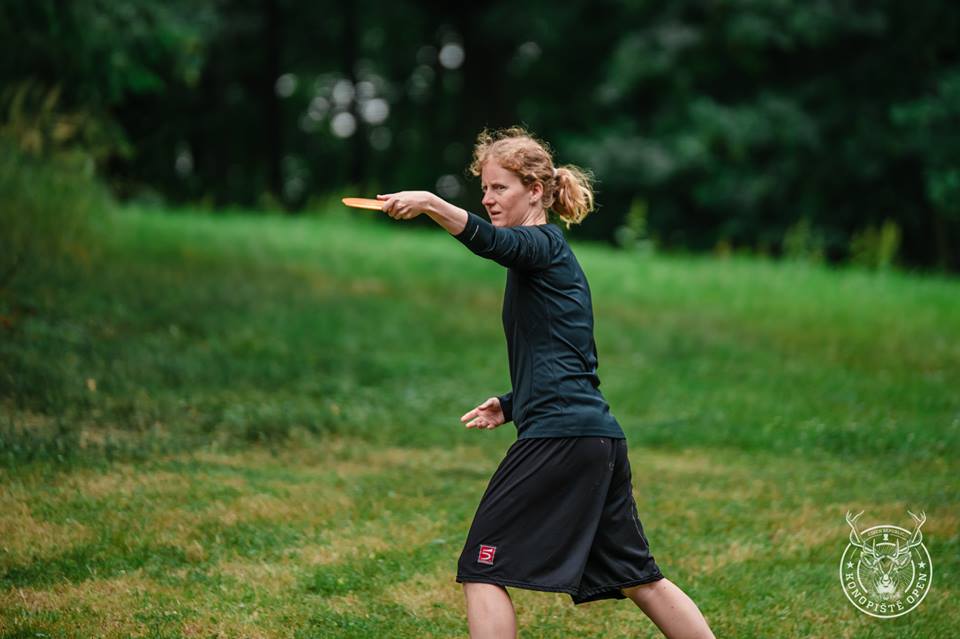 Indeed, there are three more rounds—a total of 10,059 more meters (33,002 feet)—to go. And, later, when I caught up with Swiss player Natalie Holoköi after her round, she expressed a sentiment that might be common in the Open Women field.
"It was just so long," she emphasized when I asked her about the course and round.
There are no alternate tee pads for the Open Women on the Franz Ferdinand course, which is unlike the recent trend on the touring scene in North America, something that the Disc Golf Pro Tour has made commonplace. Whether you are for or against such adjustments, there is little doubt that they generally create an opportunity for better scores and broader competition in the Open Women field. It's a topic I plan to explore further in tomorrow's Czech-in.
Making a Tiny Bit of History Myself
KONOPISTE HOTEL NOVA MYSLIVNA 9-HOLE COURSE, Benešov, Czech Republic
Okay, so this technically happened Wednesday night after I'd already sent in my Czech-in for the day, but I can't resist. After finishing up my reporting duties for the day, I went out with a putter to tackle the newly-installed 9-hole course at the tournament hotel. It's probably the best 9-hole you'll ever play, featuring two legitimate par 4s and a par 3 through a tight fairway that comes in at around 130 meters (426 feet).
On the 78 meter, downhill par three, I let my disc loose from the tee and, a few seconds later, got the pleasure of seeing it crash into the basket and stay there. If I'm remembered for little else, at least I'll know that I got the first ace ever on Konopiště Hotel Myslivna course.