A long-time pro discusses his career highlights, his time sponsored by the late Vibram Disc Golf, and his ideas about why the company left the disc golf business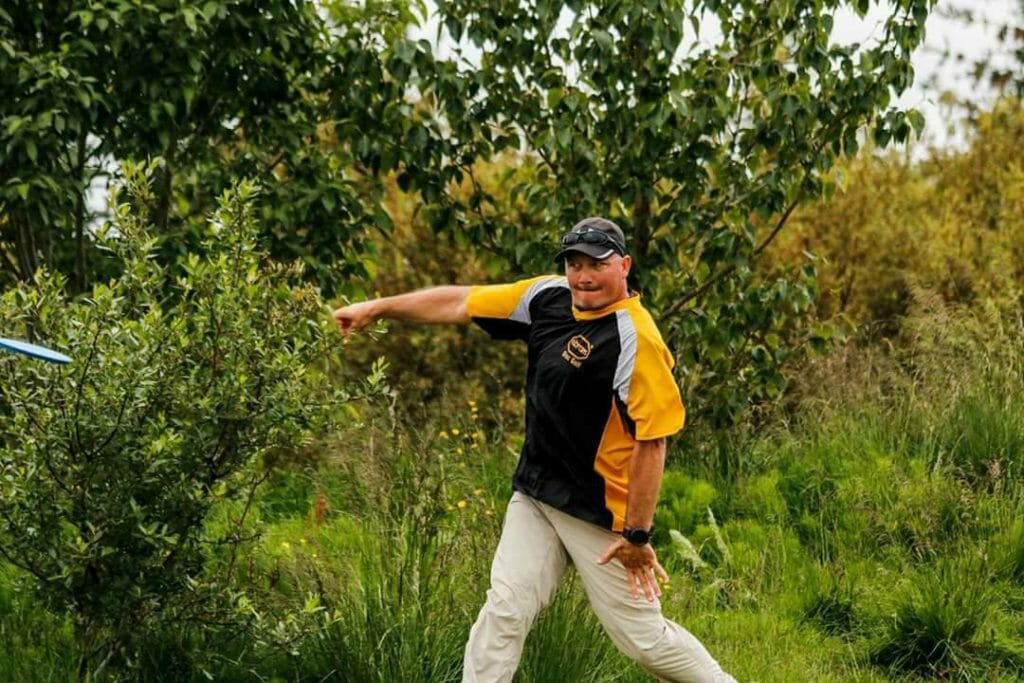 There's a short moment in Central Coast Disc Golf's coverage of the 2017 Iceland Solstice Showdown when Ian Anderson, recapping who will be battling it out in the final 9, reads off quickly, "We got Nikko [Locastro], Philo [Brathwaite], Gregg [Barsby], and…."
At Anderson's short pause at a name he's never encountered, his co-commentator Nate Sexton—2017 USDGC Champion and #4 in Ultiworld Disc Golf's latest Power Rankings—chimes in with a familiar, "Tooooad!"
The "Toad" he means is Geoffrey "Toad" McReynolds, and Anderson and Sexton's exchange perfectly encapsulates McReynolds' current standing in the disc golf world. He may not be one of its biggest stars, but his accomplishments as a player, course designer, mentor, and international ambassador for the sport over the last two decades mean he is far from unknown to those at the sport's highest level.
There are many things that make McReynolds' story an interesting one to tell. As a member of the U.S. Air Force, he's had the opportunity to play in 18 countries. While stationed in Germany he got to know a young Simon Lizotte, finished second in last year's EuroTour, and designed one of Germany's biggest courses. Back in the U.S. he installed one of Georgia's top courses and has competed in many of the sport's highest-profile events.
Something that makes McReynolds' experiences particularly relevant to this moment in history is that from 2013-2017 he was sponsored by the now-defunct Vibram Disc Golf. McReynolds was kind enough to share parts of his fascinating story with me, including his thoughts about his time as a Vibram player and the decisions the company made that may have doomed their disc golf franchise.
Early Career & Memories of a Young Lizotte
McReynolds made a deal with his local club in Arkansas in 2003: "I told them that if I took top 10 in a major tournament, I was going to go pro." True to his word, after taking 9th in the 2003 U.S. Amateur Championship, McReynolds played Open in his next tournament, a Southern Nationals event. He quickly learned the switch was a good one: "I won my first pro event. It just kind [of] went from there, and I've been pro ever since."
After spending a year honing his skills in the Open division, McReynolds moved to Germany where he was stationed in 2005, and it didn't take long before "Toad" was a name almost every disc golfer in Germany and throughout Europe was familiar with. McReynolds won his first event on the continent in 2005 at the Berlin Open. In 2007, he took first in the German Championship, beating a young K.J. Nybo, and he won the same honor again, this time besting Lizotte when the event was held in 2008 in Rüsselsheim, Germany.
Being one of the top players living in Germany at that time, it was inevitable that McReynolds would encounter the budding superstar Lizotte. It's even possible that McReynolds is partly responsible for planting the seed that would grow into Lizotte's alter-ego—key in his recent Memorial Championship victory—"Simon Lays-Up."
"Every time I saw him, I was trying to tell him, 'Hey, you can lay up,'" McReynolds remembered. "In 2008 in Rüsselsheim, Simon and I were in the finals, and I was actually pointing out his errors and telling him where to lay up even though he could have actually caught me, but he was Simon—he goes for everything."
It's easy to tell that McReynolds is thrilled with what Lizotte has accomplished over the last decade. "It takes a lot of experience, and he's come a long way," he said. "I'm very happy to see him at the top. I always figured he would be one of the top players if he took it seriously, and he did."
Designs by Toad
In 2009, McReynolds got the chance to design his first course. He was back in the U.S. and living in the then-disc golf desert of Valdosta, Georgia. It was a 45-minute drive to reach the nearest course in northern Florida. During one of his rounds there, McReynolds met a fellow Valdosta resident who knew the Valdosta parks department was interested in having a disc golf course installed in the town.
"I figured with my experience of playing courses throughout the world for the last 10 years that I could give that a shot," he said. "So I contacted the parks department that was organizing everything, and I went out ahead of time to the park where they wanted the course."
McReynolds recounted that after quick approval of his plan and five months of hard work with a small team, "in July of 2009 the first course in Valdosta [Freedom Park] was installed."

McReynolds' pride in the course was clear. "It's a really, really strong course," he said. "JohnE McCray has come up several times and won the event we hold there. He's said it's a very, very tough course. It's a fair course, but it's hard to always score well there." Along with McCray's praise, reviewers on Disc Golf Scene have been impressed enough with Freedom Park that it has found its way onto the site's list of top 100 courses in the U.S.
Along with Freedom Park, McReynolds has also designed and installed a course in Brunswick, Georgia, and one of Germany's longest courses—the 18-hole, 8000+ foot Rolling Hills course in Baumholder—which is full of elevation changes, OB, and long shots where wind is almost always a factor.
Switching to Vibram
McReynolds said that one of the most common reactions he encountered when telling people about his sponsorship with Vibram was, 'How can you throw only Vibram?' Despite such skepticism, however, McReynolds reached his highest PDGA rating of 1001 while sponsored by the company.

His relationship with the disc manufacturer began at the 2012 Vibram Open at Maple Hill in Leicester, Massachusetts. Though McReynolds light-heartedly stated that he "made the cut and got paid," he admittedly didn't have his greatest showing at the event. What he did have, however, were two Vibram putters—a Ridge and a Summit—in his bag.
McReynolds' thoughts about these discs provided a starting point for a discussion with then-head of Vibram Disc Golf, Steve Dodge. Though the topic of sponsorship didn't come up in their first conversation, after subsequent contact and the chance to try out more Vibram discs, McReynolds decided to take the leap in 2013. As soon as Vibram released its first distance driver, there was only rubber to be found in his bag.
His contract included getting two discs for every event he entered, receiving a percentage of his winnings at the end of the year matched in value with discs, receiving 10-percent of his yearly earnings to use toward entry fees the next season, and being outfitted with high-quality Vibram apparel. McReynolds is a family man who "was never one of those players that got the big endorsements, the bonuses, and everything else" and was very satisfied with this arrangement.
Still, he admits the transition wasn't always easy. "I had always had Innova Rocs and Aviars in my bag, and I had tooled around with a bunch of other discs, but it was a little bit of a learning curve for me going from plastic to rubber," he said.

McReynolds found that the greatest advantage to throwing rubber was also its greatest disadvantage.
"The really good thing about throwing Vibram is that it's more for the precise player. It's for woods and when you want the disc to sit exactly where you threw it," he said. "But the disadvantage is that there are a lot of holes out there where you want to hit a certain spot, skip it an additional 10 to 15 meters, and get it around that corner to get your birdie, etc. Vibram had the soft rubber, something that really set Vibram apart. It was really, really gummy, and you don't get any skip out of that. They had developed the extra firm, and you could get some skip out of it, but it wasn't like throwing Champion or Star plastic."

Leaving Vibram and Possible Reasons Its Rubber Hit the Road
McReynolds said that after Steve Dodge left Vibram Disc Golf, the new management—led by Jeff Laney—started making "more and more promises…that weren't being followed through on."
These promises included aspects like shoe deals. About such issues—which occurred with increasing frequency towards the end of the 2017—McReynolds said, "I don't know if that was because of Jeff or the Vibram company because of their plans to totally step away from the sport."
"Either way," he continued, "I made the decision at the end of the year to step away from Vibram simply because the company was going in an amateur direction instead of looking to support pro-level athletes. They said a majority of their players were amateurs, and that's what they were going to focus on. I didn't want any hard feelings between Vibram and me because they had been good to me, so I made the decision to step away and be without a sponsor."
When asked why Vibram might have gotten out of the sport, McReynolds pointed to a possible lack of willingness by Vibram to put money into the sport.
"Based on the direction the new management was trying to go in, my suspicion is that it was too large of an upfront investment to get Vibram Disc Golf to the level of recognition that they wanted," he said. "I think they might not have been willing to make the investments they needed to make their discs better and get their name out there more."
To reinforce this notion, McReynolds pointed to other examples in the industry.
"Other companies, they picked up some big-name players and put them out there in the spotlight and that's an upfront cash investment," he explained. "Take Ricky Wysocki. He was a Prodigy player, and Latitude persuaded him to come over, and now Latitude is one of the biggest names in disc golf, and it's because they did the same thing Prodigy did when it first came out: they got some of the top players to come over by offering upfront bonuses, and they changed their entire bag, and Prodigy in just one year became a huge company because they took the talent in and made it a viable company. Vibram Disc Golf never took that step."
Despite his previous relationship with the company, McReynolds wanted to be sure that his comments were qualified as intuitions and not facts. "Clearly, this is just my opinion," he said. "There could be more underlying reasons."
Life After Rubber
Sponsorless for the first time in five years, McReynolds has enjoyed the chance to try out new discs and return to old stalwarts.
"My bag is a collage," he says. "I'd been wanting to throw some Harps for a long time—that really meaty putter. I have three of those in my bag, a VIP, a BT-Hard, and a BT-Soft. I've got some Innova. I threw a couple of Rocs back in my bag, and it's like they never left. I'm really happy to be able to throw those again. For distance drivers, I have Trilogy and Innova, and I'm just going to see how things play out."
And, after taking the advice of a friend, he has recently thrown one rubber disc back in his rotation.
"I absolutely love the [Vibram] Sole putter, and it's one of my main throwers," McReynolds said. "Super straight, super glidey. You put it on a line, and it's just going to hold forever. I never have to worry about anything with that disc. To me, it was the best disc Vibram ever put out by far."
Though 2018 will be his first season with Masters eligibility, McReynolds is feeling rejuvenated and ambitious.
"The goals for this season is to get back to 1000 rated," he said. "I'm not going to be playing too many Master's events, but I am going to be playing some at some of the larger tournaments, hopefully get some recognition, pick up another sponsor, and go from there."
Averaging 1007-rated golf through his first three tournaments of the year, including two rounds over 1040, it may not be long before the well-traveled, experienced pro gets what he's hoping for.