McMahon claims second from chase card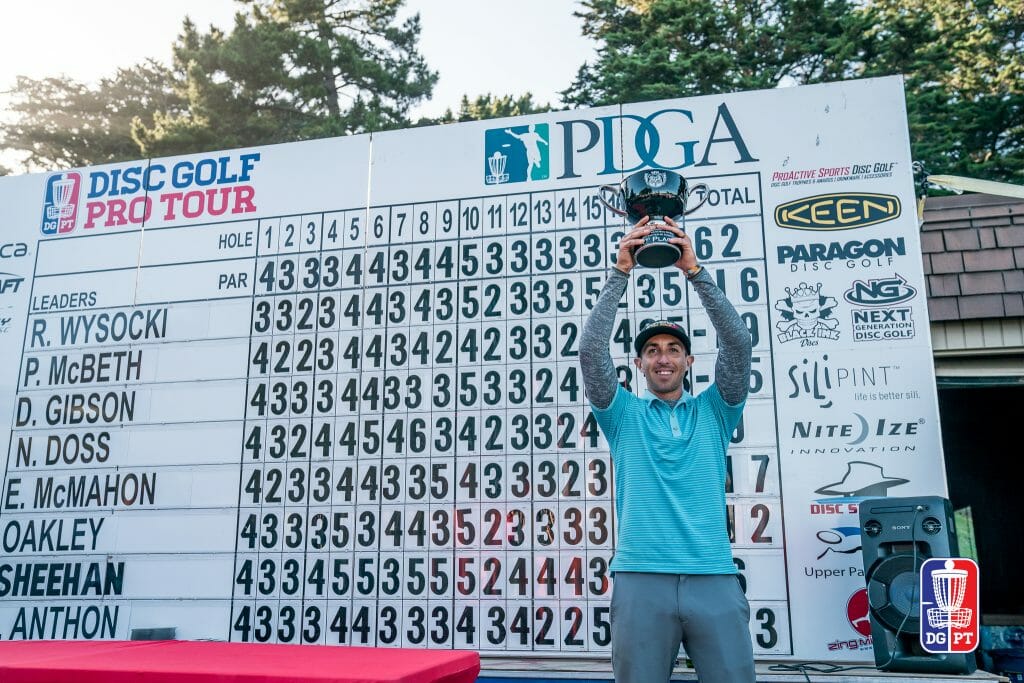 Paul McBeth claimed the win at the San Francisco Open after putting together three consistent rounds at the Gleneagles Golf Course to take his first victory of the season on the Disc Golf Pro Tour circuit. The Californian finished the event at 19-under par 167, having averaged 1051-rated golf. That was good enough to best Eagle McMahon — one of the hottest players on tour this season — who was playing from the chase card, by two strokes. While McMahon took the runner-up honors, it was Ricky Wysocki who McBeth had to outlast in a showdown straight out of 2015.
To emerge victorious in such a showdown, McBeth had to pull off some truly clutch shots in his final round. After trading the lead with Wysocki through much of the front nine, McBeth's round took a turn on hole 8. After settling for pars from holes 4 through 7, he was in clear position for a birdie on the 642-foot par 4 8th, but his putt splashed out and he settled for another par. From there he caught fire, eagling hole 9, a 747-foot downhill par 4, with a 74-foot chain-crashing putt to finally separate himself from Wysocki by one stroke.
McBeth had the momentum and nearly hit another near 80-footer for eagle on the 1,188-foot par 5 10th, and followed that up with a park-job on 11. His birdie on 14 and Wysocki's par, after a missed birdie bid from circle 2, gave McBeth a three-stroke advantage. With the holes ticking away, and with them his opportunities to score and make up the difference, Wysocki needed to make something happen on the 465 par 3 15th. But the elevated pin and gusting wind had other plans. Wysocki uncharacteristically four-putted, after his initial birdie bid was high, blowing well past the basket and staying outside circle 1. His double-bogey five gave McBeth the cushion he needed to coast to the finish despite finding the OB on two of the final three holes.
McBeth didn't claim any hot round bragging rights all weekend, but he always stayed within striking distance of the lead. He is certainly known to make highlight reel throws that compliment assertive runs up the leaderboard, and this weekend he made his sprint early on and never really let up. During round one he carded six straight birdies at one point and was 100-percent putting from inside circle 1. That helped him finish at 94-percent putting from inside circle 1 over the course of the weekend, his best showing on a big stage this season with his putter.
As in any sport, consistency is the key to greatness, and McBeth was consistent this weekend. He was never more than three strokes off the hot round and shot three straight rounds within seven rating points (1055, 1048, 1050) of one another. He was the only player in the top 10 to finish without at least one round rated below 1035, despite seven individual rounds from the 10 other players in that group that at least tied or were better than his 1055-rated highest single round.
Top 5 Finishers Drive For Dough, Putt For Show
Perhaps no other players more encapsulated that mantra at the SFO than McMahon and Simon Lizotte. McMahon finished in second place, while Lizotte wasn't far behind in a tie with Drew Gibson in fourth place at 15-under par 171. McMahon ranked first in fairway hits and reaching circles 1 and 2 in regulation while finishing the event ranked 99th in circle 1 putting percentage. Lizotte ranked ninth in fairway hits, third and second in reaching circle 1 and circle 2 in regulation and fifth in scrambling while finishing 67th in circle 1 putting percentage. Clearly, it pays to throw far. Gibson — another pro known for his distance — was decidedly more consistent. He ranked no lower than 14th in any of the categories mentioned earlier in this paragraph. What's more — given the windy conditions during the final round — it was obvious from watching the video that while he often put himself in position to score, the conditions were not conducive to running long putts. Even though he had to take his medicine and lay up a number of opportunities, he was able to maintain a top-five finish.
Grady Shue Hits 1070
Grady Shue has made some serious noise this season putting together some very impressive rounds, that have led to quality finishes. This weekend his 1070-rated 8-under par 54 final round moved him up 23 places on the leaderboard and into a tie in 13th place. Shue took no OB strokes during the final round at Gleneagles while hitting all of his putts from circle 1 and 68-percent of the fairways during his bogey-free round. His second round was also bogey-less. Once he starts avoiding rounds like his first one on Friday, he should become a fixture in the top 10.
Further down the leaderboard Garrett Gurthie and Gregg Barsby tied in sixth place at 14-under par 172. Gurthie and Barsby moved up six and four places, respectively, during their final rounds. Jeremy Koling slid into a tie for 9th place with a final round 5-under par 57 performance that moved him up five places on the final day. Eric Oakley finished in that tie for ninth with Koling at 12-under par 174. Nate Sexton finished tied in 11th place with tour veteran Avery Jenkins at 11-under par 175. The Gleneagles Golf Course was the 1,000th course Jenkins has played in over 30 years of playing the sport.
---
The touring pros scatter around the west coast next weekend before coalescing in Estacada, Oregon for the Beaver State Fling which kicks off on June 8th.