Wysocki, Lizotte, and McMahon headline lead group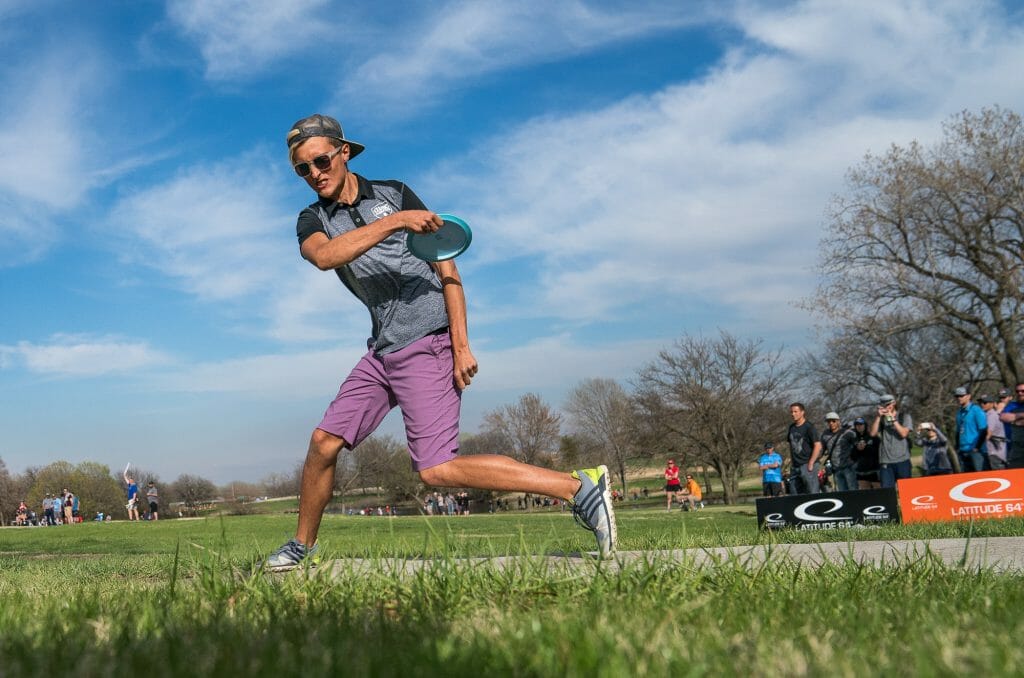 The Glass Blown Open has turned itself into one of disc golf's premier events in recent years, and in turn Emporia, Kansas has morphed into a disc golf mecca. This year, 1,600 amateurs and pros alike, from nine countries are there competing, and so far the competition has lived up to the high standards the tournament sets for itself.
After round one, five players find themselves tied atop the Open leaderboard after shooting 1071-rated 10-under par 63 rounds. Simon Lizotte, Eagle McMahon, Ricky Wysocki, Drew Gibson and Grady Shue are the five knotted-up after day one. Expect to see the low scores continue as for the first time, Open will be focusing all its attention on one course: the Emporia Country Club.
Grady Shue is most likely the unexpected name of the bunch at the top, but the 1008-rated North Carolinian is a certified rising star on the pro circuit. Shue, the 2017 PDGA Rookie of the Year, ate up the middle of the course on Thursday, starting slow before stringing together nine birdies on ten holes between holes 5 and 15. Shue's lone bogey did not come until hole 17, the 530-foot OB monster with an afterthought of a green.
Of the big guns clustered at the top, only Lizotte went into the clubhouse with a bogey-free card. The big-armed Bremen bomber hit 84-percent of his fairways off the tee and scrambled at 100-percent according to UDisc Live's statistics. Lizotte did leave strokes on the putting green, though, connecting on a disappointing 80-percent of his putts inside circle one compared to 94-percent circle one putting from the other leaders. Lizotte was able to get 50-percent of his circle two putts which helped make up for an otherwise uncharacteristically iffy round on the green.
McCabe Making Moves, Veterans Set Themselves Up
Tournament founder Eric McCabe finished his day one stroke off the lead pace, shooting a 1064-rated 9-under par 54. Despite touring less in recent years, the 1023-rated veteran should not be considered an underdog. The three-time GBO champion and Emporia Country Club course designer knows what it takes to win, and the hometown hero was obviously feeling comfortable Thursday. McCabe took his lone bogey for the day on the 681-foot par four, hole 5 which played .33 strokes over par according to UDisc Live's statistics. 
Rounding out the top ten after round one, Paul McBeth and Andrew Presnell both finished at 7-under par 56. Nate Doss and Jordan Castro wrapped up their rounds at 6-under par 57. 
McBeth tied for the highest OB rate in the top ten, and his 82-percent putting from circle one and 0-percent putting from circle two didn't help. He also wasn't helped by a cut-through on his 25-foot birdie bid on hole 18.
OB Bites Hard
McMahon predicted that playing well at the Emporia Country Club course would require a big, accurate arm, and so far that prediction has held true. Take a look at the player stats for round one: with the exception of McMahon and McBeth, no player in the top ten took more than two OB strokes, and both McCabe and Presnell had no penalty strokes. Any player who is hoping to make moves up the scoreboard is going to have to maintain control off the tee and take what the course is willing to give them.