Sexton, McMahon, and Gibson chime in on the move to one course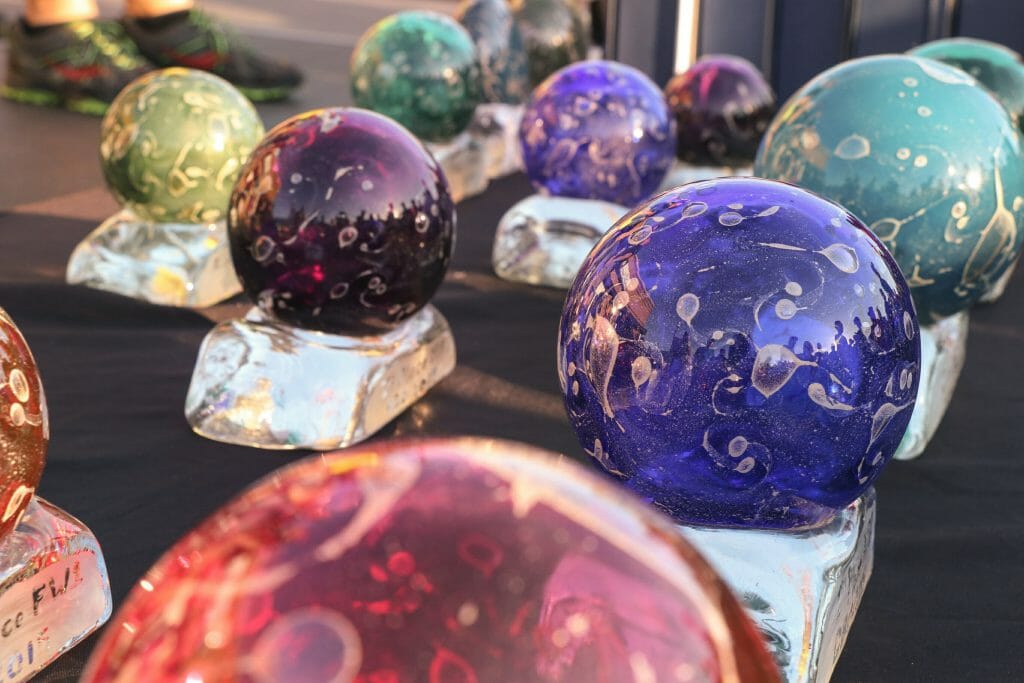 The Glass Blown Open is more than just another stop along the PDGA National Tour. As Cory Murrell of Central Coast Disc Golf fame explains, it's about more than just the high-level competition.
"GBO is all about the event," Murrell said. "People and players keep coming back for the total package of events the GBO has to offer, from the bowling nights to beer tastings, all of it."
The 2018 edition of the GBO kicks off today, and there is buzz-a-plenty: new layouts, nice weather, and big arms ready to air it out in Emporia.
Storylines
Last year's GBO was cut short after two rounds when storms rolled in and forced tournament organizers to call off the third round, citing player safety. Paul McBeth took home his second GBO title in 2017 and is looking to notch his third win of the season and to improve on his seventh-place showing at the first NT event of the season in Las Vegas. There has been plenty of chatter suggesting that McBeth has not been playing as well as expected this season, but he is still rated 1049 and perhaps poking the McBeast is a good way to find oneself eating a healthy helping of crow.
Staying in the Open division, the big throwers have been making even bigger moves during this young season. Speaking before the tournament, Eagle McMahon predicted, "the top card on day three will be guys with great distance and distance control." This prediction is hard to argue with. So far this season, the guys with the biggest arms have taken the wins at the biggest events. This includes: Simon Lizotte's win at The Memorial, McMahon's win at the Las Vegas Challenge, Jeremy Koling's win at WACO, and Garrett Gurthie nearly took down the Jonesboro Open before Ricky Wysocki did his thing.
Paige Pierce is coming off yet another win at the Texas Women's Championship. She will be trying to climb her way to the top of a 37 player field to repeat her 2017 victory, which she shared with Hannah Leatherman. Pierce also won this event in 2015 and 2013 and has never finished outside of the top three at the GBO. The women are playing three courses this year: Jones East, Peter Pan Park, and Swope Park at Cottonwood Falls. Pierce is the favorite in any tournament she enters, but the rest of the field should not be counted out; Sarah Hokom has been right on Pierce's heels all season and has finished in the top six at all five events she has played this year.
The Open division moves to one course
This year the Open field will only play one course in each of the three rounds, a departure from years past. The Emporia Country Club plays much like other ball-golf course venues we've come to be familiar with on tour: it's very long, picturesque and relies on OB to up the challenge. Nate Sexton told Ultiworld Disc Golf that this one-course arrangement is much preferred by the touring pros to the previous multi-course layout.
"I prefer the one course set up," Sexton explained. "It allows me to put all our energy and focus into developing one game plan for how to attack the course. Also, to me, if you're going to have the best players in the world come to town, give us your best course and let us see what we can do."
McMahon echoed Sexton remarks, as he's looking to improve on a 36th place finish in last year's GBO.
"One course is really phenomenal. There is less to think about," McMahon said when reached for comment before the event. "We usually prefer two to three days of practice and having to practice more than one course can be tiring. I feel much more rested after just one practice round. I am 100-percent confident that this year will be a huge success compared to last year."
Both Sexton and McMahon commented that the length of the course and the amount of OB would be major factors in their strategy and approach to the course.
"I don't necessarily want to attack any holes aggressively," McMahon explained. "The amount of OB makes me more comfortable chipping my way down the fairway. Maybe I'll be able to or want to get a few bonus strokes here and there. I know if I play my simple game it will be better than 90- or 95-percent of the field. I plan to play more under control than I have in the past."
Sexton paralleled that sentiment commenting that "there are a couple new holes, which is exciting, but it is really important to know where the OB is and how it plays so you can avoid going to the drop zone, which can be more painful than just playing where you crossed OB."
Drew Gibson, who has been off to a hot start to the season after returning to Innova's Team Champion said that he was particularly looking forward to starting his round off with the newly designed, 1,135 foot Hole 1.
"It's a par 5 and in practice, I was putting for three," Gibson said. "I know that if I can execute like I know I can, I can start my round off almost better than perfect and hopefully carry that momentum through the rest of my rounds."
Courses
The Glass Blown Open website has detailed information on all four courses in play for the Open and Open Women's division. For more detailed information on how each of the courses are playing be sure to check in with UDisc Live's data as the scores roll in.
Past Glass Blown Open Winners
| | PDGA Tier | Open | Open Women |
| --- | --- | --- | --- |
| 2022 | DGPT | Ricky Wysocki | Kristin Tattar |
| 2021 | NT | Paul McBeth | Hailey King |
| 2020 | DGPT | Paul McBeth | Paige Pierce |
| 2019 | NT | Paul McBeth | Catrina Allen |
| 2018 | NT | Eagle McMahon | Paige Pierce |
| 2017 | NT | Paul McBeth | Paige Pierce/Hannah Leatherman |
| 2016 | NT | Cam Todd | Catrina Allen |
| 2015 | NT | Paul McBeth | Paige Pierce |
| 2014 | A | Simon Lizotte | Catrina Allen |
| 2013 | A | Will Schusterick | Paige Pierce |
| 2012 | A | Will Schusterick | Catrina Allen |
| 2011 | A | Cale Leiviska | Valarie Jenkins |
| 2010 | A | Eric McCabe | Liz Lopez |
| 2009 | A | Nate Doss | Robin Reimer |
| 2008 | A | David Hemmeline | Liz Lopez |
| 2007 | A | Eric McCabe | Jennifer Allen |
| 2006 | A | Kevin McCoy | Angela Tschiggfrie |
| 2005 | B | Eric McCabe | Tavish Sanders |
| 2004 | B | Daniel Stacy | Terri Clark |
| 2003 | B | Ron Convers | Shelly Bunch |
Extended Forecast
The weather played a pivotal role in the outcome of last year's GBO. Abundant storms moved into the region during the morning hours and prompted the final round to be canceled. No such weather is forecast this weekend though!
Thursday:
8 AM: 42° with a light westerly wind.
Noon: 60° with a westerly wind between 5 and 10 mph.
3 PM: 67° with a northwest wind around 10 mph possible. Gusts above 10 mph will be possible, especially later in the round.
Friday:
8 AM: 45° with a northwest wind between 5 and 10 mph.
Noon: 63° with a northwest wind around 10 mph.
3 PM: 69° with a northwest wind around 10 mph.
Saturday:
8 AM: 47° with a light north wind.
Noon: 65° with an easterly wind between 5 and 10 mph
3 PM: 73° with a southeasterly wind around 10 mph.
With northwest wind being the predominant wind direction throughout the tournament the Open field will likely deal with a headwind on hole 12 at the Emporia Country Club. Hole 12 is a 351-foot par 3 with OB lining the right side of the fairway, which actually makes this hole an island green. Meanwhile, for the Open Women's field, a headwind will likely be in play on hole 11 at Jones East on Friday. Hole 11 is 395-foot par 3 that includes a mandatory off the tee. The headwind will make this hole feel just a tad longer.
How To Follow
The Dynamic Discs team has brought in SmashboxxTV who will provide live coverage all three days. For round one, SmashboxxTV will have two cameras following the Open division feature card and a third camera following another card. During rounds two and three, that third camera will be following the lead Open Women's card while two camera coverage continues with the Open lead card. The course the Open Women's division is playing in round one has cell coverage that is too poor to facilitate a live stream, hence the arrangement.
Jomez Productions and Central Coast Disc Golf will have next-day post-production video. Jomez will be covering the Open feature and lead cards, while CCDG is on the chase cards. Live scoring and statistics will be available via UDisc Live.