How a small incident effects precedent in a growing sport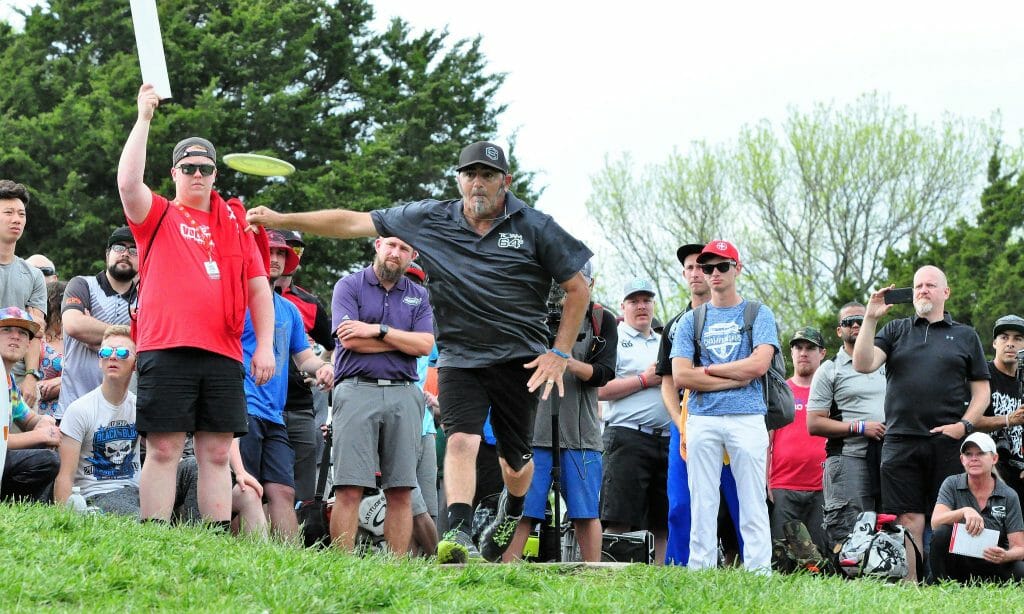 An interesting and rather out of the ordinary thing happened during the final round at the Vintage Open last weekend.
It wasn't the late-staying winter chill in the air or sustained high winds. When JohnE McCray politely requested that videographer Will Jenkins stop recording him, it was possibly the first such instance of a professional disc golfer making that request: that a videographer filming at an event stop filming them and edit them out of the footage.
By all accounts, the situation was handled well by all parties, which is certainly a best-case result and something to be commended. The situation does, however, provide an avenue to examine relations between media, players, their sponsors and tournament directors—all of whom have vested interests in the promotion and expansion of the sport.
---
The proliferation of disc golf media in recent years has directly corresponded to the increased exposure of the sport. Many non-disc golfers can point to Philo Brathwaite's legendary albatross at the Beaver State Fling in 2016 or seeing a random ace video on SportsCenter as their first interaction with the sport. Those viral clips exist thanks to outfits such as Jomez Productions, Central Coast Disc Golf and SmashboxxTV being on the ground at tournaments producing high-quality content.
To cash in on the growing popularity of disc golf footage, tournament directors often hire video crews to record events, thus growing the brand and prestige of their tournaments.
For all practical purposes, filming and photographing players during tournaments is allowed and defined by the sport's governing body. PDGA Media Coordinator Steve Hill referenced Section 3.06.A in the PDGA Competition Manual while discussing this subject on PDGA Radio, which states, "all participants agree that the PDGA and its agents may publish photographs and images of their participation at PDGA-sanctioned events."
So what would happen if a player on a card being followed by cameras said, "hey, please don't film me."
The final round lead card at the Vintage Open featured McCray, Joel Freeman, Eric Oakley and Nick Wood. It was the only round of the A-Tier to be filmed, and according to tournament director Matt Loyd, Jenkins—who had also been caddying for Oakley—received permission to film the morning of the final round, but no arrangements for filming were made prior to the tournament that players would have been aware of. No explicit filming waiver or language existed in registration for the Vintage Open.
Several holes into the round, McCray asked Jenkins to no longer be filmed. Something he was within his rights to request.
"JohnE and the photographer were both very polite and there was no argument from either side," Loyd explained, when reached for comment. "He didn't have to stop filming but chose to do so."
The resulting video footage included the other three players and score-only updates for McCray. Additionally, a note in the description explained McCray's absence and his removal from the footage per his request.
In a Facebook post, McCray cited distractions on the course, saying, "I was having frustrations and just didn't want to be filmed. I apologize if that offends the masses, it was just something I did for myself."
Dynamic Discs Team Manager Robert McCall spoke with McCray after the event and referred to Jomez, CCDG and SmashboxxTV's expertise in the field, saying, "JohnE has assured me that if this event had a media plan in place with a professional team assigned to and hired for the event with prior notice, he would never dream of asking not to be filmed."
Loyd said in this case, the issue is more of a non-issue but added he will most likely change things in the future.
"It was definitely a surprise to us and something that was unexpected," Loyd said. "We will discuss adjusting the waiver to make sure all players know that having your picture taken or being filmed is a part of the event."
Doug Bjerkaas, who oversees many tournaments—including the massive Glass Blown Open—in his capacity as Events Coordinator at Dynamic Discs explained that the company already includes the extra language during registration, even if it is redundant with the existing PDGA policy.
Many tournament directors use video footage from events as a way to promote future tournaments, as well as gain sponsorships. Those sponsors often include disc manufacturers.
"A lot of the time, the manufacturers are the ones sponsoring the player, the event, and the footage," said Steve Hollaway, Team Manager of MVP Disc Sports. Hollaway noted that it would be frustrating, from the perspective of a company sponsoring media presence at an event, in a situation where a player requested to not be featured as part of that sponsored footage.
In terms of a player's own sponsors, it should go without saying that most companies would like as many opportunities as possible to have their players and products featured in tournament footage and media in general. With disc golf coverage still in its infancy, media training and requirements from sponsors do vary.
"Obviously enjoying yourself and having a good time are things that we hope our players are doing, but when you are representing yourself as a professional and the company, you need to remember to conduct yourself as such," Hollaway explained. "It's with this in mind that we have media portions of the contract built in, and part of that has to do with doing your best to participate if possible."
Dynamic Discs and Latitude 64 do not currently have any media obligations in its player contracts.
"We encourage sponsored players across all three companies to be cognizant of their actions and image at all times including media interactions and public appearances," McCall said, speaking for Dynamics Discs, Latitude 64 and Westside Discs. "At the same time, we don't want to squelch their personalities or force them to be someone they're not."
As far as the video producers are concerned, if they have been hired to do a job, the job will get done. Ian Anderson of CCDG chimed in on the subject on Reddit's r/discgolf forum.
"Jonathan [Gomez of JomezPro] and I chatted about this. If you're on the card, you're getting filmed," Anderson said. "They consent to being filmed by playing in a PDGA sanctioned tourney."
Bjerkaas says the same would go for one of his tournaments, relaying that "we would not honor a request from someone not to be filmed."
The only exception to this, Bjerkaas said, would be if a player requested to not be placed on a feature card for the first round of an event that is going to be filmed, as it relates to "Super Groups" and Section 1.06 J from the PDGA Competition Manual. Any round after that, a player is subject to being photographed or appearing on video.
While the Vintage Open example is rather innocuous, it does reveal the many considerations all parties involved must confront when it comes to weighing exposure, media coverage, and the sport's growth. As the media side of the sport continues to grow, and more videographers join the scene, the relationship between those covering events, those playing in them and those who sponsor players and tournaments will continue to evolve. And, it's better to start thinking through possible issues and potentially reform policies now, before a major event is affected.
"Media coverage of our top events is one of the critical pieces in growing our sport," Bjerkaas said. "With this being said, media folks need to be respectful and mindful of all players when doing their job as well. If players have specific concerns about how the media is covering them, we would do our best to resolve these issues as they come up."