McBeth, King victorious in Jacksonville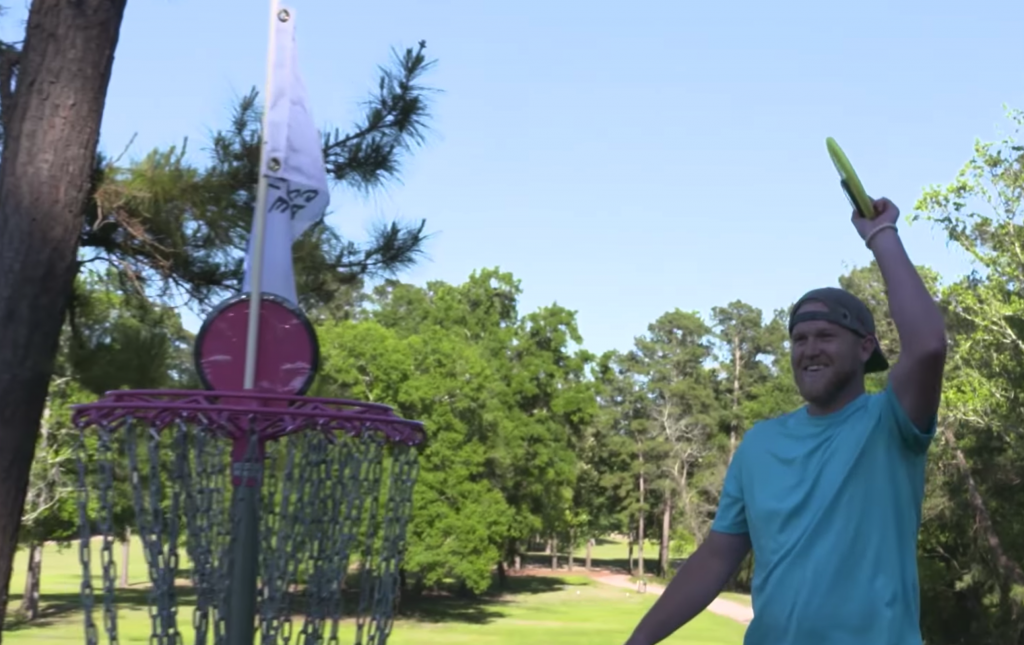 A week removed from the last Disc Golf Pro Tour stop and still two weeks out from the next PDGA National Tour event—the Glass Blown Open—many touring pros spread across the southern states to compete in various A-Tiers.
We must not forget, however, the PDGA Major happening over the weekend, as the National Collegiate Disc Golf Championship crowned two new team champions. Check out the full breakdown here.
Texas State Disc Golf Championship
Most of those who played in the Jonesboro Open split between two tournaments relatively close by. The Texas State Disc Golf Championship in Spring, Texas had the benefit of Jomez Productions on site to capture the action and aces, two of them on camera. Last year's Texas States also produced two filmed aces, so you could say it's becoming a trend.
Local pros were the story of the event, with several featured on the lead card over the three rounds, led by local favorite and Northside Chain Gang's own Anthony Perkins. Perkins battled Paul Ulibarri head-to-head over the final two rounds to take down the win with the added drama of the final hole deciding the contest.
Ulibarri held a one-stroke advantage for most of the final round until Perkins tied it up at 18-under par on the 16th. As both players teed on 18 the score was still deadlocked. The 365-foot par 3 provides a rather unobstructed path to the pin outside of a small incline where the basket sits.
A high hyzer approach from Perkins left him about 20 feet short left on the hill. Ulibarri's low drive stuck him at the base of the hill but with a clean, 45-foot uphill birdie look to put the pressure back on Perkins. With Ulibarri's putt hitting the cage, Perkins did what he had done all weekend and calmly drained his birdie putt for the win and the first A-Tier victory of his career.
Anthony AP Perkins winning putt Texas State Disc Golf Championship
Perkins, a 974-rated golfer, finished at 19-under par 165 total, averaging 1036-rated golf for the three rounds. "He was playing solid, not making mistakes and putting excellent," said Ulibarri of Perkins while commentating on the Jomez Productions coverage with Bradley Williams.
Williams finished tied for 5th at the event with George Castillo at 10-under par 174. The long-maned Trevor Harbolt finished fourth at 11-under par 173 and provided his own collection of highlights on lead card. Garrett Gurthie overcame a rough second round to throw the hottest round of the weekend. It was a spicy 1066-rated final round, which allowed him to climb back into third and finish one stroke behind Ulibarri at 17-under par 167. Forget how far he crushes, Gurthie did crazy stuff with his Sonic all weekend:
Garrett Gurthie Sonic Birdie Putt
In the FPO division, Jessica Weese shook off any looming disappointment from Jonesboro and secured a two-stroke victory over Sarah Hokom, finishing with a 10-over par 196 total. Her 1000-rated second round provided a cushion to hold off Hokom, Rebecca Cox, and Lisa Fajkus during Sunday's final round. Cox and Fajkus tied for third at 14-over par 200.
Vintage Open
Switching back over to Russellville, Arkansas, the Vintage Open had an impressive roster of talent including Ricky Wysocki, JohnE McCray, Eric Oakley and James Conrad among many others. It was Joel Freeman, however, that stepped up to take the win in a final round that featured near 30 mile-per-hour winds, and, presumably, it comes with a championship ring as well.
McCray held a four-stroke lead heading into the final round, but a tournament-high 1058-rated final round from Freeman guided the Colorado boy to a three-stroke 'W' over McCray and a 17-under par 157 total. The difference came between holes 8 and 16 where Freeman connected on eight birdies to McCray's four. Here's his long birdie putt on hole 9:
Joel Freeman Hole 9 Birdie Vintage Open Final Round
A handful of players including Oakley, Jeff Renner, Zach Melton and Nick Wood tied for third at 10-under par 164. Wysocki and Conrad tied for seventh at 9-under par 165.
Only two women competed at the Vintage Open. Catrina Allen dominated, winning by 52 strokes (that is not a typo).
The Jacksonville Open, and "Bird" Watching
Further east, Paul McBeth captured the Jacksonville Open B-Tier title. McBeth averaged 1050-rated golf over three rounds but didn't own the hot round. That belonged to Nicholas Masters who blazed a 1087-rated round one. Masters finished second, ten strokes behind McBeth. Elaine King won the Open Women's division by three strokes, besting Hannah McBeth who finished second.
In a small but noteworthy performance in Sedalia, Colorado, Eagle McMahon won the GENESIS C-Tier by a 15-stroke margin and shot a 1079-rated opening round.
Texas State Championship highlights courtesy Jomez Productions; Vintage Open highlight courtesy Will Jenkins.