Gurthie slips, Montgomery makes a charge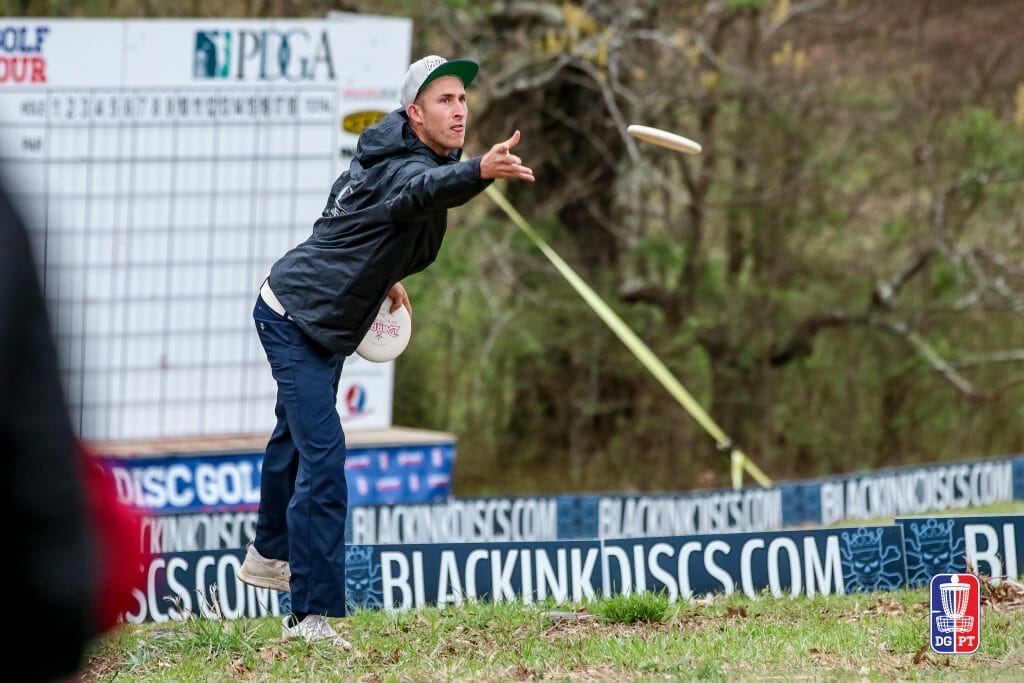 After Garrett Gurthie shredded the Disc Side of Heaven Championship Course throwing 1075-rated, 14-under par 50 course record on day one at the Jonesboro Open. After that performance, the big question going into round two was: would the Florida veteran be able to follow it up and hold off the likes of James Conrad, Eagle McMahon, and the (hopefully) resurgent Will Schusterick? The answer as it turns out was no.
Gurthie finished the second round with at 6-under par 58, moving him to 20-under par 108 overall, after rallying with six birdies on the back nine to stay on the lead card. That leaves him in second place, chasing Ricky Wysocki who finished the day at 10-under par 54, and 22-under par 106 overall, thanks to his relentlessly solid play. James Conrad sits at 19-under par 109, and hard-charging Colten Montgomery joins the lead card with at 18-under par 110 through the first two rounds. Montgomery's 10-under par 54 score tied Wysocki for the hot round of the day, which was rated a most impressive 1072.
Windy, chilly conditions held throughout most of the day, with temperatures only breaking the 40-degree mark well after most of the field had started their rounds. It may have gotten even colder had Eric "Putter Pants" Oakley's eponymous putter not been so scorching hot. Oakley was 100-percent from inside the 10-meter circle, which allowed him to pick up strokes on the field. Conrad and Wysocki both shot 50-percent from circle 2, which kept the former to on the lead card and helped the latter to take the lead. Oakley's teammate Zach Melton was hot off the tee, which likely raised the temperature too. He hit 89-percent of his fairways but it was Montgomery who hit the most greens in regulation at 61-percent.
Cold Day, Colder Rounds
The Open Women's division dealt with snow during their morning tee-times, and while it was clear and clean by the time the Open lead card took to the track, we saw headwinds wreaking havoc with the top men in the game. In round one Gurthie, Wysocki, McMahon, and Conrad reached circle one in regulation at a combined average 65.3-percent according to UDisc Live's statistics. On day two, that same group reached circle one in regulation at a combined rate of just 41.5-percent.
The unseasonable temperatures was unquestionably a factor as the Open division took their second crack at the track. All across, and up and down the board scoring was at a much high premium than in round one:
Holes that played under par in round one: 12
Holes that played under par in round two: 4
Hole 16, round one average to par: 4.6; round two: 5.01
Wysocki Hit His Stride, McBeth Has To Wait
Much of the disc-golf-internet has been waiting for McBeth and Wysocki to click into form after somewhat cold starts to the 2018 season. Wysocki, clearly, seems to be on track for now, but McBeth struggled on day two, finishing up with a 2-under par 62. He sits in a tie for 17th and after hitting 100-percent of his circle 1 putts in round one, he hit just 76-percent yesterday and uncharacteristically hit just 58-percent of fairways. It's going to take something beyond my personal powers of description for McBeth to challenge the leaders and place where he surely expects he should finish.
Three Holes Made An Impression
The 855-foot par 5 16th, which gave up 12 eagles during round one was much less generous on day two, with Melton taking the lone eagle. Some have suggested that this hole plays more like 1,500 feet than the stated 855 feet. I argue it looks more like 2,500 feet from where I'm sitting, but what do I know. Gurthie had a parked look for eagle there but missed his putt low, which allowed Wysocki to hold the lead going into 17 and from there into the clubhouse.
Hole 15 gave out the small numbers today with 63-percent of the field taking birdie or better on the 270-foot par 3. On the flip side of things, it was hole 18 which left many in the field scratching their heads and wishing that they had done something, or many somethings differently. The 818-foot par 4, which calls for an 800-foot hyzer, or a couple well planned and executed shots played at 4.7 strokes on average.
Schusterick Watch: Looking Ahead to Round Three
The three-time USDGC champion and (only!) 25-year-old Schusterick started the second round tied for sixth after a 10-under par 54 but finished out Saturday with a 1-under par 63. Here's hoping he can regain the form he showed in round one. This writer is pulling for him to return to a level of consistency that had him competing with the top talent in the division, not all that long ago. We'll get a chance to see if he can bounce back during today's round.
---
Wysocki, Gurthie, Conrad, and Montgomery haven't let the conditions and course get them down. With conditions expected to be only slightly warmer than yesterday, they'll have to again fight through the elements in Jonesboro. Tune in to the DGPT YouTube channel at 4:00 p.m. eastern time for the live broadcast of the lead card, and follow UDisc Live all day for live scoring.